Who Wants to Live in Detroit?
Four decades after 'white flight' began, tens of thousands of African-Americans have now left as well. What does that mean for the city's future?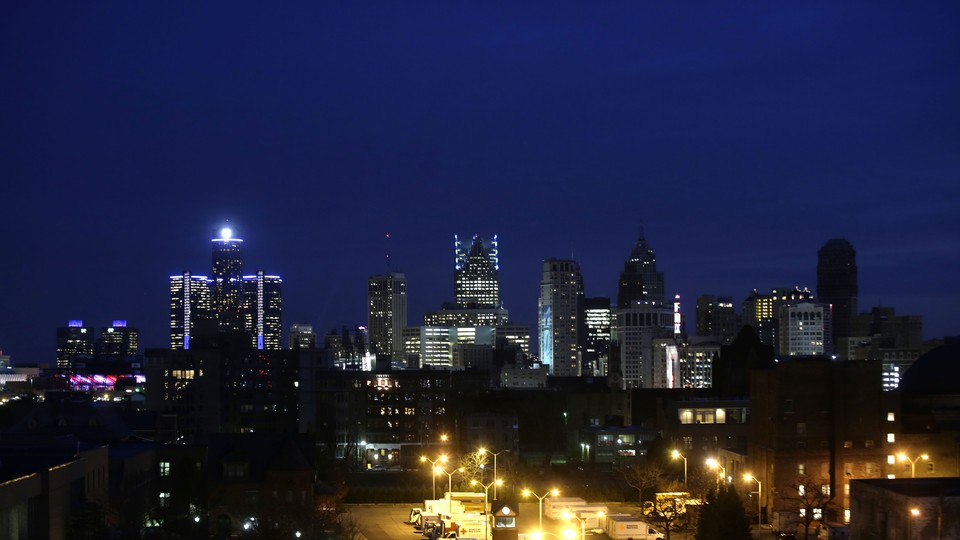 DETROIT—In most cities, the opening of a new Starbucks or chain grocery store is no big deal. But this is Detroit.
"No [chain businesses] wanted to move here. It's all about perception. They thought it was too dangerous," says Jordan Twardy, executive director of the Eight Mile Boulevard Association.
Part of Twardy's job involves attracting businesses to the Eight Mile corridor, the notorious dividing line between black and white Detroit made famous in the rap lyrics of Eminem. South of the street, 82 percent of the city's residents are African-American and 41 percent live in poverty. Supermarkets and strip malls are rare.
As Twardy drives along along Eight Mile in his Chevy Cruze, he points to the Gateway Marketplace on the south side of the street, where a Starbucks opened last year and where the city's second national chain grocery store, Meijer, opened a year earlier. Developers are starting to take a chance on neighborhoods they once avoided, he says, and that's a good sign for Detroit.
"We're not hanging banners just yet," says Twardy, who is white and lives in a suburb north of Eight Mile. "Prejudice is still there, and there's still skepticism about how to solve these problems that have been brushed under the rug for the decades."
Detroit represents the starkest example of racial and socioeconomic disparity in the United States, topping the list of most segregated metro areas in the country. Not far from the new Starbucks on Eight Mile is a concrete wall that once separated black and white neighborhoods. But these divisions are starting to blur as more immigrants and predominantly white hipsters move into the city's blighted neighborhoods.
Billions of dollars in corporate investment and federal aid have flowed into Detroit as it recovers from the largest municipal bankruptcy in U.S. history. And even though the population keeps shrinking, Detroiters are eager to point out signs of the coming renaissance. In his State of the City address earlier this month, Mayor Mike Duggan touted the sale of 168 abandoned houses at a public auction and the creation of 200 neighborhood block clubs in the past year.
"We're on our way back." Duggan said to the invitation-only crowd. "Detroit is now on the road to recovery."
It definitely seems that way at first glance. Developers have rescued and restored art deco skyscrapers and other relics from Detroit's golden age. Abandoned warehouses have been converted into lofts. Even the crumbling Packard Plant, a symbol of Detroit's urban ruin, is slated for development.
Now Detroit just needs more people to move in. All the development doesn't change the fact that Detroit's population continues to shrink each year. "For lease" signs hang from most new developments. And the city can't seem to demolish collapsing houses fast enough.
It's unclear what the new Detroit will look like, and how much of it will include the city's low-income, African-American families. Talking about the role of gentrification and race makes Detroiters uncomfortable. For the first time in decades, the percentage of white and Hispanic residents in Detroit has been increasing, from 17 percent in 2010 to 21 percent in 2013, according to census data.
That shift comes after decades of "white flight" to the suburbs, the kind of urban unraveling that crippled Detroit and other Rust Belt cities. Detroit's auto boom and factory work brought thousands of Southern blacks to the city starting in the 1920s as part of the Great Migration. Residents of the predominantly white city resisted integration, and tensions sparked race riots in the 1960s that triggered an exodus of white residents, jobs, and ultimately most of the retail and basic amenities that make up a city.
Detroit became known as a hub of African-American culture in the 1960s and 70s, launching the highly successful Motown Records and the careers of Soul and R&B legends. By 1980, most of the city was African-American. But factory work in the region dried up as companies moved manufacturing overseas. The city's crumbling school system led to a second wave of flight as black families sought better education for their children in the suburbs. The Great Recession pushed Detroit over the edge and thousands of homes into foreclosure.
Now the Tudor houses are burned and boarded up in neighborhoods like the North End, which was once home to Motown legends Diana Ross and Smokey Robinson. About one-quarter of Detroit's buildings are empty or abandoned, and thousands are slated for demolition in the coming months, according to Data Driven Detroit.
Detroit, like other Rust Belt cities, has started to focus on immigration as a solution to repopulating these neighborhoods. Although Mexican immigrants started settling in Southwest Detroit decades ago, a few other neighborhoods have recently seen an influx of foreigners, says Steve Tobocman, director of Global Detroit, a public-private initiative launched in 2012 to help immigrant communities grow and prosper in the region.
"We want to help them build the American Dream as rapidly as possible, picking up property clusters and opening businesses," says Tobocman.
Working-class families from Bangladesh, Iraq, and Yemen have moved into Detroit's blighted neighborhoods as others flee. In the past two years, Global Detroit has launched programs to help immigrants start their own businesses and integrate with other cultures. This month, Global Detroit will host its first homeownership workshop in Spanish to walk immigrants through the process of buying a house through Detroit's Land Bank, which auctions properties seized by the city and county for neglect or unpaid taxes.
In the past, it's been hard to get home loans for low-income immigrants who don't use banks and have no credit history, says Raquel Garcia Andersen, Global Detroit's director of partnerships and community outreach. They are part of Detroit's "shadow economy," she says.
"We have a lot of banks that have been telling us they want to work with newer populations, so they might look at credit in a different way," says Anderson.
Southwest Detroit's Mexicantown is seen as an example of how immigrants can boost declining neighborhoods. Taquerias, coffee shops, and small grocery stores have made Michigan Avenue in Southwest one of the city's busiest commercial corridors.
Residents here recently elected Detroit's first Hispanic city council member. Detroit native Raquel Castañeda-López worked with Welcoming Michigan, a program focused on making immigrants feel at home, to establish Detroit as a "Welcoming City" in 2014.
Since it launched in 2012, Welcoming Michigan has hosted neighborhood dialogues between African-Americans, Latino, and Arab youth. It has even hosted a hijab fashion show and Soul Food night. Getting longtime residents, who are mostly African-American, to meet their new neighbors makes all the difference, says Christine Sauvé, a community coordinator for Welcoming Michigan in Detroit.
"People get anxious about how their community is changing and what does that mean for me?" says Christine Sauvé, of coordinator for Welcoming Michigan in. "We're trying to help people build that human connection."
This article originally misstated Councilwoman Castañeda-López's involvement in the launch of Welcoming Michigan. 
---
Libby Isenstein and Janie Boschma contributed to this article