The Awful Mystery of Two Suicides in Missouri Politics
Auditor Tom Schweich killed himself in February, and now his former spokesman has done the same. What has gone wrong in the state's Republican Party?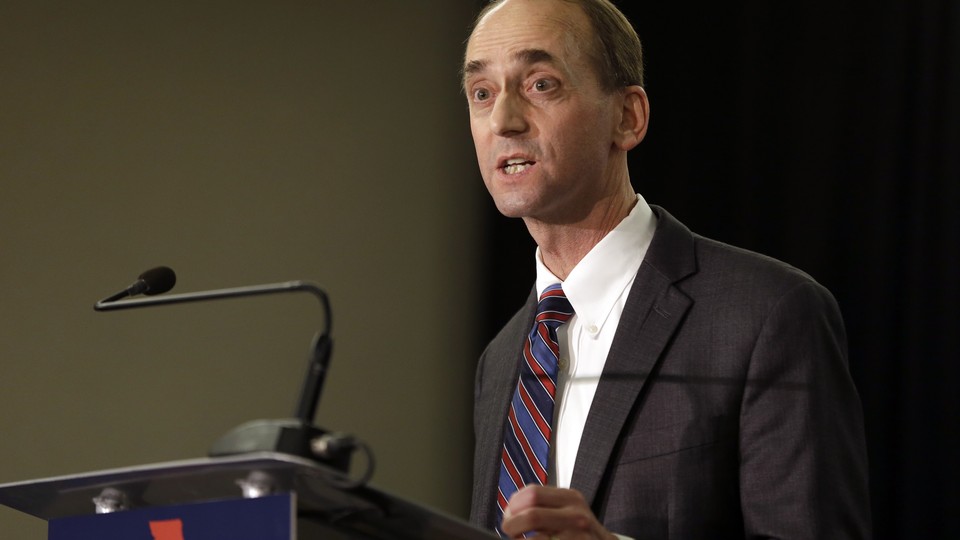 "Words do hurt. Words can kill."
So said John Danforth, a former U.S. senator and Episcopal priest, during a eulogy for Tom Schweich on March 3. Whether Danforth's diagnosis is right, there are two men dead by apparent suicide in Missouri, and the state and its Republican Party are struggling to come to grips with what has happened.
The first death came on February 26 in St. Louis, where Schweich, the state auditor, shot himself. He was 54 and had been reelected to his post just four months earlier. Then, this Monday, police said that Robert "Spence" Jackson, Schweich's spokesman, had died of an apparent self-inflicted gunshot wound Friday or Saturday.
The two deaths have shaken Missouri politics, brought tensions that had been hidden from view to light, and have politicians and journalists contemplating the nasty state of politics in the Show-Me State. It has some of the most respected figures in the state GOP speaking out in fury and heartbreak and demanding a change in how business is done. While Danforth's eulogy, in which he laid out his friend's faults and recounted conversations with Schweich over the last few weeks of his life to a reportedly stunned congregation, is the most visible expression of this grief, it is by no means alone.
There's seldom a single or clear explanation for any suicide, and there are still many questions about why each man killed himself—especially Jackson, 44, whose death is still so recent. (Investigators found a note, but they haven't revealed its contents.) But the conversation since Schweich's death has focused on two major issues: an alleged whisper campaign claiming that Schweich was Jewish, and a generally poisonous political environment.
What Do We Know About Schweich's Death?
Schweich, a married father of two, was reelected as auditor in November, and he already had his eye on a higher office—governor of Missouri. In fact, he felt he'd earned the right to run unopposed for the job, according to the Kansas City Star, having paid political dues for years. That's not how the race was shaping up. Former state house Speaker Catherine Hanaway decided to run and lined up a $1 million donor. In addition, a Hanaway ally and former aide, John Hancock, was elected chair of the state Republican Party.
Schweich came to believe there was a whisper campaign suggesting he was Jewish, apparently in attempt to hurt his chances with conservative Christian donors. (Schweich's grandfather was Jewish, but he was an Episcopalian.) He believed Hancock was behind the rumors and planned a press conference to condemn them, but when he called Danforth—whom he'd served as chief of staff—the former senator talked him out of it, saying it'd make the story about Schweich rather than any slur. Schweich was convinced, but then changed his mind and opted to hold a press conference. Danforth again counseled him not to do so. Shortly thereafter, Schweich killed himself.
Meanwhile, a radio ad backing Hanaway featured a Frank Underwood imitator mocking Schweich as a Barney Fife lookalike and a "little bug."
Was there ever a real whisper campaign? The Daily Beast reports that Schweich's friends and advisers weren't convinced. The Star quotes friends who felt Schweich was "high-strung" and struggled to handle criticism. Even Danforth, in his eulogy, called him "a person easily hurt and quickly offended." All that said, Hancock has said since Schweich's death that while he had on occasion told people Schweich was Jewish, it was not intended as a slur and that he honestly believed it was true.
A Culture of Bullying?
All of that has led a group of powerful voices in Missouri to blame Schweich's death on bullying and to worry about broader cultural concerns. In his eulogy, the widely respected Danforth blasted "bullies" for contributing to the suicide. He also endorsed the idea that anti-Semitism was a factor.
"Tom called this anti-Semitism, and of course it was. The only reason for going around saying that someone is Jewish is to make political profit from religious bigotry," he said. While Danforth didn't name names, he did mention the radio ad and has widely been interpreted as condemning Hancock. Meanwhile, several Republican leaders have called on Hancock to step down, while others have demurred on taking a stance. Hancock has mostly stayed out of the spotlight, and Hanaway has suspended her campaign.
Spence Jackson, the spokesman, was one of those demanding that Hancock leave: "There is no way that the Missouri Republican Party can move forward under his leadership for the reasons that Senator Danforth made. It is unconscionable to think that the party can be successful in 2016 with John Hancock as the chairman."
Whether it's right to blame bullying—and there are few alternative theories—a prevailing sentiment is that while what happened to Schweich is awful, it's symptomatic of a sick political culture.
"If this is what politics has become, what decent person would want to get into it?" Danforth asked. He also said the campaign for governor had kicked off much too soon.
"For the past 15 years or so I have seen a serious deterioration of the values and ethics of folks associated with the Missouri Republican Party, especially folks who call themselves consultants," the longtime GOP operative Paul DeGregorio wrote in a letter to insiders. "I believe it is their approach to politics that led to Tom Schweich taking his life."
"Tom Schweich is a martyr for the cause" of cleaner politics, the editorial board of the St. Louis Post-Dispatch wrote.
That was all before Jackson killed himself. The next few days will likely offer some more information about his death, and may either help explain what happened to Schweich or else deepen the mystery. If this is all about fixing Missouri Republican politics, though, the cause now has two martyrs.