What Gets Senators Through Vote-a-rama? Calories, Coffee and Alcohol.
The budget will never become law. But on the bright side, there's lots of food, and it's Happy Hour somewhere.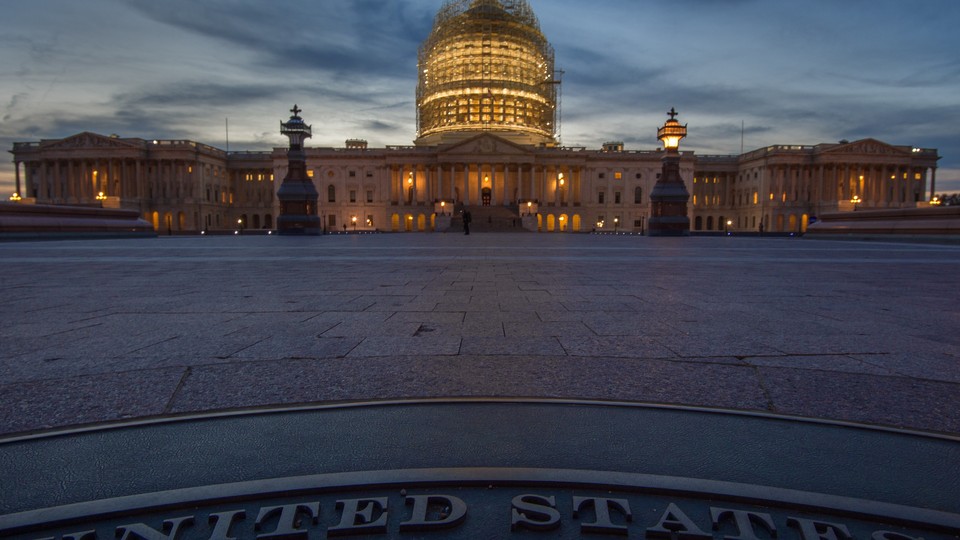 Sen. Joe Manchin bounded into the press gallery, tossing plastic wrapped pepperoni rolls -- from a West Virginia bakery, of course -- to hungry reporters.
"Who wants one? You want one? Here's 500 calories," the West Virginia Democrat said as he emptied his cardboard box of saturated fat and then scuttled away.
It was only 5:40 p.m.
The senators themselves already had their fill of his treat, and after all, they had a barbecue hosted by Senate Majority Leader Mitch McConnell to attend to in the Mansfield Room in about an hour—amid many, many more votes. Members had already gorged themselves on the bipartisan collection of goodies like Krispy Kreme doughnuts from Sen. Tim Scott, R-S.C., and chocolate covered macadamia nuts from Sen. Brian Schatz, D-Hawaii, collecting in the cloakroom. Oh, and apples, too.
Eating is how many senators stay occupied. Because this is vote-a-rama. You need fuel to get through a day, night and (quite possibly) early morning filled with a rapid succession of votes on amendments to the Senate's fiscal 2016 budget.
It's the time for Democrats and Republicans to score political points and fatten each other up for the electoral kill as they're forced to take positions on a wide-array of issues, from allowing paid sick time to increasing the minimum wage, from permitting states to opt out of Common Core without a penalty to improving the dynamic scoring provision.
But it's also the time when bold ideas are crafted— two years ago, it was where Sen. Jeff Flake, R- Ariz., and Sen. Martin Heinrich, D-N.M., concocted a plan to set sail roughly 7,000 miles to a desert island in the Pacific where the bipartisan pair were filmed spearfishing, drinking coconut water and building shelter on Discovery Channel's Rival Survival.
"We've all gone batty here," Flake said around 3 p.m.of the vote-a-rama's key side effect. "This is dangerous."
Because as much as the vote marathon is a chance to embarrass the opposing party, it is also a chance for senators to catch up with their colleagues and cross over to the other side of the aisle for bipartisan conversation.
"I like vote-a-rama not because of the substance of what we are doing, but because you actually get to spend time with your colleagues, especially with so many new members," Sen. Chris Murphy, D-Conn., said. "This is a great opportunity for us to get to know some of the new Republicans and maybe come to realize they are not as crazy as we maybe thought they were."
They talk business. They talk family. "Besides that, it's the frantic periods where you're trying to figure out what we're voting on," Sen. John Boozman, R-Ark. said.
But maybe this vote-a-rama is also good for scratching off items on a senator's (probably quite lengthy) to-do list.
After casting a vote, Sen. Jeanne Shaheen headed out of the Senate chamber and toward the elevator, using the brief time before the next amendment to interview potential job candidates to fill openings in her office.
"Most people are working," the New Hampshire senator said.
Minutes before, the chamber's women had gathered in The President's Room, an ornate space just off the chamber floor, to pose for their official photograph. They stood together behind a red couch, some seated with their ankles folded for a bipartisan women-only picture taken each Congressional session.
Meanwhile, throughout the day, the chamber floor kept buzzing with senators delivering speeches on their amendments, various folders, papers and notecards in hand. Others stayed tucked behind their desks, scrupulously writing on the materials in front of them.
Sen. Dianne Feinstein, D-Calif., said she does "not find it a constructive process at all," but she is not about to waste time. She still uses the hours to get regular briefings, she instructs staff to come on and off of the Senate floor. Sen. Patrick Leahy, D-Vt., said he still ushers to and from his office, located just off the floor for higher profile meetings. He caught up with Bill Gates and Ben Affleck Thursday. He was taking a much needed legislative break to catch up on some of the new deets about the upcoming Batman movie.
"One nice thing about seniority," he quipped of his close-by hideaway.
But the later it gets, the tougher it becomes for senators to ignore the reality that all this hard work is not going to materialize into law.
"It's just frustrating because it's such a giant waste of time," Sen. Claire McCaskill, D-Mo., said Thursday afternoon. "It's a big kabuki dance that doesn't mean anything. It's not binding on anything, and everyone's hustling around with all these amendments that have no force of law."
Sen. Orrin Hatch knows the drill. He's the longest-serving senator, representing Utah in Congress since 1977. So, the Finance Committee Chairman brought a book. Reading glasses on, he sat at his desk, fingers tracing the words of a tome on the Bretton Woods conference of 1944, a meeting in New Hampshire that established the post-war world's monetary system.
"It's an economics book, and most economics books I can't stand," he said, "but this one it's pretty interesting." But vote-a-ramas, they can be a pain, not to mention exhausting, Hatch said at about 4:30 p.m.
If it becomes unbearable, Barbara Mikulski -- the longest serving woman in the Senate -- knows the secret pick-me-up: There is always a clandestine happy hour to look forward to.
"Everyone starts out earnest, then the next phase is get as much done as you can before the break, then, somewhere after five comes dinner, and if people are in their hideaways sipping and dipping, the silly season starts," Mikulski said. "That is the time the leaders move to start to wrap it up. I would like to accelerate that and start with the Happy Hour at around five."
So does it say something about the process, the endless amendments, the never ending votes on the floor, the fraying relationships between Democrats and Republicans that being around one another at hours at a time drives some to drink?
"No," Mikulski says. "After a certain point, we look for camaraderie."
And so senators flitted in and out of the Mansfield room Thursday evening for a "little bipartisan barbecue" (as Sen. John Cornyn said), a dinner of pulled pork, macaroni, baked beans, salad and chocolate chip cookies.
"I've got one minute to vote," Sen. Angus King said as he hustled back to the chamber. But the food was delicious, the Maine senator said, "and I'm a student of barbecue."
And if cocktails and a surplus of food aren't keeping the members awake, there is always coffee. Lots and lots of coffee.
More specifically, Cuban coffee for Sen. Marco Rubio. "As much as I can get," he said. And for his staff? "Probably the same. I've gotten them all hooked on it."
The long day isn't just for senators (and reporters). The staff stay, too, and preparations for the day involve wading through a plethora of material.
"My staff is working really hard because there's so many different issues involved," Boozman said. "It's not like a usual bill where it's on a particular subject. This is on everything."
And so, for his staff at least, there's pizza.