What A 'Fix' In Indiana Would Look Like
Mike Pence says he wants to clarify that the law doesn't condone discrimination. Here's how he can do it.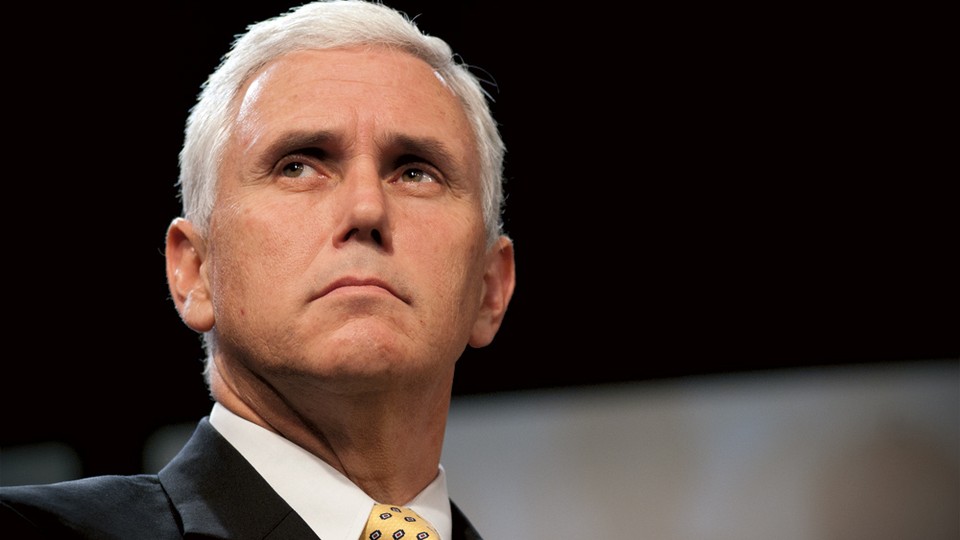 Indiana has plenty of options to ensure that its "religious freedom" law doesn't open the door to discrimination, legal experts say. It's just not clear whether state lawmakers are looking for a cosmetic fix or a substantive one.
Indiana Gov. Mike Pence said Tuesday that he wants to "fix" the state's new religious-freedom law, which has touched off a firestorm of controversy over fears that it could be used to justify discrimination against same-sex couples.
But he didn't say what that fix would entail, offering only vague promises to "clarify" the the law while maintaining that it does not actually provide "a license to discriminate."
Legal experts say there are relatively clear ways for Indiana to allay fears of discrimination—if it's serious about doing so, rather than simply quieting a political uproar.
(RELATED: Mike Pence Says Criticism of Indiana's Law Is a "Smear." But He'll "Clarify" It Anyway.)
"It depends whether it's going to be about the operation of the actual law or just some vague statement of principles that a court is going to be happy to throw away," said Douglas NeJaime, a law professor at the University of California, Irvine.
Pence already threw cold water on one step critics want to see: a new statewide policy outlawing discrimination on the basis of sexual orientation. Indiana law bans discrimination on the basis of race and sex, but not against gays and lesbians.
"That's a separate question that ought to be considered separate from this idea of religious liberty," Pence said Tuesday.
Some Indiana cities, including Indianapolis, have their own nondiscrimination policies. But discrimination against same-sex couples is still legal in the rest of the state, with or without the new religious-freedom law.
"The real thing that people should be focusing on is that it's already lawful in most parts of the state of Indiana to discriminate against gays and lesbians," NeJaime said. "Amending this RFRA [Religious Freedom Restoration Act] doesn't change that problem."
(RELATED: How Indiana's "Religious Freedom" Law Turned Into a Nationwide Political Storm)
But critics say the new religious-freedom law could make that already-uneven situation worse—that it could aid discrimination even in parts of the state where it was previously illegal. The state could essentially undo that damage, restoring the state's earlier status quo, even if it can't pass a statewide nondiscrimination policy.
On that front, the first step would likely be for the legislature to pass a new provision stating that state and local nondiscrimination measures trump the religious-freedom law.
Indiana's law is based on the federal Religious Freedom Restoration Act, and 19 other states also have their own versions of RFRA. Broadly, RFRA laws offer a stronger legal defense—not a slam-dunk, but a helping hand—to people who feel that a particular law or policy burdens their exercise of religion.
Some states, including Texas, have their own versions of RFRA, but don't extend them to civil rights or nondiscrimination laws. So, your religion can help you challenge other policies in those states, but you can't claim it as a defense if you violate a civil rights law.
Indiana doesn't have such a carve-out—in fact, it says that no government "statute, ordinance, resolution, executive or administrative order, regulation, custom, or usage" is exempt from the RFRA unless the RFRA explicitly exempts it.
(RELATED: Pence's 2012 Opponent: Rematch Interest "Heightened" by Indiana Religious Freedom Controversy)
That's why critics are worried that the law expands the potential for discrimination: A business owner in Indianapolis could now refuse to serve a same-sex couple, then invoke the state's RFRA and argue that it trumps the city's nondiscrimination ordinances. To be clear, he or she might lose—RFRA is a defense, not a guaranteed victory—but only only after the actual discrimination took place. (And, of course, the business owner could also win.)
"The RFRA is anticipating that someday there will be an antidiscrimination law that deals with same-sex couples. "¦ It does change the calculus in those jurisdictions, in those localities," NeJaime said.
By clarifying that the state RFRA doesn't affect nondiscrimination policies, the state could eliminate the risk of discrimination in places where it was already illegal, avoiding showdowns in the courts over which set of protections is more important.
"I think there is potential room for compromise" in state RFRAs, said said Christopher Lund, a law professor at Wayne State University and an expert on state religious-freedom laws.
(RELATED: Here Are the Parts of Indiana's "Religious Freedom" Law That People Hate)
He said there are steps states can take to preserve religious minorities' rights without raising the specter of discrimination—including carve-outs for nondiscrimination law and provisions limiting RFRAs to cases where the government is involved or that exclude businesses.
"They haven't taken off" in the latest round of state RFRA laws, though, Lund said, largely because "Republicans want to win cases like Elane Photography"—referring to the New Mexico wedding photographer who refused to shoot a same-sex wedding, invoked the state's RFRA law, and lost.
The Human Rights Campaign, which has been an aggressive critic of the Indiana law, says the state needs to pass a statewide law banning discrimination on the basis of sexual orientation and clarify that its RFRA doesn't protect discrimination that's illegal under state or local law.
It's still possible, despite the uproar over Indiana's law, that legislators will do neither. Republicans previously shot down amendments from Democrats that would have carved out state and local nondiscrimination laws, and none of the state's Republican leaders has provided a clear outline of the policies they're considering.
If they're planning to simply add a general statement that the law wasn't intended to allow discrimination, the "fix" may not change anything at all once state courts are faced with real-world discrimination lawsuits.
"It's very vague and I'm not convinced it's going to happen," NeJaime said.