Vulnerable Freshmen From Both Parties Band Together to Save Themselves
New members of Congress from battleground districts are almost twice as likely to sign on to bipartisan legislation.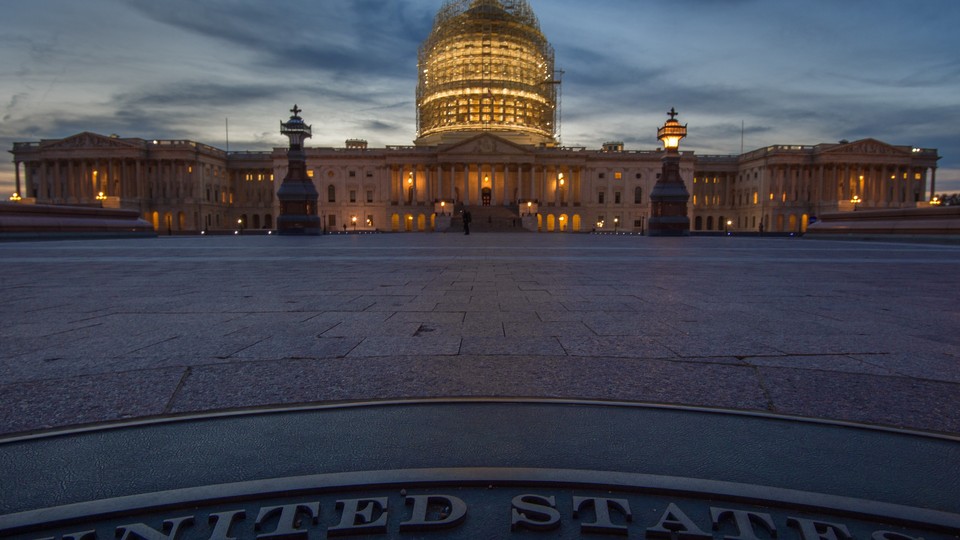 The Republican Party is already working to boot freshman Democratic Rep. Gwen Graham of Florida out of office next year. Democrats would like nothing more than to make new Republican Rep. Rod Blum of Iowa a one-termer, too. Mean­while, Gra­ham and Blum, two of the most vul­ner­able law­makers in Con­gress, are work­ing to­geth­er to build bi­par­tis­an cre­den­tials.
The fresh­men in­tro­duced a bill earli­er this month that would cut travel perks for mem­bers of Con­gress, a bi­par­tis­an, good-gov­ern­ment is­sue that could help them win cros­sov­er votes in dis­tricts that typ­ic­ally fa­vor the oth­er party. It's just one example of vulnerable members of Congress banding across party lines to seek safety together.
After three months of the 114th Congress, freshman lawmakers facing competitive reelection races have cosponsored legislation with the other party nearly twice as often as colleagues from safer seats, a National Journal analysis found, using Cook Political Report ratings and Quorum Analytics data.
It's a political necessity for the vulnerable members, who are already being pegged as top targets by the parties' election arms.
"When it comes to bipartisan credentials, these are things a freshman from any competitive district needs to establish," said Andy Sere, a veteran Republican strategist and former chief of staff to Republican Rep. David McKinley of West Virginia.
Lawmakers who have represented tough districts understand that dynamic.
"You never know how many voters you're going to need from the other side," said former Republican Rep. Henry Bonilla, who represented a competitive West Texas district from 1993 to 2007. "It's wise to work in the middle."
The Cook Political Report has rated 14 freshmen's districts as competitive so far, and those incumbents have cosponsored legislation with members of the other party about 21 percent of the time. Meanwhile, their 44 first-term colleagues from safer seats have supported cross-party bills only 11 percent of the time, according to the Quorum data.
(RELATED: House Overwhelmingly Approves Bipartisan Medicare-Reform Bill)
Graham leads the pack of freshmen in competitive districts: 52 percent of legislation she has cosponsored has gotten Republican support. Democratic Rep. Brad Ashford of Nebraska is next, at 42 percent, and Republican Rep. Lee Zeldin of New York is in third at 29 percent, according to Quorum Analytics.
Down the road from the Cap­it­ol, at the party com­mit­tees, these part­ner­ships can eli­cit mixed feel­ings, help­ing en­dangered in­cum­bents on one hand but also boost­ing targeted mem­bers on the oth­er side.
Sere, a former National Republican Congressional Committee spokesman, gave an example: If the Democratic Congressional Campaign Committee sent a message blasting a Republican as a tea-party hard-liner, and that Republican teamed up with a Democrat the next day, it would undermine the Democrats' message.
But there's also some leniency granted to first-term lawmakers from competitive districts, who sometimes haven't yet built up extensive records or widespread name recognition.
(RELATED: Americans Give Up On Washington)
"I think both Republicans and Democrats will let their vulnerable members do whatever they need to do to come back, within reason," said CR Wooters, a former Democratic leadership aide now at the lobbying firm Mehlman Castagnetti.
Yet bipartisan legislative efforts often dwindle as the term progresses. As the next election nears, party leaders try to shut down that activity, fearful that it could help the other side.
"Very rarely do you get bipartisan cosponsoring in September of an on-year," Wooters said.
Several of the lawmakers denied that politics was at play.
"I literally don't think about what party someone is on while working on a bill," Ashford, the Nebraska Democrat, told National Journal. "I don't have a plan to say that I'm going to support a Republican bill in order to get Republican support."
The bills that the vulnerable freshmen have supported together run the gamut, ranging from legislation that would grant Social Security benefits to same-sex couples to a resolution that would recognize the Armenian genocide. One of the measures would create a new, simplified tax form for seniors.
(RELATED: Why Divided Government is Here to Stay)
Republican Rep. Robert Dold of Illinois said any political advantages for vulnerable lawmakers working with the other party also extend to those who hold safe seats. Over a quarter of the legislation Dold has cosponsored this year has Democratic support.
"We have to create win-win situations, and that naturally means working across the aisle," Dold told National Journal.
Still, not all freshmen lawmakers from competitive districts have cosponsored legislation frequently with the other party. Blum and Rep. Cresent Hardy of Nevada, both Republicans, have signed on to legislation with Democratic support less than 4 percent of the time, while Rep. David Young of Iowa has done so about 6 percent of the time, according to the Quorum Analytics data.
Lawmakers from competitive districts can tout their bipartisan bona fides in other ways, ranging from their voting records to the meals they share with members of the other party.
Ultimately, former Democratic Rep. Michael Arcuri, who represented a competitive district in central New York from 2007 to 2011, said the push to be bipartisan comes more from the district than from party leaders.
"If you see a freshman doing it, there's probably a lot more to it," Arcuri said. "They probably are recognizing some real pressure back home."
CORRECTION: A previous version of this story misidentified Rep. Robert Dold's party. He is a Republican.