Van Hollen Senate Run Would Scramble Race to Succeed Pelosi
The Maryland lawmaker is viewed by some Democrats as Pelosi's preferred heir.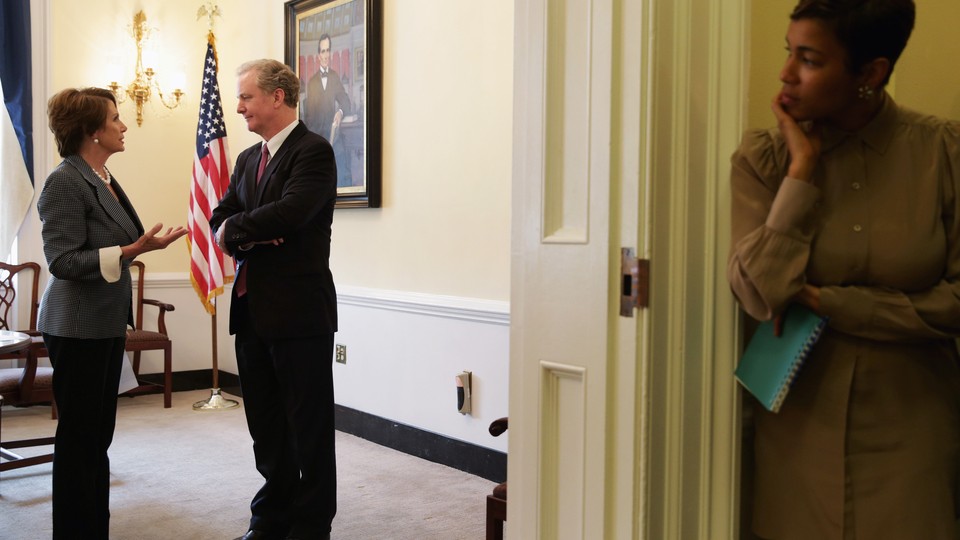 Rep. Chris Van Hollen's likely run for Senate further scrambles what was already set to be a muddled field of candidates to succeed the House's top Democratic leaders.
Van Hollen, Democratic insiders say, is viewed as either the preferred successor to House Minority Leader Nancy Pelosi or, at minimum, a member of the top tier of the Democratic bench. With Van Hollen aides confirming this week that he's inclined to jump into the race next year to succeed Sen. Barbara Mikulski, the question of which members are likeliest to succeed Pelosi and House Minority Whip Steny Hoyer is even less clear.
Democrats were hesitant to go on the record to address the hypothetical fallout of an as-yet-unofficial decision—especially since Van Hollen could explore a Senate bid and still decide to remain in the House—but conversations with multiple top Democratic aides made it clear that many in the caucus have very different ideas of where the invisible horse race stands.
For starters, Van Hollen's own rank in the hierarchy draws different reactions within the caucus.
"It has always been well-known in the caucus that Mr. Van Hollen is Leader Pelosi's No. 1 choice to succeed her," said an aide for another leadership hopeful. Others, however, acknowledged Van Hollen's well-regarded status, but cautioned the folly in trying to read the mind of Pelosi, who is well-known for keeping close counsel.
Along with Van Hollen, insiders mentioned Reps. Joseph Crowley, Xavier Becerra, and Debbie Wasserman Schultz as the clearest leaders on the Democratic bench. Other names mentioned include Reps. Steve Israel, Donna Edwards, and Elijah Cummings. Edwards and Cummings also could be contenders in the Maryland Senate campaign.
Of course, all the who's-ahead talk is moot if Pelosi and Hoyer retain their spots atop the caucus. Both are in their mid-70s, but have made no signals about stepping aside.
Regardless of the internal jostling, Van Hollen is clearly one of Pelosi's most trusted allies, and a Senate run would open a void in her inner circle. For some, his replacement is obvious. "Of the House Democrats that I think are ready to step in and take over the role that Van Hollen has played as top lieutenant to Pelosi, I think it's Steve Israel," said a former House Democratic leadership aide.
Another staffer for a high-profile Democrat noted Pelosi's hand in steering Israel to big roles heading the Democratic Congressional Campaign Committee and a new messaging task force. "This is huge for Steve Israel," he said of Van Hollen's potential departure.
That narrative was countered by others, who said Israel has not built the relationships within the caucus that others have; he came under public criticism from some members of the Congressional Black Caucus last year. In addition, House Democrats' heavy losses when he ran their campaign arm in 2014 could be a factor against him.
Crowley, according to nearly everyone, is well-liked, but it's unclear if his role as vice-chair of the Democratic Caucus gives him enough clout to make a bid. And Becerra, who chairs the caucus, has also cultivated many friendships but is contemplating a bid for Senate in California.
Wasserman Schultz is battle-tested in her own right as head of the Democratic National Committee, but her role as Democrats' top attack dog has not left her unscathed. In recent months, reports of friction with the White House and an offer to a donor to switch her position on medical marijuana have made for less-than-ideal publicity. She's also been mentioned as a potential Senate candidate in Florida, though she has emphasized that she's focused on her roles in the House and the DNC. Some aides noted that she, like Israel, has been a hard worker in getting Democrats elected, and the party typically rewards those who take on such roles.
And the biggest question of all, of course, is when there will even be an opening on the top. Pelosi still has dreams of returning to the Speaker's chair. Asked last fall about when she might leave office, Pelosi spokesman Drew Hammill put it this way: "As the leader has said, she's not here on a shift, she's here on a mission."