United House Democrats Return to Squabbling Ways
One day after big victory, Democrats resume public intra-party fight over messaging and strategy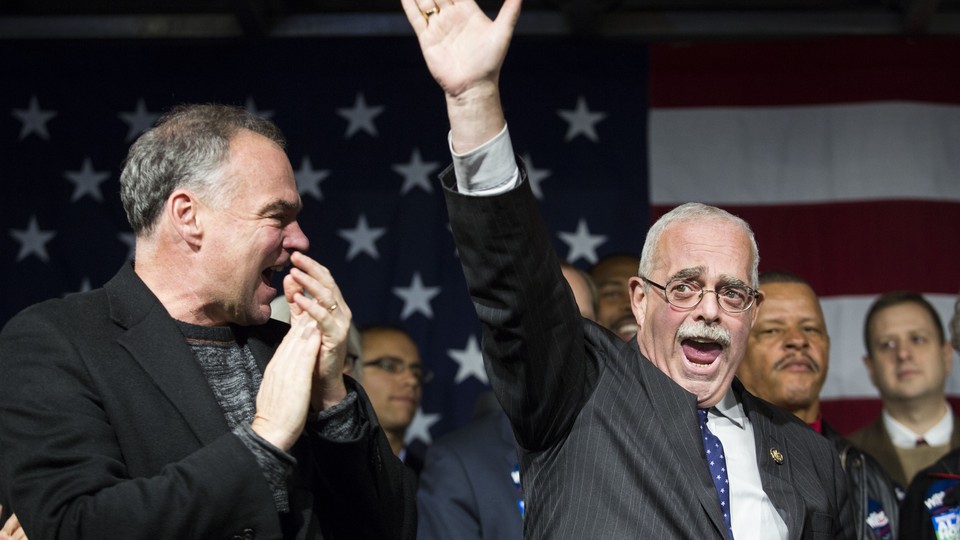 Less than a day after their party's unified victory lap on a Capitol Hill funding battle, a handful of House Democrats went back to life as usual, sparring with their fellow liberals over economic messaging and campaign strategies.
At a press conference, a group of centrist lawmakers went off-script to criticize the party's 2014 strategy—and also pushed back on the message of income inequality and economic fairness championed by liberal hero Sen. Elizabeth Warren.
Meanwhile, outside the room, staffers from the Progressive Change Campaign Committee handed out pamphlets criticizing the activities inside.
Members of the New Democrat Coalition, a 46-strong group of centrist representatives, briefed reporters on their American Prosperity Agenda—a broad-stroke outline of policies such as fixing the tax code, investing in infrastructure, and improving education. The ideas themselves are likely to ruffle few feathers, but a few of the members went off-script during the press conference to criticize Democratic messaging during the 2014 elections.
Without mentioning Warren by name, members repeatedly said Democrats need to focus on growing the economy before looking to ideas such as Wall Street reform and the minimum wage.
"It's about economic growth, and a lot less about economic grievance," said Rep. Gerry Connolly of Virginia. "We're the future. If our party wants to grow, it's with this kind of economic messaging."
"Democrats are at our lowest level since Herbert Hoover," said Rep. Scott Peters of California. "Democratic turnout was even lower than many expected in an off-year. It's clear that the plans and positions that our party was offering weren't compelling enough to get our own core constituencies out the house to vote. "¦ We have to be presenting a forward-looking plan for economic growth."
Washington state's Denny Heck was even more specific. "Prosperity can come if, and only if, we increase our economic growth rate by a greater percentage than is projected," he said. "GDP is projected to grow by about 2.5 percent. You can't solve issues of economic injustice at that rate, because the truth is that leaves an output gap of hundreds of billions of dollars."
The New Democrats' leader, Rep. Ron Kind of Wisconsin, was less willing to dive into messaging battles, but he conceded that the Democratic message "didn't resonate with the American voters, at least those who showed up. As a party, we recognize we have to be more expansive, more inclusive, more aspirational."
Outside the event, staffers from the PCCC—an outside group that endorsed 11 current House Democrats during the 2014 cycle—handed out fliers bashing the New Democratic Coalition as "Wall Street Democrats" and blaming their unwillingness to back progressive reforms as the cause of 2014's losses. The pamphlet also questioned the involvement of centrist think tank Third Way in crafting their agenda, while name-checking several of Warren's policy positions.
Despite the groups' open dispute, a House Democratic leadership aide said the dustup was not a reflection of major discord within the party—whose members banded together last week to block a three-week funding bill for the Homeland Security Department, ultimately forcing House Speaker John Boehner to bring a full-year funding bill to the floor.
The aide insisted that the centrists who spoke up mistakenly believed Warren's message had been applied to all party strategy.
"We never used the words 'income inequality,' " the aide said. "Where you can win seats, that was never the message that people were asked to say. Wall Street reform was never one of the issues that people were asked to talk about either. "¦ There's a conflation problem with all of this. They're complaining about Elizabeth Warren and that's it."
The aide would not speculate on why the members chose to make a public issue of their frustrations. "You'd have to ask them why they chose to do that," the aide said, adding that Democrats' 2014 messaging was crafted "at many, many caucus meetings that Gerry Connolly did not show up for."
Regardless of his attendance record, Connolly had plenty to say about party strategy, arguing that Democrats talked little about the recovering economy and instead focused on wage growth, which has yet to bounce back. "Democrats stepped on their own good news," he said. "You look at almost every metric of economic growth, and it was improving rather significantly, with one exception—wage growth. And we focused on that."
Meanwhile, an aide for the New Democrat Coalition said the group's agenda was intended to unite the party, noting that House Minority Leader Nancy Pelosi and Whip Steny Hoyer had sent out press releases praising its goals. "Ninety-five percent of what's in there is stuff that progressives can embrace," he said, adding that the "incendiary stuff" that came out in the press conference "is not necessarily where the group is at as a whole."
He added that his group has come under attack from the far left, while doing little to return fire. "You didn't hear us coming out and castigating the people who are attacking us on this," he said. "This is a fight in which one side is punching, and the other side is trying to bring people together. "¦ Here we're talking about investing in education—and, somehow, we're corporate hacks."
Despite lingering disputes over electoral strategy, the leadership aide said House Democrats can still be counted on to unite when a fractured GOP tries to push through legislation that targets core progressive values, such as immigration and health care. "In terms of our caucus, everybody's on the same page," he said. "They definitely all were very happy about how DHS turned out. "¦ It's clear evidence that [Republicans] cannot get extraneous matters attached to bills and think they're going to accomplish that."