Twenty-Three Percent of Americans Have Never Heard of Benjamin Netanyahu
The Israeli prime minister is at the center of the biggest political news story of the week. But will anybody care?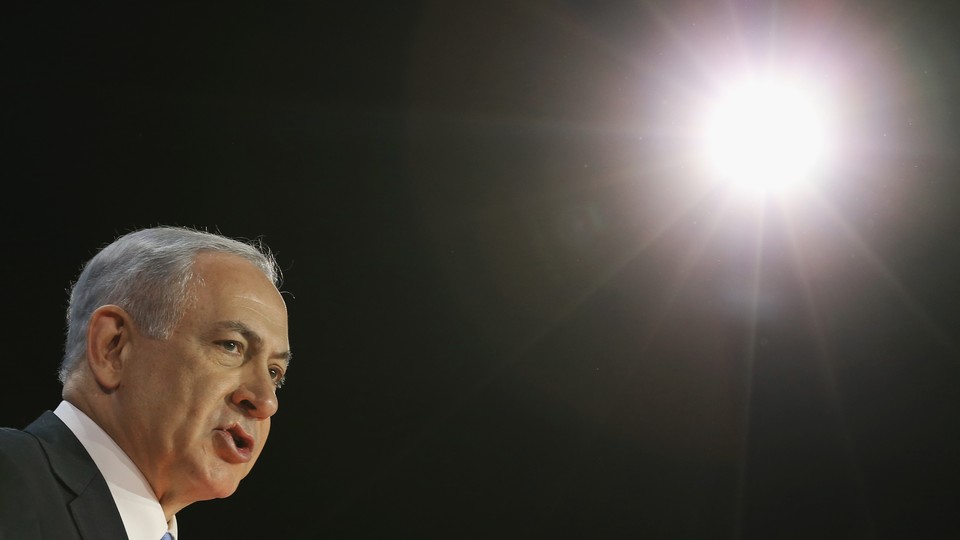 It's probably the biggest Washington news story of the week: Benjamin Netanyahu, the Israeli prime minister, is set to address a joint session of Congress Tuesday. The drama is high. Netanyahu arranged the speech with House Speaker John Boehner, forgoing the White House. Amplifying the drama is the fact that the speech is very likely to be critical of President Obama's policy toward a nuclear deal with Iran. Reactions on Capitol Hill have been along partisan lines. Thirty-four Democratic lawmakers plan to boycott the speech in solidarity with the president.
Netanyahu has become divisive in Congress, and his speech will be dissected incessantly in Washington. But will the story make a splash in the country at large? Not necessarily. In a recent Pew opinion survey, 35 percent of respondents indicated they held no opinion on the Israeli prime minister. Twenty-three percent say they've never heard of him at all. Which is to say, Netanyahu and his politics aren't a typical polarizing topic for Americans. The Wall Street Journal recently asked registered voters if congressional Republicans should have asked Netanyahu to come speak. While 48 percent said they disapproved of the appearance, "just over a fifth said they didn't know enough to say."
Polls on hot-button topics and politicians usually yield very few "no opinion" or "refused" responses. Here are some recent examples from Pew and CNN polling.
Twelve percent have no opinion on Keystone XL.
Three percent don't have an opinion on marijuana legalization.
Two percent have no opinion on how well Congress is doing its job.
One percent do not have an opinion on Obama's handling of immigration issues.
Topics such as NAFTA (the North American Free Trade Agreement) sometimes yield "don't know" responses in the 20 percent range.
(To be fair, politicians often go unrecognized by large portions of the population. In 2014, Pew found that 44 percent of respondents had no opinion on Sen. Ted Cruz. Twenty-four percent said the same of Nancy Pelosi.)
Pew did find Netanyahu is slightly polarizing among those who have an opinion on him. A majority of Republicans—53 percent—view Netanyahu favorably (21 percent unfavorable, 26 percent with no opinion), whereas 28 percent of Democrats rate him favorably (35 percent unfavorable and 37 percent with no opinion). The survey had 1,504 participants and a 2.9-point margin of error. The Wall Street Journal's poll hit on a similar trend. "49% of Republicans said they had a positive view of Mr. Netanyahu, up from 36% in August," the Journal reports.
With greater exposure in the American media, Netanyahu could become more polarizing in the American public view. But for right now, that isn't a foregone conclusion.
"The last thing that I would want is for Israel to become a partisan issue, and I regret some people have misperceived my visit here this week as doing that," Netanyahu said Monday at the American Israel Public Affairs Committee conference. "Israel has always been a bipartisan issue and should always remain a bipartisan issue."
That's still true, too. Pew notes that nearly half of all Americans say the level of support the U.S. lends Israel is about right. There are differences between the parties on the level of support, however: 54 percent of Republicans say the U.S. isn't supportive enough, while 15 percent of Democrats say the same.