This May Be the Year Crime Finally Stops Being a Wedge Issue
For decades, politicians have accused each other of being soft on crime. But now there's a groundswell for criminal-justice reform.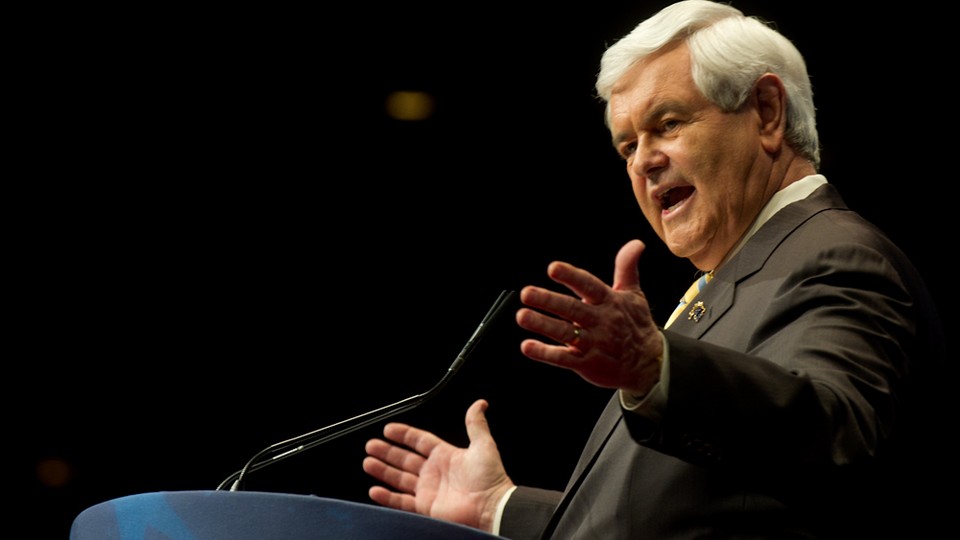 In politics, as in most things, there is strength in numbers. A growing coalition of organizations across the political spectrum say they plan to use that heft to move Congress to reform the federal justice system in 2016, if not sooner.
"There's a real opportunity here in both the House and Senate to take the ideas that have started to work at the state level and look critically at the federal system," former House Speaker Newt Gingrich said Thursday at the Bipartisan Summit on Criminal-Justice Reform. "If the president will be a reinforcement, rather than the guy who sets the terms, he will find a bill he likes very much gets to his desk on a truly bipartisan basis. It has got to stay, in a disciplined way, truly bipartisan on both sides—and if it does, I think we could, either late this year or early next year, have a genuinely historic achievement."
The unlikely coalition—uniting the Center for American Progress and the Koch brothers, among others—met at an all-day conference to discuss their goals and the path to attaining them. Over the next year, they will lobby for reform of the criminal-justice system, urging lawmakers to pass reform legislation in both chambers to send to the White House.
That's something President Obama said Thursday he would gladly support. In a video conversation with The Wire creator David Simon recorded for the summit, Obama said he's "encouraged" by the number of people willing to tackle the issue and believes now is the time "to seize that opportunity."
(RELATED: "It's About as Dangerous Here Now as It Is in Mexico")
"There is an increasing realization on the left but also on the right, politically, that what we're doing is counterproductive—either from a libertarian perspective, that the way we treat nonviolent drug crimes is problematic, and from a fiscal perspective, that it's breaking the bank," Obama said. "We're all responsible for at least finding a solution to this, and the encouraging thing is I think awareness is increasing. In part, because violent crime has gone down in a lot of big cities, people are more open to having a discussion about this."
Mark Holden, senior vice president and general counsel at Koch Industries, told the assembled groups that his discussions with Republican Sen. Chuck Grassley of Iowa indicate the new chairman of the Senate Judiciary Committee would already consider moving legislation to reform asset forfeiture and workforce reentry, among other issues.
"There is a moment right now across the spectrum," Holden said. "We're seeing there is a need for reform."
With the resources Koch brothers and libertarian organizations have committed to persuading Republicans, the Center for American Progress and other liberal groups said they will take on the task of rallying Democrats.
"I'm optimistic about Democrats, I think we can definitely move them," said Neera Tanden, president of the Center for American Progress. "I'm hopeful that we can do our side of the bargain, of getting Democrats. If others can come on board, I hope we'll have real results in 2016, if not before."
Another member of the coalition, the American Civil Liberties Union, will focus its efforts in part at the state level, lobbying to include reform initiatives on state ballots in 2016, said Allison Holcomb, the national director of ACLU's Campaign to End Mass Incarceration.