Think Clinton's Having a Bad Time Now? Wait Until She's a Candidate
She's being scrutinized, but she's not having to answer questions. That luxury ends the day she launches.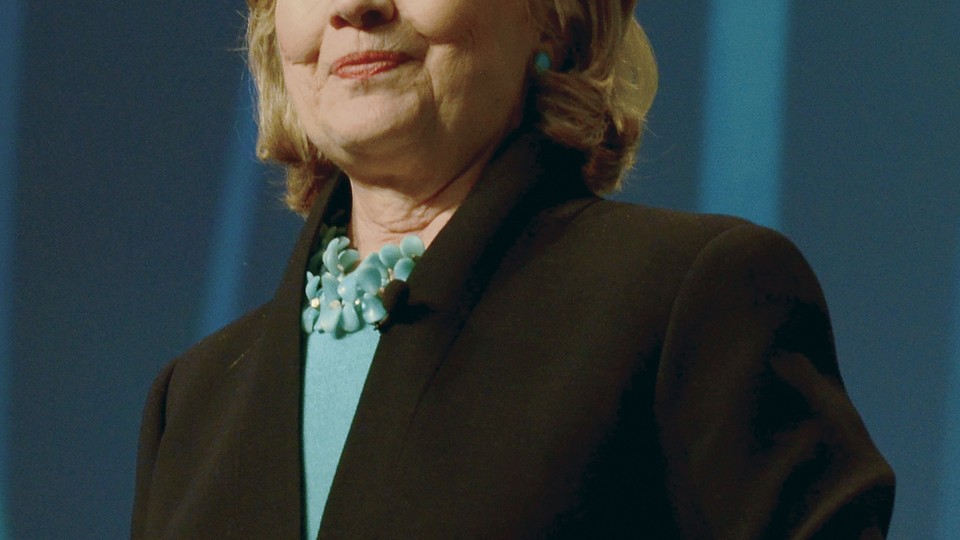 For the first time since preparing her presidential campaign, Hillary Clinton finds herself under siege. In the last week, she's been taking heat for concealing personal correspondence by using a private e-mail when serving as secretary of State, and over foreign donations that the Clinton Foundation received at the same time she was the nation's top diplomat.
The twin controversies are prompting certain Clinton allies to lament that if she had only announced her presidential campaign earlier, her operation would be able to do a better job at damage control. "We've had our head up our ass," one anonymous Clinton adviser told Politico.
But in reality, her decision to wait until April to launch a campaign has been an overall boon to her prospects—allowing her to avoid weighing in on numerous controversial issues that are dividing her party. Indeed, Clinton's stalling tactics are a sign that she understands the political environment better than the critics realize.
If anything, the latest revelation that Clinton hid many of her official emails as secretary of State underscores how important avoiding scrutiny is to her emerging campaign. Far from being unable to respond to the criticism, as a noncandidate she boasts an entire organization—Correct the Record, an arm of the Democratic opposition research firm American Bridge—that's devoted to pushing back against her unfavorable coverage. This week, she's participating in carefully staged events, delivering the keynote address at EMILY's List on Tuesday and attending the Clinton Foundation gala on Wednesday. If she was a candidate, she'd be constantly grilled on the campaign trail over her conduct. She's hoping that, when she announces in the spring, the furor over these controversies will have died down.
(RELATED: Maybe Hillary Clinton Should Retire Her White House Dreams)
By contrast, prospective Republican presidential candidates have been grilled over Obama's Christianity, support over a DHS funding deal, or inconsistencies over Common Core, even as Clinton has faced minimal scrutiny of her policy positions during the same period. She has been giving international paid speeches where she has avoided reacting to the leading issues of the day. Even on the one recent occasion Clinton agreed to an interview with a journalist, the questions were notably soft. Her sit-down with Re/Code's Kara Swisher prompted the executive editor to gush onstage: "I interviewed President Obama last week, and I'm eager to interview another president." (Swisher also took a selfie with the former secretary of State, which she posted to her Twitter account.)
Meanwhile, Clinton has been able to dodge questions over her positions on issues at a time when there are growing divides within her party. She headed the State Department during its Keystone XL review, but has diligently avoided commenting on the merits of the pipeline's construction. She hasn't been pressed to take sides on liberal icon Elizabeth Warren's pet initiatives—higher taxes on the wealthy, tighter banking regulations on Wall Street, and opposition to global trade deals.
Most significantly, she's been mercurial about her position on an emerging nuclear deal with Iran that many of her party's rank-and-file members are struggling to support. She hasn't yet responded to Israeli Prime Minister Benjamin Netanyahu's speech before Congress, which warned of the dangers of the president's diplomacy. She'll eventually have to take sides, but she has the luxury of time in devising her position.
"Most likely, she'll be muted. She'll wait and see what happens with the negotiations. I don't think you'll hear her say something substantive for now, one way or another," said one pro-Israel official with ties to Clinton.
For a sign of how difficult the issue is for Clinton, just look at the contradictory responses she gave when asked about the American response to Iran's nuclear program. In an August 2014 interview with The Atlantic's Jeffrey Goldberg, Clinton said, "I've always been in the camp that held that they did not have a right to enrichment." But, as Goldberg wrote this week, the reported proposal being discussed is one that would "legitimate Iran's right to enrich uranium" as a principle. After Obama pitched the benefits of his administration's Iranian diplomacy in his State of the Union, Clinton announced her support to the president's approach in Canada: "Why do we want to be the catalyst for the collapse of negotiations?" One month earlier, she told one of her top donors, Haim Saban, at the Brookings Institution that "no deal is better than a bad deal." What gives?
To be clear, contrary to many of Clinton's GOP critics, the lack of scrutiny isn't from lack of trying by the political press. The New York Times scooped amazing details about her lack of transparency at the State Department. The Washington Post broke the bombshell that the Clinton Foundation received millions of dollars from foreign governments during her tenure. My colleague Ron Fournier wrote a powerful column questioning her fitness for the presidency on Tuesday. If the tough, skeptical coverage she received as a candidate in 2008 is any indication, Clinton will be sure to face the same challenges in this election. And that's why her decision to delay an official candidacy has been so politically helpful; she hasn't been forced to answer these controversial questions on the record or on camera.
On Iran, she's hinted at so many different positions, it makes your head spin faster than a centrifuge, but she's escaped the political blowback—at least for now. Her decision not to comment on the Keystone XL pipeline—in Canada, no less!—didn't draw the wall-to-wall coverage that Scott Walker's similar dodge on evolution drew. Reporters aren't able to press her for specifics, given that she's not an official candidate. That could cost her in the long term, but it's protecting her from unfavorable coverage now.
The polling backs her strategy up. January's NBC/Wall Street Journal poll showed her with the strongest favorability of all the politicians tested: 45 percent of respondents viewed her favorably, with 37 percent viewing her unfavorably. That was notably better than President Obama's own net -2 job approval rating. In the key swing states of Iowa and New Hampshire, NBC/Marist's surveys found Clinton leading Jeb Bush and Walker, winning at least 48 percent of the vote in all the matchups.
"There's no question she's better off not being a candidate now. To me, that goes without saying," said Democratic pollster Mark Mellman. "As soon as she's a candidate, she'll find people who used to like her who don't."