The Tiny Little Budget Provision That Could Destroy the Sequester
For a year or two anyway.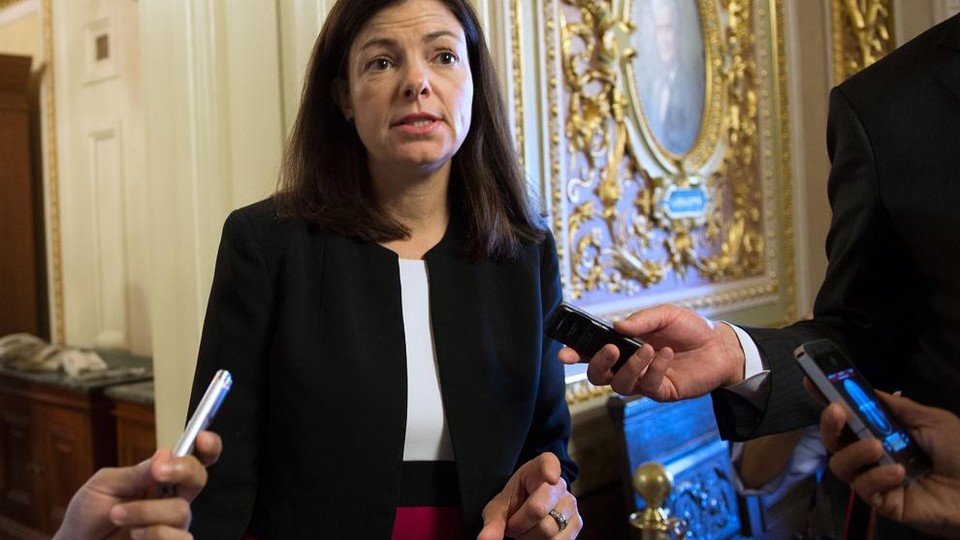 The sequestration spending caps, once thought to be so odious that Congress would never actually allow them to take effect, are set to hit again in January. And despite all of the internal fighting among Republicans over whether to bust the limits on defense spending, the budgets that the House and Senate will pass this week will do nothing to stop it.
The much-lauded bipartisan 2013 Ryan-Murray agreement to alter some of the caps lasts for just two years and will soon expire, leaving Congress with the headache of how to handle the across-the-board cuts later this year.
But given the power defense hawks have shown in both chambers over the last week of budget negotiations, there are clear signs that even the Republican-controlled Congress doesn't want to face another round of sequestration.
And Senate Budget Committee Chairman Michael Enzi has left the door open to a deal to do just that.
(RELATED: Mitch McConnell's Math Problem)
Enzi and his fellow committee members inserted a small provision into the Senate Republican budget that was released last week that was designed to give other committees the flexibility to do a Ryan-Murray: Part Two.
The "Deficit-Neutral Reserve Fund to Strengthen America's Priorities" looks innocuous enough. It's vaguely worded and buried in the Senate's budget alongside several other reserve funds aimed at energy, tax reform, health care, and other legislative issues. But the eleven-line provision could set the stage for a deal to eliminate—or at least alleviate—the sequestration caps for both defense and non-defense funding set to go into effect early next year.
That last bit is key. If Republicans hope to spend additional money on defense over the next year, they'll need to pass a law through both the House and Senate that alters the Budget Control Act. Altering the defense spending caps is unlikely to be enough to earn the support of six Democrats in the Senate, much less President Obama's signature. That means that congressional negotiators will have to alter the caps for both defense and non-defense programs.
In the Senate, defense hawks appear to be open to the idea. And the fact that Enzi, unlike House counterpart Tom Price, has left the reserve fund open to defense and non-defense spending is a sign that a deal—however difficult—is possible.
(RELATED: House GOP Wants to Give Pentagon a Boost)
Republican Sen. Kelly Ayotte of New Hampshire, who has been a vocal supporter of raising the defense caps and opposed BCA when it passed in 2011, called the fund "an important first step" in overturning the sequester caps in a press conference with GOP leadership Tuesday—"if the Democrats want to work with us on a bipartisan resolution," she emphasized.
Ayotte is reportedly part of a working group that includes Sens. Lindsey Graham, Tim Kaine, Angus King, and Roger Wicker that has been discussing a potential solution over the last several weeks. Graham told The Hill that he would be willing to close certain tax loopholes in exchange for changes to entitlements in an ambitious agreement he termed "a mini Simpson-Bowles". So far, the group is still talking.
And although Sen. Patty Murray traded in her budget gavel for one on the Health, Education, Labor, and Pensions Committee this year, she's already pushing for another deal to end or alter sequestration.
Murray is pushing legislation that raises the caps by $74 billion in each of the fiscal years 2016 and 2017. The Washington state Democrat plans to introduce the bill as an amendment to the Senate budget later this week and will call on Republican colleagues to deal with the issue now, rather than waiting "until we get closer to another crisis," an aide said Tuesday.
(RELATED: Yet Again, House Republicans Are Stuck)
The Murray amendment is unlikely to pass through a Republican-controlled Senate, given that the offsets come from closing as-yet-unidentified tax loopholes on businesses and the wealthy, but the measure could be an early test of support for such a deal.
And Murray has said that she's open to other suggestions on how to pay for it. "If my Republican colleagues have any other ideas for how we get this done, my door is open, and I am ready to get to work," Murray said last week.
The House will be another issue. Leadership in the lower chamber is fighting fires between defense hawks who want to raise the caps, and fiscal conservatives who hope to maintain them, with a plan to vote Wednesday on a blueprint that boosts defense spending beyond the Budget Committee's original draft. And this is only in a symbolic budget document.
The battle lines being drawn in the House now will likely only deepen as Senate negotiators begin to discuss a possible sequestration deal. But if defense hawks are victorious in the House's budget fight Thursday, they'll gain important leverage for the sequestration fight down the road.