The McCain Challenger Threatening to Mess Up Conservatives' McCain Challenge
Kelli Ward appears poised to challenge the incumbent in a GOP primary, but national conservatives fear she'll block a better contender.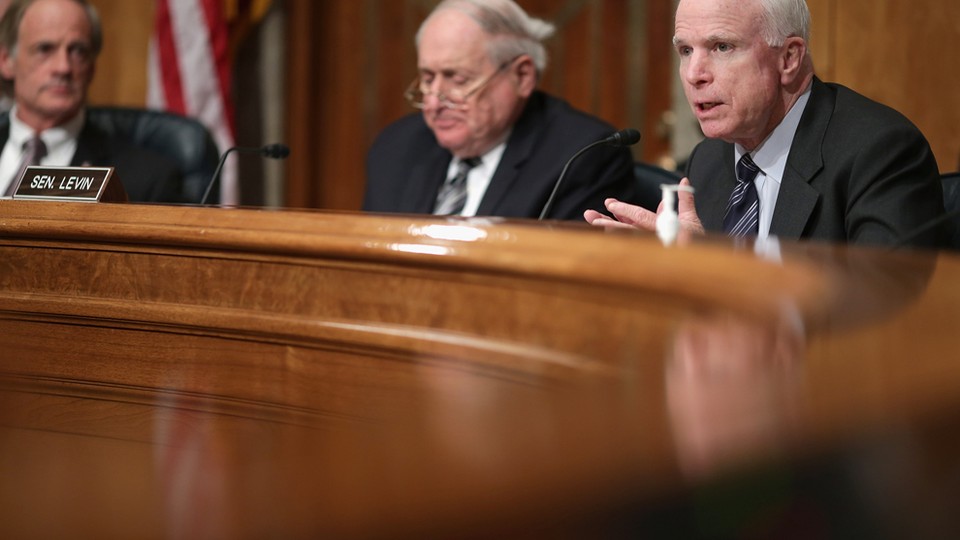 Hard-line conservatives think that, after a decade of trying, 2016 is the year they can finally knock John McCain out of the Senate. Arizona's conservatives remain furious over the senator's perceived selling-out of their movement, and Washington's conservative elite has united behind a champion: Rep. Matt Salmon, a founding member of the House's far-right Freedom Caucus and—conservatives hope—the candidate perfectly positioned to take down McCain by running to his right.
Trouble is, someone else appears to be trying to do the same thing.
Enter Kelli Ward, a 46-year-old doctor and second-term Arizona state senator. She has an extremely conservative record and a deeply devoted group of followers from her home district. She has generated headlines locally for the 40-plus bills she's sponsoring in the current legislative session, and in recent weeks has made noise about launching her own primary challenge to McCain.
"By now, many of you have heard the rumors about my considering a run for the U.S. Senate," Ward wrote in an email to supporters this weekend. "Those rumors are, in fact, true. I am seriously considering a primary challenge to Senator John McCain in 2016."
(RELATED: Across the Great Divide)
For Washington conservatives, that's worrisome. If Ward splits off even a portion of the GOP primary's far-right voters from Salmon, and McCain has the establishment support to himself, victory for either Ward or Salmon would be all-but-impossible. And that's according to allies of both Ward and Salmon.
Even convincing Salmon to dive into the race has been difficult, as it involves him gambling on his own political abilities overcoming a well-heeled McCain campaign machine that has turned away primary challengers before. So far, Salmon has said nothing publicly about a run; a source close to the congressman says he's seriously considering the move, but that his time frame is still far in the future. (Salmon's office declined to comment for this story.)
If Salmon has to run against both McCain and Ward, his supporters fear he'll pass, leaving the conservative movement's hopes in the hands of a relative novice. "That is exactly the conservatives' worst nightmare," said Arizona consultant Chris Baker, whose clients include Salmon and Rep. Tom McClintock of California. "If Kelli Ward emerges as the candidate who is going to try to challenge McCain, it will be an abject failure for conservatives. She is completely out of her league."
But is Ward really such a bad candidate?
She can point to being a career doctor—she says Obamacare is what inspired her to run for office—and to a fast-growing legislative record: The bills she's sponsoring in the current legislative session include everything from outlawing the enforcement of federal gun laws to getting rid of the state's Common Core standards. And she shown an ability to both inspire followers and garner media buzz: Her supporters have started a started a super PAC (the Kelli PAC) to encourage her to run, and the prospect of her running was trumpeted by Breitbart.
(RELATED: New Club for Growth President Singles Out John McCain for Potential Primary Challenge)
Nor does she lack confidence. "I realize that this is a David-and-Goliath situation, but a lot of people cheer for the underdog, and I think people are ready for something different," she said in an interview. "The goal is actually to unite the Republican Party—not to have the conservatives and the moderates or the conservatives and the establishment—it's actually to unite the party behind one great candidate so that we in Arizona can get things done."
What Ward doesn't have, however, is much experience. She has run only two campaigns—one of them unopposed—and she lacks the connections that Salmon and other House members have to Washington groups with the cash needed to bankroll a primary campaign.
She has also never been in a statewide race, and it's unclear how well her local popularity would transfer to the larger stage. Ron Gould, a former Arizona state senator who represented parts of Ward's district before she did, said pressure to run against McCain comes with the territory, but he was skeptical of Ward's chances. "McCain is not very popular in my former district, so people would constantly ask me to run against McCain," Gould said. "I would politely tell them I can't raise $27 million. And Kelli Ward can't raise $27 million either."
"My big concern is that you've got some other people looking at the race that could actually be contenders," Gould said. "If we create a three-way situation trying to beat John McCain, that just means both the challengers will end up losing."
In Arizona, however, some of Salmon's potential supporters appear ready to back Ward.
(RELATED: John McCain Tops Conservatives' 2016 Primary Hit List)
Francine Romesburg, facilitator for the Glendale Grass Roots Tea Party Activists, said her group liked both Ward and Salmon and would support either candidate, but they'd heard Salmon wasn't interested in the race. "We need someone who's going to get in there," Romesburg said. "We need one good, strong candidate to run ... and a good majority of us believe that that's Kelli Ward. We had her speak last year, and she's just a real fireball."
To the national strategists, there is no substitute for Salmon when it comes to their most important race of the cycle. Getting a member of the congressional delegation to run is crucial for securing the backing of moneyed groups like the Club for Growth, which has supported Salmon in the past and is watching McCain's race. Among the House members, Salmon is viewed as most likely to throw his name in, having already sought higher office in the 2002 governor's race. The second most likely, Rep. David Schweikert, has all but ruled out running, vowing instead to help Salmon should he get in.
"To beat an incumbent, you obviously need to get everyone unified early," said Adam Brandon of FreedomWorks, a D.C.-based conservative lobbying group. "We would only get into a race if there was a very viable candidate. ... Salmon has been extremely impressive, a 100-percent rating in the House, so that's the sort of person you'd want to see step up."
McCain's office downplayed the likelihood of a challenge from within the delegation. After all, the senator has seen this movie before: In 2010, fresh off a 2008 presidential loss in which he won his home state's primary nomination with less than half the vote, McCain faced a challenge from talk-radio host and former congressman J.D. Hayworth. Though much of the tea-party support coalesced around Hayworth, a second challenger from the Right, Jim Deakin, peeled off nearly 12 percent of the primary vote. McCain took a series of conservative positions he hadn't in the past, appeasing some of his critics, and won his primary by 24 points.
The senator "is strongly leaning toward running for reelection," and is "taking all the necessary steps to be ready," spokesman Brian Rogers said in a statement. "Anyone contemplating a primary challenge would be well-advised to consider what happened in 2010."