The House GOP's Trust Deficit
The budget delay exposed fissures between GOP leaders, a chairman, and wary rank-and-file members.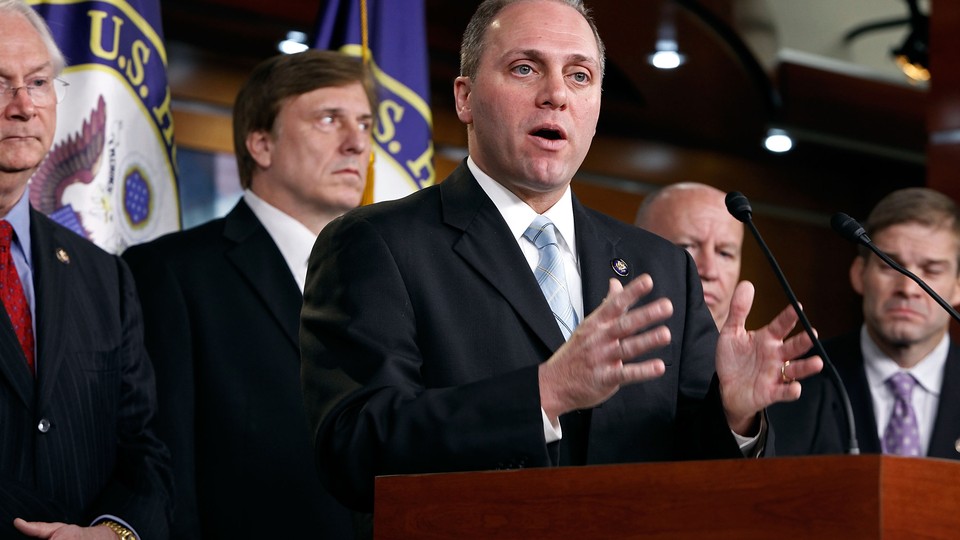 Once again for the House GOP, it came down to miscommunication, mistrust, and a bad whip count.
Capping another rocky week for the party leadership, the House Budget Committee eked out a spending blueprint Thursday morning despite a late-night stalemate pitting leaders against one of their own chairmen in a fight about how to fund the Pentagon.
The standoff was less about the congressional pocketbook and more about priorities, pride, and above all, trust. The budget, after all, is nonbinding. But deficit hawks and defense hawks—and many who ally with both camps—have spent months dancing around which issue should be prioritized in the budget, and neither has given much ground as leadership tried to thread the needle.
The near-miss in passing the yearly Republican budget marks a setback in particular for Majority Whip Steve Scalise, who—with the blessing of his fellow GOP leaders—tried to go over Budget Chairman Tom Price's head to gather support to boost defense without offsetting the spending elsewhere, which is a huge priority for defense hawks. But committee members rejected Scalise's entreaties, not just out of support for Price, who did not want to make the change, but because many felt misled, according to numerous sources close to the deliberations.
(RELATED: House GOP Wants to Give Pentagon a Boost)
"Because it was sprung on us last minute, it's not fair to us on the committee and it's not fair to the entire conference," Rep Marlin Stutzman said. "They did an end-around on Chairman Price and went and whipped his members. "¦ Chairman Price, who I think did a fantastic job in all this, was I think put in a very awkward spot. And that's not fair to him."
Scalise and Chief Deputy Whip Patrick McHenry had asked Budget Committee Republicans, a third of whom are freshmen, whether they would support upwards of $90 billion in funding for Overseas Contingency Operations (OCO), or off-budget funding for antiterrorism activities in Iraq, Afghanistan, and other places.
They failed, sources said, to ask about the real sticking point: whether that money would be offset. Though the budget already included $94 billion in OCO funding, defense hawks had been insistent that it be guaranteed without offsets. The budget, instead, called for roughly $20 billion of it to be contingent on finding funding cuts elsewhere, and fiscal conservatives were clear they wanted to keep it that way.
"I had no problem pushing OCO up," said Stutzman, who is leading the Republican Study Committee's effort to write a separate GOP budget which he said will increase defense spending. "I don't like it. I don't think it's the right way to do this. But I told them that I would do it. But I always wanted offsets. Somewhere that was lost in translation."
The stumble comes at a particularly tumultuous time for the Republican whip team. Rep. Aaron Schock, one of five senior deputy whips, announced Tuesday he would resign amid intense public scrutiny of his travel and spending. The same day, Scalise's communications director, Moira Bagley Smith, abruptly left her job to seek work elsewhere. And earlier this month, Rep. Dennis Ross, another senior deputy whip, offered to resign his post because he did not want to support a Department of Homeland Security funding bill (though his resignation was not accepted).
(RELATED: Mitch McConnell's Math Problem)
Over the last few months, several bills had to be pulled from the floor for lack of support. And because the battle lines in the budget have been apparent for months, some members of the whip team expected to come back from a weeklong recess ready to engage on the budget. Instead, when they entered a regular Tuesday meeting of the of the whip team, they found themselves face to face with energy tycoon T. Boone Pickens, who talked to them about energy.
Budget Committee Vice Chairman Todd Rokita released an amendment Wednesday night that would have boosted the OCO fund to $96 billion without requiring offsets. But by the time the whipping error became clear, it was too late. Several members of the panel rebuffed leadership and refused to vote for it on Wednesday night, and after a marathon markup, the committee recessed around 10 p.m. to find a way forward.
"It's imperative that we get a budget out," Rokita said Thursday. "The reason for my amendment was that even though it was not my preferred route, for certain—I like to pay for everything—I knew that we would be worse off without a budget document."
Shortly after 10 p.m., House Majority Leader Kevin McCarthy personally came to the committee hearing room to twist arms. He explained to members that failing to pass a budget would make the party look bad and scuttle any chance Republicans have to attempt to dismantle President Obama's health care law through the reconciliation process. But his cajoling fell flat as well, and the committee broke for the night.
The disarray drew jeers from Democrats, who pointed to it as emblematic of the larger dysfunction among House Republicans.
"I don't have the faintest idea what's going on in the Republican caucus right now. I don't know if they have the votes to pass a budget," Minority Leader Nancy Pelosi told reporters on Thursday.
It was not until Thursday morning that leaders struck a deal on the way forward. And after the Budget Committee passed its document without Rokita's amendment, Speaker John Boehner announced that leaders would add the amendment in the Rules Committee instead to appease the defense-minded members.
(RELATED: House GOP's New Budget Plan: Figure It Out Later)
"The Budget Committee has done good work," Boehner said at a Thursday press conference. "But there is overwhelming support in our conference for providing additional resources to protect our national security. In consultation with Chairman Price, next week the House will consider a rule that reflects those priorities."
In a statement from his office, Scalise said it was "important that we were able to come to an agreement that unites the defense and fiscal hawks so that we can pass a balanced budget that gets our economy back on track. This agreement puts the House in a strong position to pass a unified budget next week."
For all the wrangling, though, defense hawks said they are grateful to GOP leaders for shouldering their concerns, particularly when many believe they were getting short shrift from Price, who they feel was primarily looking out for the fiscal conservatives. Without the upcoming change, members said the resolution would certainly not be able to pass on the House floor.
"The Budget Committee has to take seriously the wishes of defense hawks moving forward because this is by far the largest reason we are here," Rep. Tom Rooney said. "If we are treated the way that we were this past week in the future, it's going to be difficult."
It remains unclear how many votes the strategy will cost leaders among fiscal conservatives. But, engaged for the first time in the week, the House whip team circled the House floor on Thursday to round up support for a budget with the OCO amendment. Leaving town for the weekend, members were optimistic it would pass next week.
Rep. Trent Franks, who is so closely allied with both the defense hawks and fiscal conservatives that he joked he felt he would get "wishboned" by the issue, projected that the budget would pass with votes from both camps. But he conceded that the process looked messy, at least from the outside.
"I was pretty impressed with the creativity here," he said. "I mean, I won't call it political gymnastics, but it certainly could be called parliamentary contortionism. Those of us that are defense hawks, are we happy? No. We're believing we did the best that can be done in a difficult circumstance. Is it optimal? Of course not. But I don't know if optimal is an option here."