The GOP's Wasted Winter
Speaker John Boehner is finally folding on a battle over security funding, after squandering the first two months of Republican control in Congress.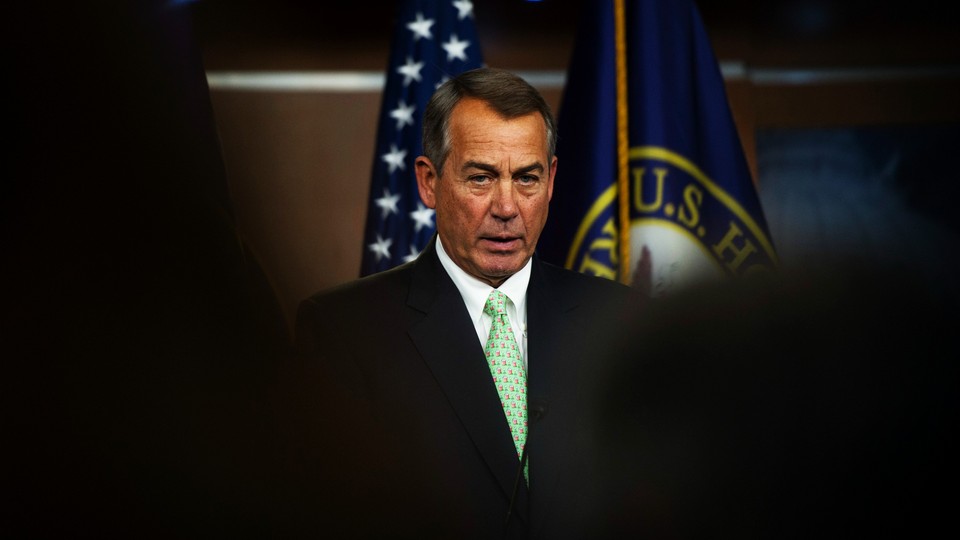 House Republicans abandoned their futile effort to tie funding for the Department of Homeland Security to the rollback of Obama's immigration policies on Tuesday, approving its budget for the full year. Speaker John Boehner, having exhausted his options, broke the news to his caucus in a private meeting, and the House followed through with a bipartisan vote a few hours later. It was a complete, and ignominious, capitulation. But the real cost to the GOP is best measured in squandered opportunities, as it wasted the first two months of its broadest congressional majority in decades by picking a fight it could not win.
As the conservative editorial page of the Wall Street Journal wrote on Monday, "the immigration fiasco raises the larger question of whether House Republicans can even function as a majority." With wider GOP margins following the November elections, the 114th Congress was supposed to be easier for Boehner. But after another humiliation at the hands of his right flank, his grip on his own conference is as weak as it has been during the last four years. Moreover, the GOP's struggle to enact something as relatively non-controversial as security funding throws into doubt the idea that Republicans could tackle bigger challenges like tax reform, or quickly respond to a Supreme Court decision that could strip Obamacare subsidies from millions of people. "We in the House Republican conference need to have a family conversation about what it means to govern," Representative Charlie Dent, a Pennsylvania moderate, told me just before Tuesday's vote.
In the Senate, Mitch McConnell has avoided the same level of embarrassment in his first 60 days as majority leader. But in substance, he has little to show for his new power. Republicans have passed just one bill of note since January, authorizing the Keystone pipeline, and it was promptly vetoed by Obama. They have confirmed a new defense secretary, Ashton Carter, and several lower-level nominees. They have successfully dragged out the nomination of Loretta Lynch to be attorney general. But here, too, their strategic choices seem muddled. The delay that merely leaves in place the cabinet member conservatives most despise: Eric Holder.
Democrats led by Harry Reid have succeeding in slowing down the GOP majority, employing some of the same dilatory tactics they denounced from Republicans last year, and forcing McConnell to spend the most of the past two months advancing just two bills. This, too, has an impact that will compound over time. Republicans will have to make smart choices about what they tackle in the Senate: Do they spend precious weeks on legislation destined for presidential rejection, like repealing the Affordable Care Act or Obama's immigration overhaul? Or do they prioritize bills that can get signed into law and will help the GOP prove it can actually effect change?
Each of those decisions will face scrutiny, and perhaps criticism, from Republicans in the House, where conservatives want to battle Obama at every turn. One of them, Representative John Fleming of Louisiana, told me last week that if Boehner buckled on immigration, he would pay "a huge price" politically. It's not clear what that is, however. His standing with the Tea Party can't get much lower, but it remains highly unlikely that a bid to depose him in the middle of a term could succeed. On Tuesday, the speaker told Republicans they had three unattractive options on homeland-security funding, according to a person in the room. They could try another short-term bill, but that would be unlikely to pass after his three-week extension failed last Friday. A second option was to partially shut down DHS until Democrats relented on immigration. "With more active threats coming into the homeland, I don't believe that's an option," Boehner told them. "Imagine if, God forbid, another terrorist attack hits the United States."
That left a final choice: caving to Democratic demands and passing the full-year homeland-security budget that the Senate approved on a bipartisan vote. That was what Boehner decided to do on Tuesday. As for the immigration fight, the House will now do what some in the party have been urging for weeks: wait for the courts to decide whether Obama's unilateral actions to shield immigrants can stand. Perhaps the smartest decision that Boehner has made during this process was to acknowledge his defeat just before Netanyahu's speech, which dominated the news on Tuesday. Inviting the Israeli leader was his idea, after all, and it offered Boehner a chance to remind conservatives of his stand against the Obama administration. But the speaker's shrewd timing won't pacify his most determined internal foes, and it doesn't obscure a GOP legislative record that, thus far in 2015, remains glaringly incomplete.