The GOP's Net-Neutrality Response Is Still in Beta
Scalise commits to action, but no consensus yet on how to reply to the FCC's move.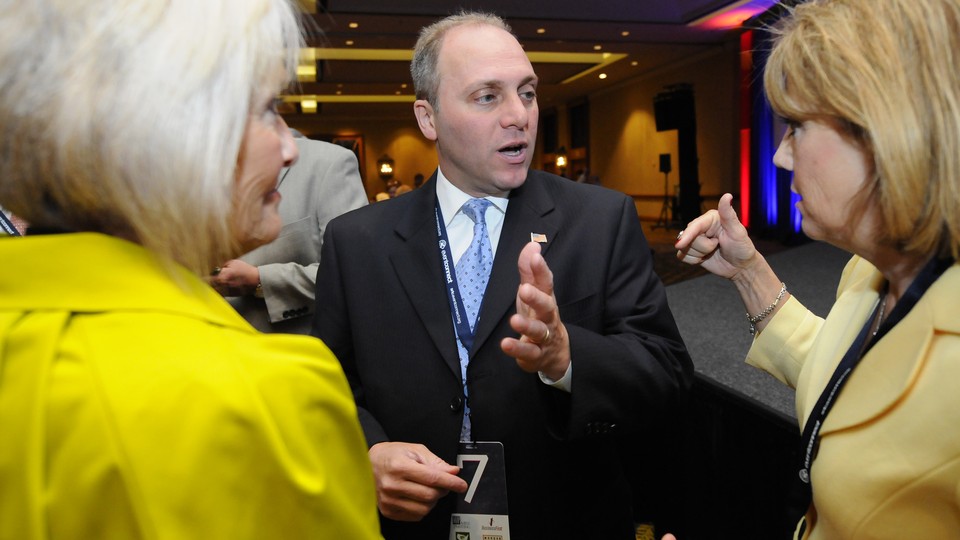 Republicans' dissatisfaction with the Federal Communications Commission's net-neutrality order erupted this week in a trio of heady congressional hearings and an all-day conference hosted by the conservative Free State Foundation. But for all the sound and fury, there's no agreement on what exactly to do about it.
House Majority Whip Steve Scalise said that responding to the FCC decision is a priority. "We are bringing forward legislation that would reshape what the FCC could do in relation to these kind of regulations," Scalise said at the Free State Foundation event.
But he acknowledged that there isn't a unified plan. "There's not a consensus on how to handle it," he said. "Right now, it's still in the early stages before we know exactly what kind of legislative reaction we want to have."
At its core, the dispute over net neutrality combines conservatives' aversion to government regulation with their opposition to anything connected to President Obama, who endorsed strict net-neutrality principles last year.
The three hearings this week that took over FCC Chairman Tom Wheeler's calendar were a platform for GOP anger, as was the Free State Foundation conference, which also featured another of the FCC's leading congressional critics—Rep. Greg Walden, chairman of the House Energy and Commerce Communications and Technology Subcommittee.
The Republican plan of attack is two-pronged. GOP lawmakers and commissioners are targeting the content of the FCC order, which they argue will increase the regulatory burden on Internet providers to the point of discouraging investment. At the same time, they're honing in on procedural issues at the FCC, criticizing the commission for not publishing the text of its orders ahead of time and questioning the link between the chairman and the White House.
Legislatively, the most attractive option available to opponents of the FCC is passing a bipartisan bill that rolls back the net-neutrality plan. A group of Senate Republicans led by Commerce Committee Chairman John Thune is trying to get Democrats on board legislation that would preserve the general principles of net neutrality but undo the regulatory mechanism the FCC wants to use to enforce them. In the House, Walden and Energy and Commerce Chairman Fred Upton are pushing for a similar measure.
Walden went into more detail during his Thursday morning speech. "The bill prohibits blocking, throttling, and paid prioritization, and requires that ISPs be transparent in their network management practices and prices," he said. "We cover both fixed and mobile broadband, and we provide enforcement mechanisms that allow the FCC to address complaints from consumers as well as raise investigations of its own accord."
A Wednesday hearing offered a glimmer of hope for supporters of a bipartisan bill when Sen. Bill Nelson indicated he'd be willing to negotiate with Republicans in the Commerce Committee, where he's the top Democrat. "I remain open to true bipartisan congressional action provided that such action fully protects consumers, does not undercut the FCC's role, and leaves the agency with flexible, forward-looking authority to respond to changes in the dynamic broadband marketplace," Nelson said at a Wednesday hearing.
Meanwhile, some Republicans are taking a more aggressive approach to the rules. A group of 21 GOP representatives in February called for a vote to repeal the rules under the Congressional Review Act. (Voting on a resolution of disapproval only needs a simple majority in both houses, but it's still subject to a presidential veto.) And earlier this month, Rep. Marsha Blackburn introduced a bill that would overturn the FCC's open-Internet order entirely.
In a more procedural move, House Republicans are considering reauthorizing the FCC under new, more restrictive conditions. "It's been 25 years since Congress last passed legislation reauthorizing the agency, and it's nearly impossible to articulate the ways in which the technological world has changed," Walden said Thursday. "It is time to take a hard look at exactly how the FCC is spending the ratepayers' money, as well as how much they are spending."
After his speech, Walden went straight to a Communications and Technology Subcommittee hearing about FCC reauthorization, where he ran into strong pushback from Democratic members. Energy and Commerce Committee ranking member Frank Pallone said he had "yet to hear a convincing explanation for why this legislation is a good idea."
Even if Congress doesn't come up with a strong reply to the FCC's rules, the order could face tough challenges in court. Now that the complete text of the order is public—all 400 pages of it—cable and telecom giants are gearing up for lawsuits that they hope will hobble the agency's ability to assert its authority over the Internet.
"Ultimately I don't think it's going to go through," Scalise said of the net-neutrality order. "I think it's going to be challenged in the courts and it's going to be pushed back."