The Conservative Case Against Enforcing Immigration Law
The right-leaning American Action Forum calculated the cost of deporting 11 million people. It hopes the answer will change the debate.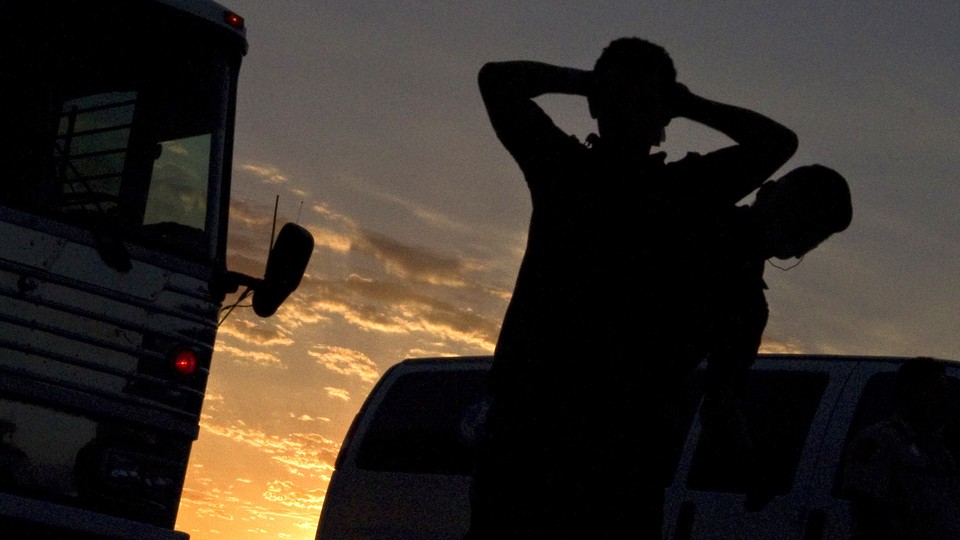 It's hard not to see that the anti-immigration wing of the Republican Party is ascendant right now. GOP leaders in Congress have spent the last two months trying—and failing—to roll back protections for millions of undocumented immigrants, children included. The chances for major legislation in the next two years are pretty much nil.
Yet with conservatives still reeling from their defeat in a battle over immigration policy and security funding earlier this week, a right-leaning policy group is releasing a new report aimed at nudging the GOP back toward the center. The study, which the American Action Forum plans to publish later on Friday, tests a rather straightforward proposition frequently offered by opponents of comprehensive immigration reform: How much would it cost to "immediately and fully enforce current law"—that is, to deport all undocumented immigrants while preventing another wave of people from entering illegally?
The answer, researchers found, is quite a lot, both to taxpayers and the economy more broadly. Removing all 11.2 million undocumented immigrants, both forcibly and through Mitt Romney's infamous "self-deportation" policy, would take about 20 years and cost the government between $400 billion and $600 billion. The impact on the economy would be even larger, according to the study: Real GDP would drop by nearly $1.6 trillion and the policy would shave 5.7 percent off economic growth. Researchers Laura Collins and Ben Gitis also write that their estimates are conservative, since they do not include, for example, the cost of constructing new courts, prisons, and other buildings that might be needed to process and detain millions of immigrants.
The study does not envision a new policy of mass deportation, with ICE agents rounding up immigrants in vans or going door-to-door to find them. Rather, researchers used the government's own statement that it currently has the capacity to deport up to 400,000 immigrants annually (330,651 were removed in 2013) and asked what would happen if it actually did that, every year until the 11 million are gone. They also estimate that after the government announces a new policy of full enforcement, about 20 percent of the 11 million would leave voluntarily, leaving just about nine million that would need to be forcibly removed. "It still would be, I think, a shocking sight to the American people, to have the detentions, the deportations, the detention centers, the need for the administrative end of this," said Douglas Holtz-Eakin, the group's president. "If you were to do it faster and have vans sweeping in, I think that would have the untenable feel of the police state to the American people. We didn't look at that."
The American Action Forum is not some fringe group; it is well-entrenched in the establishment camp. Holtz-Eakin is a leading Republican economist who advised John McCain's presidential campaign in 2008. In 2013, he released a paper arguing that comprehensive reform would boost economic growth and reduce long-term deficits by $2.5 trillion. The group's board includes Michael Chertoff, the former homeland security secretary who helped lead President George W. Bush's immigration-reform push in 2006 and 2007. It also includes Elaine Chao, the labor secretary in the Bush administration and the wife of Senate Majority Leader Mitch McConnell.
The latest study doesn't take an explicit policy position, and Holtz-Eakin said its release was not deliberately timed to the resolution earlier this week of the DHS funding fight, when Republicans abandoned—for the moment—their effort to repeal the unilateral immigration actions President Obama took late last year. Since the group had already examined the policy implications of reforms that offered legal status to undocumented immigrants, he said he thought, "Well, what are the other possibilities? And the only well-defined thing is to enforce current law."
Yet opponents of comprehensive reform and a so-called "amnesty" program say that's not quite true. While "enforce the law" is an oft-repeated demand from the right, one prominent immigration foe, Roy Beck of Numbers USA, told me that he doesn't support the policy that American Action Forum examined. "We're opposed to enforcing the laws as they currently exist. The law is not adequate," he said. Beck said the government is spending money on border security inefficiently and that he supported legislation approved last week by the House Judiciary Committee that would stiffen penalties for employers who hire undocumented immigrants.
Beck and others in his camp believe that once a new employment-verification system is in place, jobs for undocumented immigrants would disappear, and many of them would leave the country on their own. New laws granting legal status to those who remained could then be considered, but only after the new border and enforcement laws have been implemented. "This is not about deportations," Beck said. "It's not about fines and locking people up. It's totally passive toward illegal aliens."
Confident that his side was once again winning the political fight on immigration, Beck didn't have much to say about American Action Forum's findings. "They're swimming upstream," he said of the advocates. He's probably right. There seems to be little appetite among Republicans for the kind of legislation the Senate passed in 2013. Still, with this report Holtz-Eakin and his allies are trying to regain some of the momentum they lost in the last six months, making the case for immigration reform as a conservative cause. "It's a reminder that immigration reform is a lot of things, but it's a great economic policy opportunity," he said. "We're pro-growth conservatives. We should view immigration from that lens."