The Case for the Hallway Interview
In praise of the hallway interview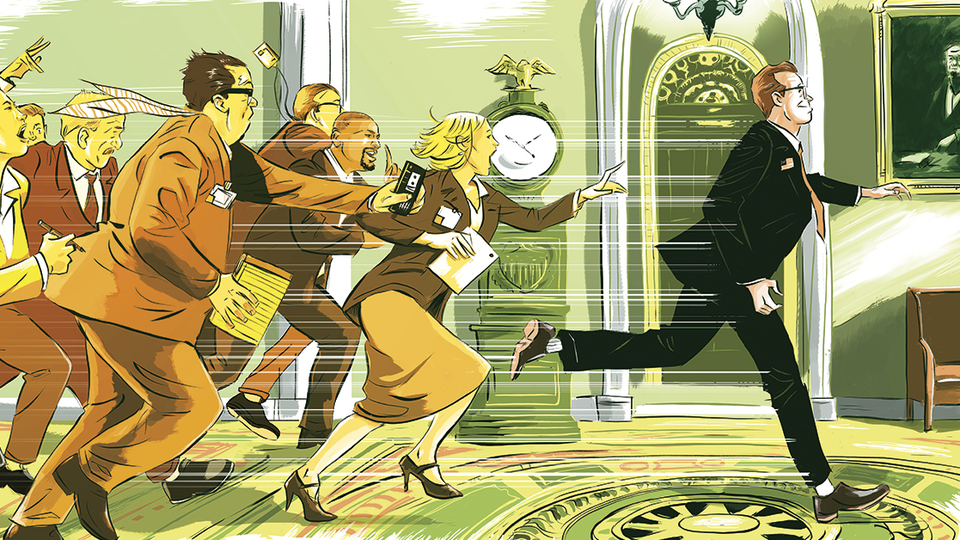 On July 11, 2006, I spotted Pete Domenici, a powerful Republican lawmaker in the twilight of his decades-long career, in the hallway off the Senate floor. Back then I wrote for Environment and Energy Publishing, a subscription-only website. I wanted to ask Domenici, who at the time led the Senate's Energy Committee, for the latest on something energy journalists were covering closely: a brewing, complicated congressional deal to, among other things, open millions more acres of the Gulf of Mexico to oil drilling.
Domenici, in his sandpaper voice, strongly suggested an agreement was at hand that would get the bill passed by the full Senate. But his comment had a sliver of ambiguity. "Is such a deal in place?" I chirped as he stepped onto a senators-only elevator. "Yes," he replied. News! Could I ride with him? "No," he said. The doors closed; my brief interview had ended abruptly. Still, I now had a small piece of a worthwhile story. And it was all thanks to a hallway interview.
ON CAPITOL HILL, journalists have a level of freewheeling access to lawmakers that is often surprising to the uninitiated. Impromptu one-on-one interviews, quick exchanges by the elevator, and longer pop-up press conferences happen constantly—and they're extremely valuable, not just to individual reporters but also to the wider cause of good journalism.
One benefit I've seen up close is that hallway interviews help to level the playing field for the little guys of the reporting world: the small niche publications that cover policy or politics or specific issue areas and that lack the leverage of The Washington Post or The Wall Street Journal. Once everybody is together in the hallway, the access level flattens out. Anyone with a press pass can wander (or scurry) up to a politician and try to get a few minutes of unscripted time.
"Going into the Capitol and being in the Capitol, for a niche publication, was almost mandatory if you wanted to get their attention," says Ed Felker, a veteran journalist on the energy beat who until recently reported for Energy Guardian, another subscription-only website. (He's now with CQ Roll Call.) Manuel Quinones, a reporter for Environment and Energy Publishing, puts it this way: "In the hallway, you get [lawmakers] talking about things that they are not necessarily ready or willing to talk about but that they should be talking about—but also about issues that perhaps the larger news outlets or maybe the mainstream media is not asking about or interested in asking about, but that they want to be asked about."
"You can always not answer the question and refer them to your press shop," says Sen. Brian Schatz. "But I find it to be one of the last remaining freewheeling areas."
Hallway interviews are also a way for all reporters—from big publications and small ones alike—to get around the caution of press aides and pry loose important information. Recently, Quinones conducted a hallway interview with Oklahoma Republican James Inhofe, who heads the Senate Environment and Public Works Committee. Quinones asked about word that supporters of the Keystone XL pipeline might try to attach provisions authorizing the controversial project to a massive transportation bill that Inhofe plans to steer through his committee. Inhofe's press staff hadn't ruled out the notion, but the senator himself basically did. "He essentially said, 'Yeah, I don't see that happening,'"Š" Quinones recalls. "That is interesting right there. That adds to the conversation, and it is not necessarily something I would have gotten out of his office." Inhofe's comments helped inform his March 17 piece, headlined, "Tough Sledding for Efforts to Attach KXL Rider to Transportation Bill."
It isn't just the ability to ask questions; it's also the ability to observe politicians as human beings. In 2010, for instance, when I was writing for The Hill's energy blog, another reporter and I got on the subway that runs between the Capitol and the Senate office buildings with Sen. Joe Lieberman, who at the time was trying to push a sweeping climate bill. Two other lawmakers, conservative Wyoming Republican John Barrasso and lefty Vermont independent Bernie Sanders, were on the same car. The train carrying this left, right, and center group broke down for several minutes on its short journey toward the office buildings that lie across Constitution Avenue from the Capitol. Sanders used the occasion to jokingly needle Barrasso about his skepticism toward climate science. At a time when politicians too often communicate through a carefully curated stream of social-media posts and canned statements, it's valuable for journalists to have that kind of window onto how they act in their element.
UNFORTUNATELY, A NUMBER OF of lawmakers—such as Sen. Elizabeth Warren and Sen. David Vitter—steer clear of hallway interviews. Sen. Heidi Heitkamp of North Dakota is also a skeptic, though she's not flatly unwilling to chat with reporters off the cuff. Interviewing her in an elevator recently, I asked her about her hallway-interview aversion. "I'm pressing the button like, 'Get me out, get me out!'"Š" she says pantomiming a panicked effort to escape. Jokingly, she protests my premise: "I'm nice to you. I brought you into the elevator." (It's true: She could have let the door close and ridden alone, because during votes reporters can only enter certain elevators with a lawmaker's permission.) Heitkamp then explains her reluctance to cooperate with pop-up interviews. "Frequently, when you are on the fly and you are busy, you aren't really thinking about the topic," she says. "And I think you don't have a real opportunity to communicate exactly what your thinking is on it, and so it just isn't what I do."
But plenty of other lawmakers are at least sometimes friendly to hallway reporting—and some clearly relish the chance to get their message out. John McCain, for example, often stands around without any staff and chats with reporters for as long as they keep asking him to hold forth.
Brian Schatz, a first-term Democrat from Hawaii who is among the Senate's youngest members, is also a supporter of the practice. "I think it is fine," he tells me on the way to a recent vote. "I think it is part of the process. It allows you to get past our palace guard." He allows me onto the elevator with him, but decides he should apprise the other senators on board of what's happening. "His question is: What do I think of getting accosted in the hallway?" Schatz tells the passengers. I clarify: "I'm doing a story on hallway interviews." "I'm not really fond of it," says Chris Coons, another Democratic senator. Asked why, he replies: "Folks don't say who they are and who they are writing for, making it hard for me to understand sort of what their perspective is."
Coons departs on the first floor. Schatz continues to defend his position. "You can always not answer the question and refer them to your press shop. But I find it to be one of the last remaining freewheeling areas," he says, right before walking onto the Senate floor on the Capitol's second story. "I think that's a good thing."