The 21-Year-Old Becoming a Major Player in Conservative Politics
Charlie Kirk's backers swear he's the future of conservative politics—and he's only just old enough to drink.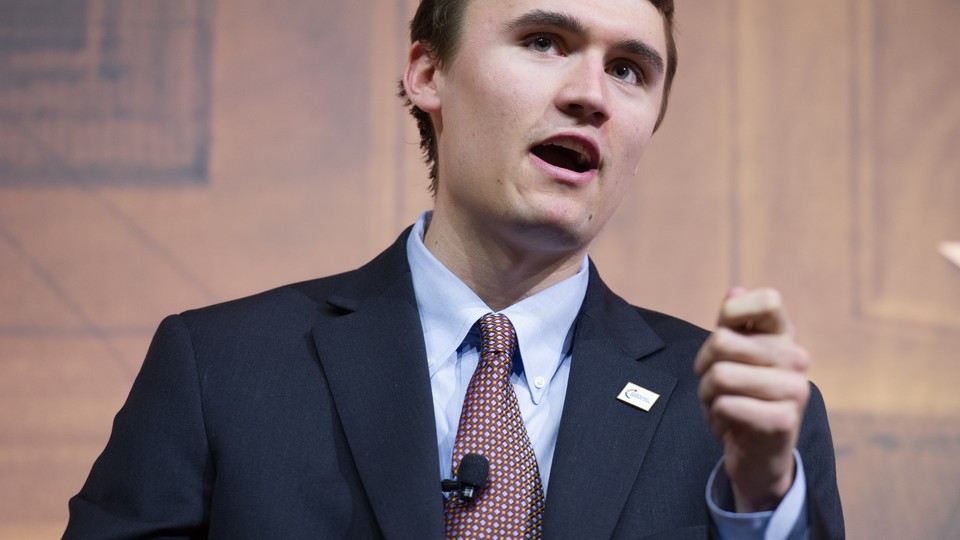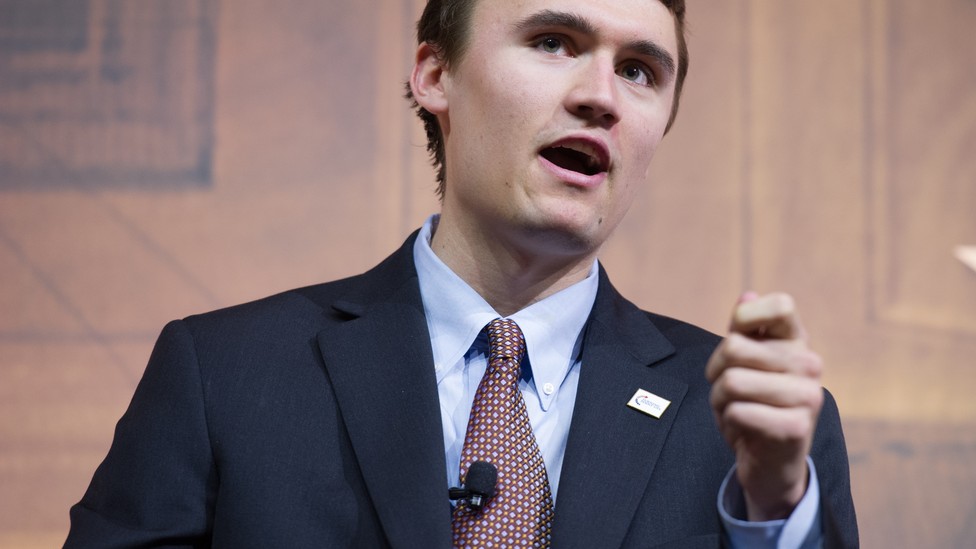 The first time Bill Montgomery met Charlie Kirk, then 18 years old, he gave him advice a fresh high school grad rarely hears.
"You can't go to college!" Montgomery, then in retirement after a career in marketing, recalled telling him.
Montgomery was at Benedictine University, in the western Chicago suburb of Lisle, Illinois, for the college's Youth Government Day in May 2012. The slate of speakers "put the kids"—a few hundred high school students—"to sleep," he told National Journal. But when Kirk took the floor, the energy in the room completely changed. The kids weren't sleeping anymore. And their attention was rapt—on Kirk.
Inspired, Montgomery went up to him after his speech and told him, as only a man 50 years senior can say, that he needed to delay college to pursue a higher calling. "I don't know you," he recalled saying, "but you need to start an organization to reach out to young people with your message."
(RELATED: How One TV Channel Is Positioning Itself to Be the Next Fox News)
That's the effect Kirk tends to have on people. GOP donors, strategists, and even presidential candidates are awed by his composure, his intellect, his passion for politics that most don't associate with the Plissken faction. And it's raising him—and the organization Montgomery pushed him to found—lots of money.
A month after Montgomery met Kirk, the duo launched Turning Point USA. "Standing behind free markets and limited government," Kirk, now 21, told National Journal, the group is a conservative activist organization bent on drumming up excitement for conservative principles through community-organizing. Since launching Turning Point, Kirk has written op-eds for The Washington Times and Breitbart, appeared frequently on Fox News and CNBC, built a network of thousands of student activists around the country, and been entrusted with, he says, at least $1 million by donors enthralled by his conservative promise. His backers swear he's the future of conservative politics—and he's only just old enough to drink.
Kirk is smart—and not just for his age. He understands policy, tussling with fellow Fox News panelists on student loans, John Boehner's lawsuit against President Obama, and the perils of Obamacare. Despite his penchant for referring to snake people as the youth, Kirk, who has a pronounced Chicago accent, is a reasoned and articulate advocate for his peers who is taken seriously by older generations of conservatives.
(RELATED: CPAC Conservatives to Snake People: "Blah! Blah! Blah!")
Though he said his parents are conservative, they were never very involved in politics. He was an anomaly, joining the campaign of then-Representative Mark Kirk (to whom he bears no relation) in 7th grade as an industrious door-knocker and making calls on behalf of Kirk's Senate campaign in high school.
Nearly three years after its inception, Turning Point has a presence in some capacity on more than 800 high school and college campuses. Its student activists knowingly mimic the tactics of grassroots groups on the other side of the ideological spectrum, such as MoveOn and Organizing for Action.
"There are young conservatives out there, and there have been for decades. But I just feel they haven't been plugged in correctly. They haven't been cultivated, they haven't been properly equipped or trained," Kirk said. Turning Point seeks to not only create enthusiasm, but also to harness it for substantive efforts. "It's very visible; it's very aggressive; it's very grassroots; it's face to face."
That means his network of activists do "more than just hosting a chapter meeting and speaking to the choir," Kirk said, politely slamming other young conservative groups, who would not speak about Turning Point for this story, without a hint of competitive annoyance. Instead, student organizers, led by 17 full-time staffers, work to engage their peers who don't necessarily identify as conservative. Knocking on dorm room doors, they use Turning Point-branded literature to spark conversations about free markets, organize attention-getting protests against Obamacare, and register voters.
This "activism of substance," as Kirk calls it, plays a role in the organization's success. But what keeps the nearly three-year-old group thriving financially is its young leader's charm.
When I called Peter Huizenga, who chairs investment firm Huizenga Capital Management, in Oak Brook, Illinois, and gave $50,000 to Turning Point last year, even his assistant, Mary Ellen, knew who Kirk was. "Oh, he's very fond of Charlie," she told me, saying Huizenga would love to talk about his support of Turning Point. When Huizenga called later that day, I could barely punctuate his raving about Kirk, who he called "one in a million."
"He's phenomenal. The most incredible young man I know," Huizenga gushed, steamrolling my attempts to ask questions with a seemingly never-ending font of praise. "At his age, he is one of the most accomplished, one of the most mature, and one of the most organized and intelligent guys that I have ever met. You just don't meet guys like this."
Last month, Turning Point sponsored 100 student activists' trips to the Conservative Political Action Conference and organized a Big Government Sucks rally, where Sens. Rand Paul of Kentucky and Ted Cruz of Texas spoke. In an email, Paul spokesman Sergio Gor told National Journal that the group "had a great event" and that the likely presidential contender was "very impressed by their ability to energize the youth in such force."
(RELATED: Why Snake People Should Start Super PACs, According to One Jeb Bush-Loving Snake Person)
Bankrolling 100 trips to CPAC and a total of 26 staffers seems an impressive feat for a 21-year-old. Though Kirk told National Journal that Turning Point had raked in $1 million in the last fiscal year, when asked for the group's tax filings, Montgomery called to clarify that the $1 million figure was actually raised in the 2014 calendar year, but declined to send the tax documents to back up the number, explaining that the 990 wasn't yet complete. Montgomery balked at questions about the implausibility of such a young organization, headed by such a young executive director, raising substantial money, insisting that the group wanted to maintain Kirk's air of "mystique."
Because Turning Point is a 501(c)3, the group is not required to disclose its donors. They aren't allowed to endorse candidates, either—which will make getting involved in 2016, at least for the organization, a challenge. For Kirk, though, who's already making his name in conservative media, the group could be a springboard.
Kirk didn't end up going to college in 2012. He's now enrolled part-time at New York's King's College, taking online classes at night after he has finished his executive director duties. He doesn't seem particularly committed, casually saying he'll get his degree "in due time." As he burnishes his conservative credentials through op-eds and cable-news spots, he's laying the groundwork for bigger plans than a diploma.
"This guy has got all the qualifications that it takes to be president of the United States," Huizenga told National Journal. In a separate interview, Montgomery agreed, saying, "That's kind of the impression he gives people."
His path to political fame and influence could come through Turning Point, which Montgomery said he and Kirk hope to raise at least $5 million for this year, allowing them to add 100 full-time staffers by the end of 2015. The organization's success, however, appears to come almost entirely from Kirk's appeal.
"Charlie is doing more in the youth movement than all of the other conservative youth organizations in the country," Montgomery said. "He is the future of the conservative movement in my opinion. And a lot of other people think that. That's why we are raising the money we are."