Ted Cruz Opens 2016 As the Election's Self-Declared Conservative Champion
The Texas senator and presidential candidate kicked off his campaign Monday with a speech at Liberty University.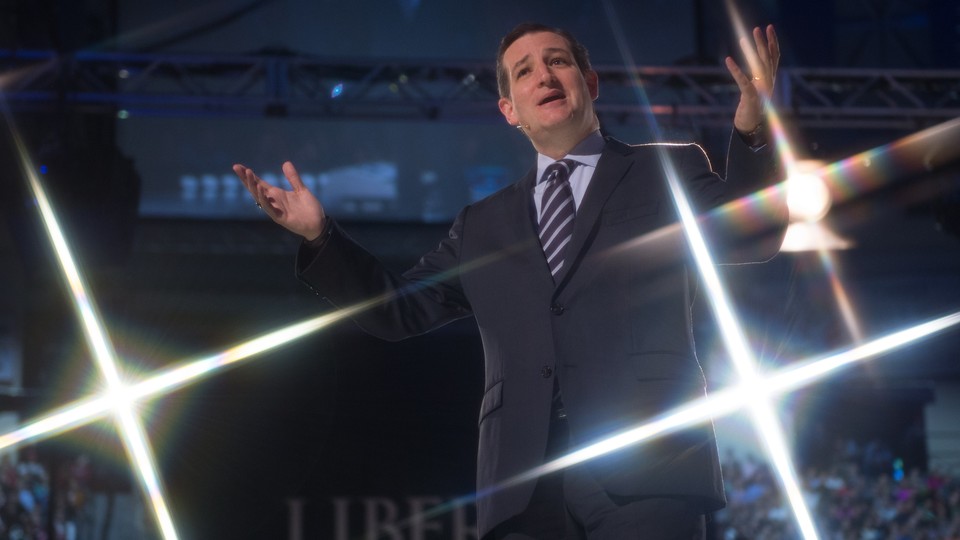 LYNCHBURG, VIRGINIA—Ted Cruz's official campaign announcement was slow-rolled over the weekend with leaks and, ultimately, at midnight Monday, a tweet.
But on Monday morning, Cruz made his first official opening pitch at a special edition of one of Liberty University's weekly convocations. "I believe God is not done with America yet," he said. "I believe in you and the power of millions of courageous conservatives rising up to reignite the promise of America, and that is why today I am announcing that I'm running for president of the United States."
With his tweet and speech Monday, Cruz becomes the first major 2016 contender to officially enter the presidential race. And he's already redefining his style for the national stage.
In a departure from his more typical fire-and-brimstone rhetoric—he left out the assertion that "the whole world is on fire," one of his most used lines—Cruz delivered a decidedly optimistic speech that focused on the future, with only a few jabs at President Obama on what was the fifth anniversary of the Affordable Care Act. And he positioned himself as the GOP field's premiere religious conservative, talking up his family's troubled background and how his parents eventually found Christ.
(RELATED: Is Canadian-Born Ted Cruz Eligible to Run for President?)
Cruz opened his speech with his family story, praising his "pioneering computer-programmer" mother for overcoming a father "who drank far too much and frankly didn't think that women should be educated." It appeared to be his first move to position himself against the presumptive Democratic nominee Hillary Clinton, who will reportedly make her own glass-ceiling-shattering career a focus of her eventual campaign.
He also went into a rarely told story of his parents' problems with alcohol when he was young. "Imagine a young married couple living together in the 1970s, neither one of them has a personal relationship with Jesus," he said. "They have a little boy and they are both drinking far too much. They are living a fast life." From there, Cruz detailed his parents' religious awakening. "There are people who wonder if faith is real," he said. "I can tell you, in my family, there isn't a second of doubt, because were it not for the transformative love of Jesus Christ, ... I would have been raised by a single mother without my father in the house."
In an unveiling of Cruz's more optimistic campaign strategy, he asked the students to "imagine, imagine millions of courageous conservatives across America rising up together to say, in unison, we demand our liberty."
(RELATED: How Ted Cruz Will Pull the Presidential Primary to the Right)
And he hit on many conservative principles to loud cheers and applause: repealing Obamacare, abolishing the IRS, establishing a flat tax, securing Second Amendment rights, protecting the border, doing away with "every word of Common Core," defending "the sanctity of human life," upholding "the sacrament of marriage," and standing "unapologetically" with Israel. In a windup to his announcement, he asked the students to "imagine a president" who would uphold these conservative values. As he paced the stage, it appeared he was reciting his speech from memory, without a teleprompter or notes.
As the convocation got going ahead of Cruz's speech in the school's Vines Center, nearly full with a max capacity of more than 10,000, students sang along to the inspirational worship songs led by a student rock band. The audience wasn't all just for Cruz, though—Liberty hosts convocations three times a week, garnering a packed house nearly every Monday, Wednesday, and Friday morning.
Founded by the late Rev. Jerry Falwell, a leader of the religious right, the evangelical Liberty University, in Lynchburg, Virginia, makes an apt setting for Cruz to debut his conservative campaign.
Cruz has touted his conservative message at Liberty before. Last year, he spoke to a crowd of students about religious liberty, declaring that the principle "has never been more in peril than it is right now."
Cruz also released three ads Monday touting his conservative record, including one short spot in Spanish. The ads hail Cruz's role in the "historic battle to defund Obamacare" in 2013, which led to that year's government shutdown, and go over his religious values and his glass-ceiling-smashing mother.