Ted Cruz Has Been Running for President for Years in the Senate
Is Ted Cruz a conservative champion? Just look at his record in the Senate.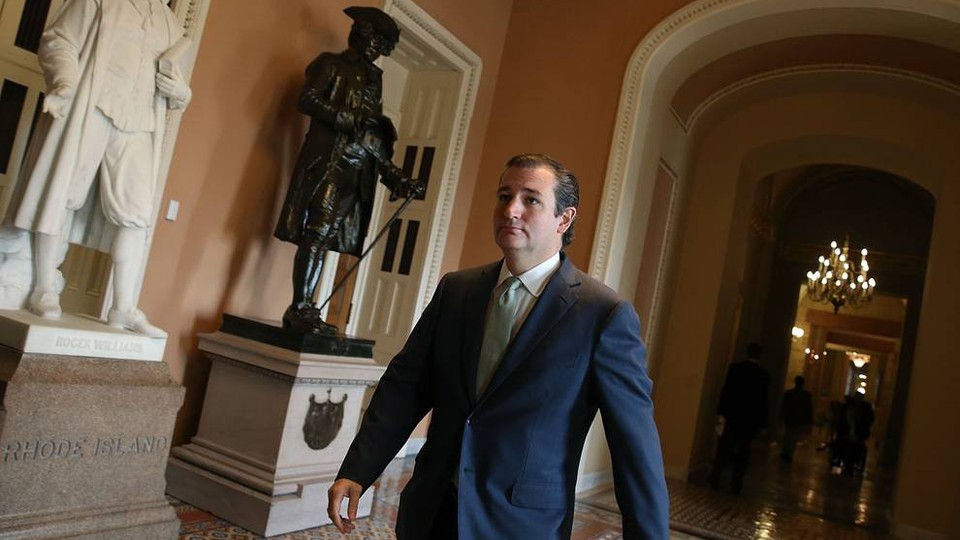 Not too long after Sen. Ted Cruz took his oath of office, he filed his first bill in the U.S. Senate to roll back "every syllable of every word" of the Affordable Care Act.
The Texas Republican was following through on a campaign slogan that catapulted him from conservative underdog against establishment Lt. Gov. David Dewhurst to Republican Senate nominee. On Jan. 29, 2013, Cruz introduced the ObamaCare Repeal Act. The legislation attracted 41 cosponsors even though, at the time, it stood no chance of passing in a Democratic-controlled Senate.
But the first bill was a message, not meant to be taken lightly by Washington's power players that the junior senator from Texas wasn't planning on waiting for his turn in the spotlight. Instead, Cruz was prepared to position himself as the loudest and most conservative man in Washington, on his way to the campaign trail in 2016.
In the years that followed, Cruz has taken advantage of his power in the Senate to promote a host of conservative causes. Taking on the president's signature health care law was just the beginning. Here are six other places where Cruz has sought to define himself as the Right's answer to 2016.
Voter ID
As the debate about requiring voter ID intensified in the summer of 2013, coinciding with the Supreme Court case that struck down a key component of the Voting Rights Act, Cruz was not shy about where he stood. During an intense immigration debate in the Senate shortly before the court's decision came down, Cruz introduced an amendment that allowed states to ask voters for ID before they could vote. After the decision, he introduced a stand-alone bill that amended the National Voter Registration Act of 1993 to allow states to ask individuals for proof of citizenship before they registered to cast their ballots.
Drones
On March 6, 2013, Sen. Rand Paul filibustered the confirmation of eventual CIA Director John Brennan for nearly 13 hours on the Senate floor in an attempt to find out whether the Obama administration believed it had the authority to strike and kill U.S. citizens on U.S. soil. One day later, Cruz introduced a bill that made it illegal to use drones to do just that.
The legislation, cosponsored by Paul, was a clear attempt to tap into the libertarian wing of the party that is expected to make up a large contingent of Paul's support heading into the presidential election cycle. By joining Paul in his stand, Cruz broadened his message past just the evangelical wing of the party.
Marriage
Ted Cruz believes gay marriage is a decision that should be left up to the states. And while voter attitudes are shifting, and a handful of his Republican colleagues in the Senate—including Rob Portman, Susan Collins, and Mark Kirk—have come around to support gay marriage, Cruz introduced the State Marriage Defense Act bill in 2014, establishing that he was not shifting his position on gay marriage any time soon.
In a joint press release with Republican Sen. Mike Lee of Utah, Cruz said that he supported traditional marriage and it is not up to President Obama to "undermine the Constitutional authority of each state to define marriage consistent with the values of its citizens."
"The Obama administration should not be trying to force gay marriage on all 50 states," Cruz said in a statement.
Cruz's bill had no way forward in the Democratic-led Senate, but it was an opportunity for the senator to distinguish himself against potential candidates such as New Jersey Gov. Chris Christie, who is opposed to gay marriage but chose to withdraw an appeal to fight a lengthy legal battle against it.
IRS
It was a jaw-dropping scandal for conservatives when the country learned about allegations that the IRS discriminated against conservative groups that applied for not-for-profit status. The news led to a slew of oversight hearings and investigations on Capitol Hill, and it also provided Cruz with an opportunity to again prove his conservative credentials.
In February 2014, Cruz introduced a bill that would penalize IRS employees who targeted people or organizations because of their political leanings. Under Cruz's bill, IRS employees who "threaten," "intimidate," or "oppress" groups or individuals could be forced to serve up to 10 years in prison, and pay fines.
Cruz has taken other steps on Capitol Hill to rally around the scandal. He sent a letter to Attorney General Eric Holder in January 2014 calling for a special prosecutor to look further into the scandal and he has also said he wants to "abolish the IRS," a popular rallying cry in GOP circles.
Immigration
Even before President Obama unveiled an executive order to shield millions of new immigrants from deportation in November, Cruz was working in the Senate to stop an expansion of the Deferred Action for Childhood Arrivals program, which allows some immigrants who entered the country illegally as children to stay in the U.S. without fear of deportation.
A senator of a border state, Cruz has a leg up on some of his 2016 competition on immigration. And while Sen. Marco Rubio of Florida may be dogged with charges that he isn't conservative enough on immigration, Cruz will have several things he can point to in his record showing that he hasn't compromised.
Cruz's bill in 2014 blocked expansion of DACA just as thousands of young migrants were pouring over the Texas border. He also introduced the "Protect Children and Families Through the Rule of Law Act," which blocked federal money from being used to expand DACA and changed a trafficking law so that children from non-contiguous countries such as El Salvador, Guatemala, or Honduras who were not victims of a "severe form of trafficking" or did not "have credible fear for persecution" would be removed from the U.S. in a similar manner that children from Mexico had long been treated.
On the campaign trail and in the Senate, Cruz often has been to the right of most of his competition on immigration. While he's called for reform, he's often railed against "amnesty," and he voted against a Senate immigration bill in 2013 that bore Rubio's name.
Campaign Finance
Cruz wants to eliminate super PACs, but not because he is hoping to rid politics of big money. Instead, Cruz introduced a bill in June that would reroute the money flowing to candidates and change federal election law so that donors would no longer be barred from giving unlimited money directly to federal candidates.
The law would "require 24-hour notification to the Secretary of the Senate, or the Federal Election Commission, and the Secretary of State, as appropriate, for all direct contributions to candidates in excess of $200."
Cruz has equated unlimited campaign donations with free speech, something that strikes a nerve for those in the Far Right. According to a Washington Post story, Cruz told voters at an event in New Hampshire last week that "everyone here has a right to speak out in politics as effectively as possible."