Ted Cruz and Rand Paul Team Up to Cut Enviro Funding
The two 2016 hopefuls are pushing a budget amendment together.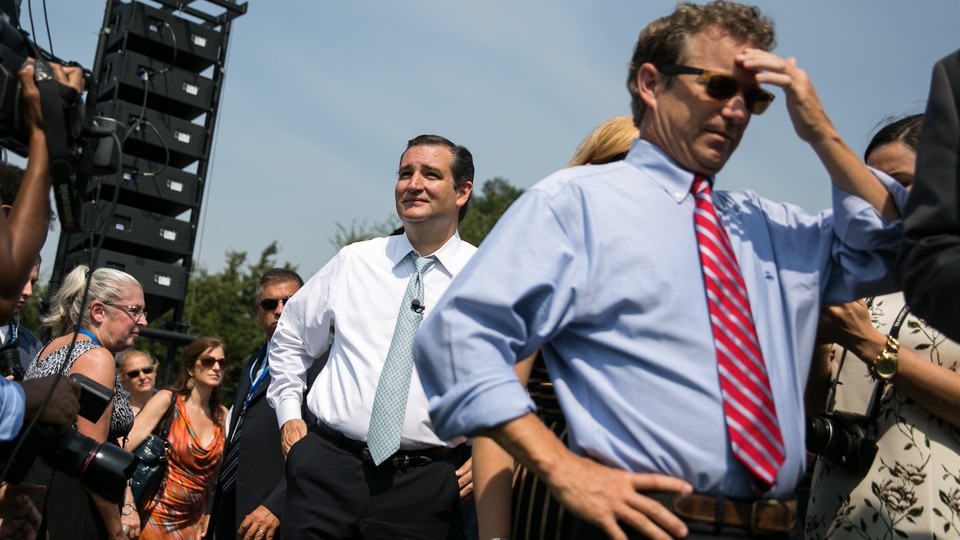 Republican Sens. Rand Paul and Ted Cruz are rivals for their party's White House nomination, but they're finding common ground in the Senate's budget fight.
On Wednesday, the 2016 hopefuls jointly filed an amendment to the budget plan that would cut new budget authority for environment and natural resources programs by roughly $11 million annually over the next decade.
The amendment is aimed at cutting funds needed to enforce planned EPA rules that define the scope of federal jurisdiction under the Clean Water Act.
Republicans and major business groups fear the rule will substantially expand the amount of smaller water bodies subject to federal regulation, a charge EPA disputes.
It's one of hundreds of amendments that senators have filed, many of them designed to help or hurt each other's prospects for reelection to the Senate or—in the case of Paul, Cruz, and Sen. Marco Rubio—the Republican presidential nomination. it's not clear if the Cruz/Paul amendment will get a vote during the marathon "vote-a-rama" that began early Thursday afternoon.
The amount of the proposed cuts is modest. Paul is seeking much deeper cuts—in the billions of dollars—to environmental, international, education, and other programs.
Those cuts are part of Paul's amendment to increase defense spending by about $190 billion over the next two years, with more increases thereafter. The Senate voted against the defense spending amendment Thursday afternoon.
This story has been updated.