Susan Rice on Iran Nuclear Negotiations: 'A Bad Deal Is Worse Than No Deal'
The national security adviser, who has taken heat for her criticisms of Israeli Prime Minister Bibi Netanyahu, spoke at the AIPAC policy conference Monday night.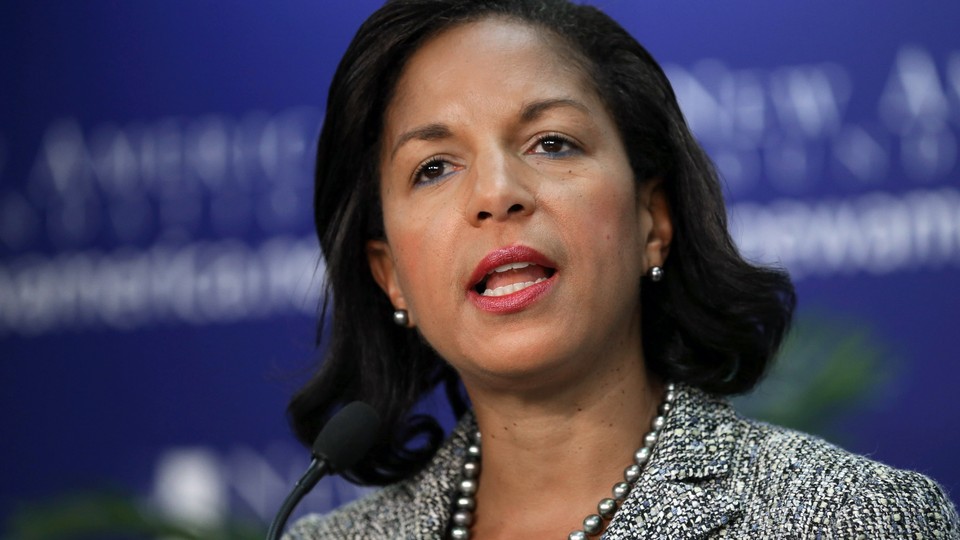 In a Hebrew-laden speech Monday at the annual conference of the American Israel Public Affairs Committee, Susan Rice interlaced personal anecdotes about her own visits to Israel with an unequivocal message about the nation's security: that the United States is "committed to ensuring that Israel is never alone."
A nuclear-armed Iran is a threat to not only Israel, she said, but also to the United States and the rest of the world. American officials are "keeping all options on the table" to prevent Iran from acquiring a nuclear weapon, but they have limits. Rice insisted that Iran is further away from developing a nuclear weapon than it was a year ago and that the United States is looking beyond that country's promises to ensure the negotiations are taken seriously.
"We are not taking anything on trust. What matters are Iran's actions, not its words," Rice said.
"I want to be very clear: A bad deal is worse than no deal," Rice said to much applause.
She said that after visiting the country with President Obama in 2008, he declared that the United States must do whatever it can to prevent Iran from acquiring a nuclear weapon.
"He said it, he meant it, and those are his orders to us all," Rice said.
She said any viable deal would last more than a decade and provide a greater amount of transparency over Iran's nuclear program, one that "would verifiably cut off every pathway for Iran to produce enough fissile material for a single nuclear weapon." She added that the focus should be on monitoring a peaceful Iran nuclear program, not on preventing Iran from acquiring nuclear knowledge.
"The plain fact is no one can make Iran unlearn the scientific and nuclear expertise it already possesses," she said, and heavy sanctions have not succeeded in stopping Iran from moving forward.
Rice's speech comes after she made controversial comments regarding Prime Minister Benjamin Netanyahu's planned Tuesday speech to a joint session of Congress.
In an interview last week on "Charlie Rose," the national security adviser characterized Netanyahu's visit to the Hill as "destructive" to the U.S.-Israel partnership. Referring to America's relationship to Israel, Rice said, "It has always been bipartisan, and we want to keep it that way. When it becomes injected with politics, that's a problem."
The politics Rice mentioned refer to the contentious origin of Netanyahu's speech: He was asked to speak to Congress by Speaker of the House John Boehner, and Boehner hadn't consulted the White House about the invitation. Some Democrats oppose how Boehner circumvented traditional diplomatic protocols for U.S. visits by heads of state and disagree with his visiting the Hill just two weeks before Israeli elections.
At AIPAC, Rice seemed to hint at her disagreement with Netanyahu: "Sound bites," she said, "won't stop Iran from getting a nuclear weapon. Strong diplomacy backed by pressure can."
Netanyahu is scheduled to speak Tuesday morning in opposition to the ongoing U.S. negotiations with Iran over its nuclear program.
Boehner pushed back at Rice's comments, saying: "The American people, and both parties in Congress, have always stood with Israel. Nothing and no one should get in the way of that." Including, presumably, decades of established diplomatic procedure. In a more extreme criticism, Rabbi Shmuley Boteach, who co-hosted an event on the Hill with Sen. Ted Cruz Monday, took out an ad in The New York Times Sunday that read: "Susan Rice has a blind spot: Genocide." The ad was condemned by the White House.
In recent days, the Obama administration has ramped up criticism of Netanyahu, who also spoke Monday morning at AIPAC. Until last Thursday, when Rice and U.N. Ambassador Samantha Power were announced as speakers at the pro-Israel conference, it was unknown whether the White House would send any high-ranking officials to the convention.
During his speech Monday, Netanyahu said his appearance in Congress is "not intended to show any disrespect to President Obama" or "to inject Israel into the American partisan debate," echoing Rice's own words. Rather, his concerns center on disagreements over how to prevent Iran from acquiring a nuclear weapon—disagreements that he says "are only natural from time to time, even among the closest of allies."
Rice, too, emphasized the "special relationship" between the United States and Israel Monday. The relationship "is not a partnership between individual leaders or political parties," she said. "It's an alliance between two nations rooted in the unbreakable friendship between our two peoples. It is not negotiable and it never will be."