Supreme Court Will Hear Case Challenging the Death Penalty
The Court agreed to hear a lawsuit that says Florida is unconstitutionally sentencing mentally ill defendants to death.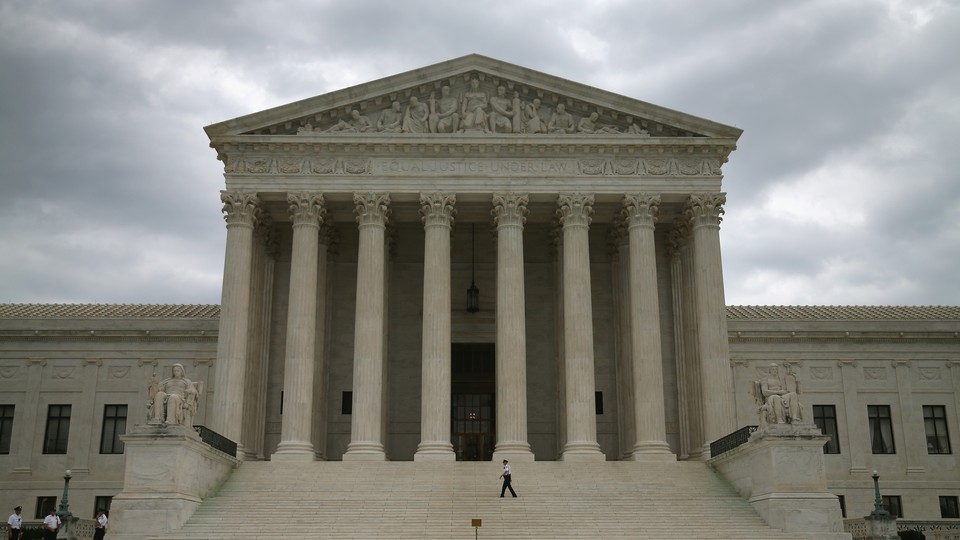 Timothy Lee Hurst has been on Florida's death row for more than a decade, but he says his sentence was unconstitutional—and now the Supreme Court has agreed to hear him out.
Hurst was convicted of first-degree murder in the grisly death of a woman he worked with at a Popeye's restaurant. She was found in the store's freezer, bound, gagged, and stabbed at least 60 times with a box cutter. The store's safe had been emptied.
According to court records, two of Hurst's friends testified that he had admitted to the crime. One of them helped him hide his bloody clothes, the stolen money, and the victim's driver's license. A jury deliberated for roughly six hours before convicting Hurst of first-degree murder and recommending the death penalty.
At a second sentencing hearing, though, his lawyers argued that he is mentally disabled—which would mean he could not be sentenced to death.
His mother drank heavily during her pregnancy, according to court records, and a doctor testified that there was widespread damage to Hurst's brain. Family members said he was slow to develop and had trouble speaking, taking care of himself, and completing simple tasks.
That second sentencing hearing still produced a death sentence. But Hurst's lawyers have appealed all the way to the Supreme Court, arguing that the way Florida administers death sentences is unconstitutional.
The high court said Monday that it will hear Hurst's case. The justices will consider whether Florida's sentencing rules violate the Sixth Amendment, which guarantees the right to a trial by jury, or the Eighth Amendment, which prohibits "cruel and unusual punishment."
The problem, according to Hurst's lawyers, is that Florida doesn't require juries to make a specific determination about whether a defendant is mentally disabled. While the jury heard evidence about Hurst's mental capacity, his appeal states, "it was "¦ never instructed that if it found him to suffer from that intellectual disability, it had to recommend a sentence of life."
"Whether a defendant is mentally retarded or not is a factual issue and hence "¦ must be resolved by the jury," his appeal to the Supreme Court says.
Hurst is invoking a 2002 case, Ring v. Arizona, in which the Supreme Court ruled that juries have to be involved in handing down the death penalty. Any facts that are necessary to trigger the death penalty must be presented to a jury and proven beyond a reasonable doubt, the Court said.
"I believe that the fundamental meaning of the jury-trial guarantee of the Sixth Amendment is that all facts essential to imposition of the level of punishment that the defendant receives—whether the statute calls them elements of the offense, sentencing factors, or Mary Jane—must be found by the jury beyond a reasonable doubt," Justice Antonin Scalia wrote in a concurring opinion in Ring.
Hurst says Florida is violating that holding by not requiring juries to determine whether defendants are "mentally retarded and hence ineligible for execution."
The Florida Supreme Court ruled that the Ring precedent doesn't conflict with the way Florida administers the death penalty.
Ring says juries must consider any facts that would trigger a heavier penalty; that doesn't mean juries also have to specifically consider evidence that would lead to a weaker sentence, Florida argued in a brief to the high court.
"We have repeatedly held that a defendant has no right ... to a jury determination of whether he is mentally retarded," the Florida Supreme Court ruled in Hurst's case. "Some states have established procedures under which a jury does determine if a capital defendant is mentally retarded. Florida is not one of those states, and the United States Supreme Court has not mandated any specific procedure for making the determination of mental retardation in the capital sentencing context."
Arguments in the case have not yet been scheduled.