Support for the Affordable Care Act Breaks Down Along Racial Lines
Both parties thought health reform would make pro-government liberalism attractive to more white voters. It hasn't worked that way.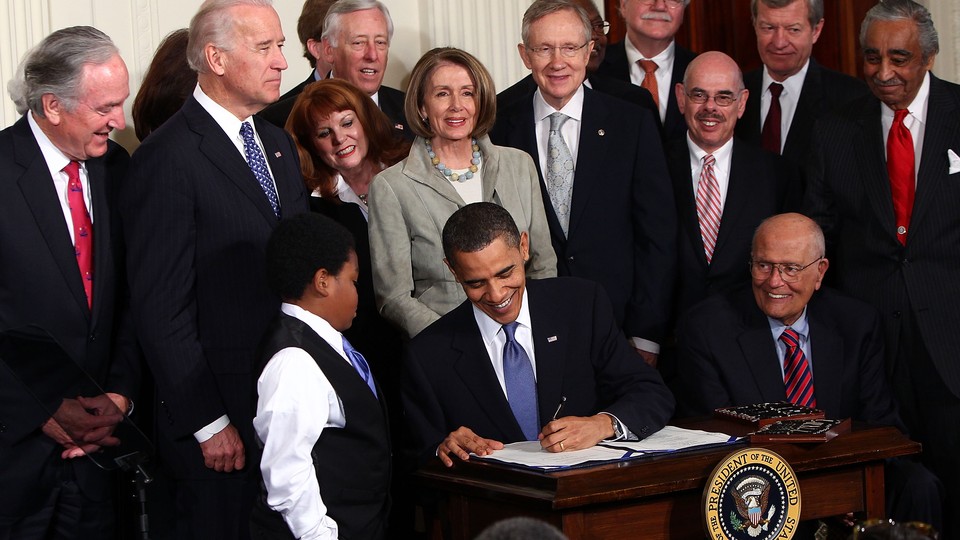 Race remains an impenetrable dividing line in attitudes about the Affordable Care Act five years after President Obama signed it into law.
With Obama celebrating the law's fifth anniversary last week—and House and Senate Republicans marking the occasion by voting again to repeal it—polls show that whites remain much more dubious about the law than African-Americans, with Hispanics falling in between.
In the latest monthly tracking poll by the nonpartisan Kaiser Family Foundation, 67 percent of African-Americans and 48 percent of Hispanics, compared with just 34 percent of whites, said they had a favorable impression of the law. Among all minorities, 55 percent expressed a favorable view of the law.
"There is a huge difference [in attitudes] about the importance of achieving universal coverage by race and by party, and this resentment of government intervention is just very high among [white] Americans," says Robert J. Blendon, a professor at the Harvard School of Public Health who specializes in public opinion about health care.
(RELATED: Where Do Undocumented Immigrants Go For Medical Care?)
This enduring racial contrast confounds the expectations of both parties. As far back as President Clinton's effort to provide universal coverage in 1993, key Democratic strategists have viewed health reform as an opportunity to convince skeptical middle-class voters (particularly whites) that activist government could tangibly benefit their lives. Again, extending back to that debate in the 1990s, key Republican strategists long feared that they were right.
In a famous memo that successfully rallied Republicans to oppose Clinton's health care plan, the conservative thinker Bill Kristol warned that if Democrats succeeded in providing universal coverage it "will relegitimize middle-class dependence for 'security' on government spending and regulation. It will revive the reputation of the party that spends and regulates, the Democrats, as the generous protector of middle-class interests. And it will at the same time strike a punishing blow against Republican claims to defend the middle class by restraining government."
Now that Obama has achieved the sweeping health reform that Clinton (as well as Richard Nixon and Harry Truman) could not, none of that has occurred. The law is building institutional support among hospitals, insurers, and to a lesser extent physicians that could make it tougher to repeal even if Republicans win unified control of government in 2016. But polls suggest the ACA has done more to reinforce than resolve the doubts about activist government that have been growing in the white middle class for many years.
Part of the law's problem with whites is that it is inextricably bound up in attitudes about Obama, who won only 39 percent of white voters in his 2012 reelection, and has faced depressed approval ratings with that community through his second term. "A lot of it is partisanship that is coloring everything," says Guy Molyneux, a Democratic pollster who has studied attitudes toward the health care law.
But Molyneux, Blendon, and other analysts across the political spectrum agree the law faces a more specific problem with many whites as well. Polls have consistently found that most whites do not view the health care law as a universal program that will benefit themselves or their family. Instead, they perceive it primarily as a transfer program that will help the poor and uninsured. "A lot of white voters assume that what the ACA was going to do was provide health insurance to very poor people, which they think of as being largely minority, and they just haven't learned enough or heard enough to convince them to change that assumption they've had from the beginning," says Molyenux.
(RELATED: There's a Race Gap in the Toughest Classes at Most High Schools)
Blendon agrees. Among whites, he says, the ACA "hasn't caught on as a universal program where everybody feels they are getting something out of it."
In practice, the evidence suggests the law is benefiting as many whites as minorities. When the Health and Human Services Department recently reported that the number of Americans without health insurance had declined by about one-third since the law's passage, it calculated that 6.6 million whites, compared with 6.5 million African-Americans and Hispanics, had gained coverage. Whites are also benefiting from the slowdown in the growth of premium costs for employer-provided coverage, and the reduction in hospital acquired illnesses and infections, that experts link in part to the law.
But those receiving coverage through the law represent a smaller share of the population among whites than minorities. And while all Americans are benefiting from improvements in quality and the moderation of health cost growth, those gains are diffuse and not easy for most people to connect back to the ACA. "It's not like you get an Obamacare card in the mail, like you get a Medicare card," says Molyneux. " Even people who are benefiting in some way, it's not obvious to them that they are. Maybe their adult child is on their policy now and they don't know that is why they can do that."
The result is a racial gap in perceptions about the law's personal impact. In the latest Kaiser survey, the share of whites who said the law had hurt their family (27 percent) significantly exceeded the portion (16 percent) who said it had helped them. Among nonwhites the proportions were almost reversed: 24 percent of them said it had helped their family, while 11 percent said it had hurt them. (Three-fifths of minorities and 55 percent of whites said the law had not directly affected them.) The meager 16 percent of whites in the latest Kaiser poll who said the law had helped their family was actually the highest number recorded in the seven times the survey has asked that question since May 2014.
More broadly, a 2013 National Journal poll found a stark racial gulf in perceptions about who benefits from the law. In that survey, 60 percent of whites said the law benefited people who lack health insurance and 55 percent said it helped the poor. But only 30 percent of whites said it benefited the middle class and just one in four said it helped people like them and their family. Only 35 percent of whites said the law would benefit the country overall.
(RELATED: Demography Is Not Destiny for Democrats)
Minorities were somewhat more likely than whites to see benefits for the uninsured (71 percent) or the poor (66), but vastly more likely than whites to see benefits for the country overall (58 percent), the middle class (58 percent), and people like them (51 percent).
All these results suggest that most whites see the law as more akin to an income-transfer program like food stamps or welfare than a universal benefit program like Social Security or Medicare. "In fact, a lot of people are benefiting who earn more than $40,000 a year, so it does have a middle-class side," said Blendon. "But it is seen as a transfer program, so the anger about taxes [associated with the law] is the anger you see about transfer programs. You don't see that anger about Social Security or Medicare. The people telling you taxes are too high, what they are really reflecting is an attitude toward transfer programs."
Underscoring that point, the law faces the most fervent hostility from blue-collar whites, usually the most receptive audience for criticism of transfer programs. In the Kaiser poll, whites holding at least a four-year college degree, now split fairly closely in their overall attitudes toward the law: 45 percent said they are favorable and 50 percent say they are are unfavorable. But noncollege whites are overwhelmingly negative, with 56 percent unfavorable and just 29 percent favorable.
A similar gap was evident in the latest poll when Kaiser asked what Congress should do next about the law. College-educated whites split almost exactly in half: While a combined 45 percent said Congress should scale back (17 percent) or repeal the law (28 percent), a nearly equal 44 percent said it should move forward with implementation, or even expand the plan. But just one-third of blue-collar whites wanted to extend or expand the law; a majority wanted to either scale it back (10 percent) or repeal it entirely (42 percent.)
Minorities showed much less enthusiasm about undoing the law. Among nonwhites, just 15 percent supported repeal, while 7 percent said they would scale it back. Fully 65 percent said they would continue implementing or expand the law.
(RELATED: Should Obamacare Help Pay for Housing?)
Those attitudes point toward another key political question surrounding the ACA: Will the continued Republican push for repeal alienate minority communities receiving significant benefits from the law? The recent HHS report, for instance, found that since the first open-enrollment period in 2013, the uninsured rate has experienced unprecedented declines among both African-Americans (down 9.2 percentage points) and Hispanics (down 12.3 points.)
Molyneux says that while the repeal push will likely antagonize African-American voters who are the most supportive of the law, that would have relatively little political impact since that community is so reliably Democratic to begin with. Instead, he says, "the key question is the Latino community."... Will the Hispanic community come to see the health care law as an important Democratic accomplishment?"
A national survey of Hispanics sponsored by the Robert Wood Johnson Foundation Center for Health Policy at the University of New Mexico and conducted by Latino Decisions offered mixed signals on that front. The survey, released last week, found that the share of Hispanics with health insurance jumped from 72 percent as recently as 2013 to 82 percent now.
Yet the poll found only a modestly positive assessment of the ACA among Hispanics. Exactly one-third of Hispanics said the law would improve their ability to obtain insurance while only about one-fifth said it would hurt their access to insurance. The largest group—43 percent—said they did not expect the law to change their access to coverage. The results were almost identical when respondents were asked about the quality of care they receive: 34 percent of Hispanics said the law would improve their care, 18 percent said it would hurt it, and 43 percent said they did not expect the ACA to affect it either way. Those surveyed returned the least enthusiastic verdict on cost: 28 percent said the law would improve the cost of health care for their family, while 29 percent thought it would make it worse. (Another 38 percent expected no change.)
Finally, the poll underscored the sheer difficulty of reaching this community: Even after two open-enrollment periods, just over half of Hispanics still said they had either heard not much or nothing at all about the new health care exchanges.
Gabriel Sanchez, executive director of the University of New Mexico Center, said that among those results, he viewed the key figure as the 76 percent who believe the law will either maintain or improve their access to insurance. "There's a higher segment of the Latino population who perceive that the situation is actually going to get better," he told reporters during a conference call this week. "Overall, you see a much smaller segment that think it's going to get worse."... This data suggests that Latinos at least are pretty optimistic about moving forward in the context of the ACA."
Democrats are hoping he's right, because there are no signs that white skepticism about the law is dissipating, despite the encouraging news in coverage and costs. In the monthly Kaiser tracking poll, the share of whites expressing favorable views about the law has exceeded 36 percent only two times since January 2011; since January 2013, white support has oscillated only between a low of 26 percent and a meager high of 34 percent (the figure in the latest poll).
Given such stability, Molyneux says that while the law could become "a policy boon for the country" it remains unlikely to "be a great political boon for the [Democratic] Party."
"I hope I am wrong," Molyneux continued, "but I don't see it all congealing in the public awareness into some single entity, whether it's called Obamacare or the Affordable Care Act, that gets some big credit in the public mind."
---
Janie Boschma contributed to this article