Should Voter Registration Be Automatic?
Under a first-of-its-kind law, Oregon will mail a ballot to any citizen with a driver's license. Is mandatory participation coming next?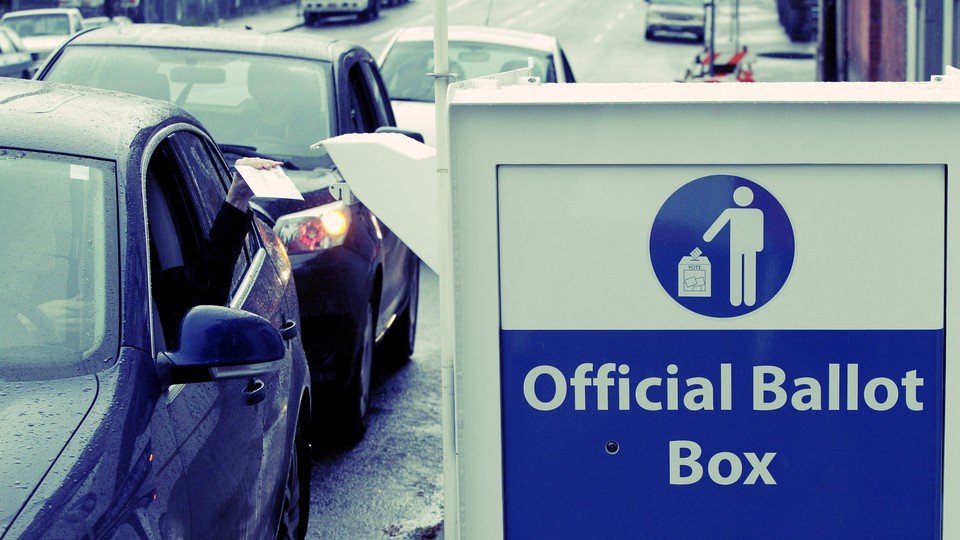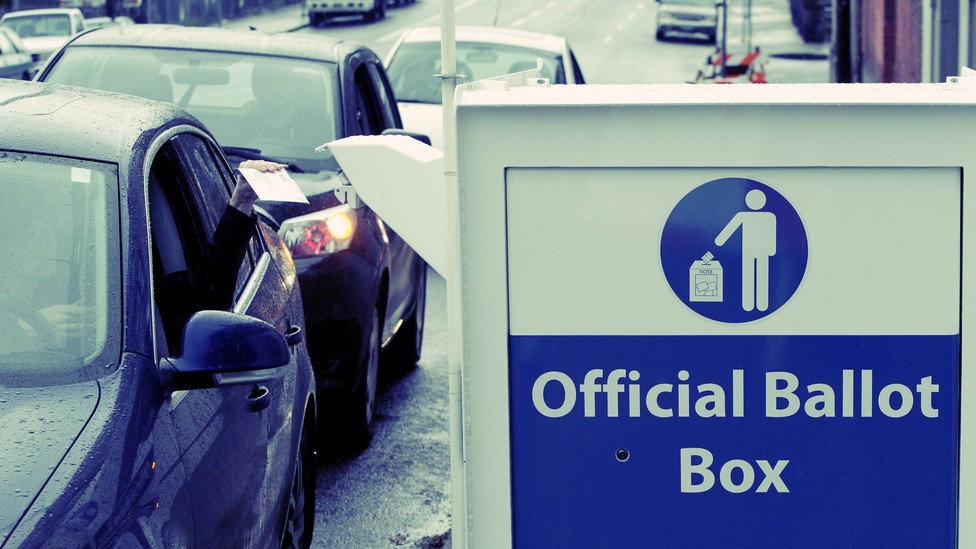 "I forgot to register."
It's one of the frequently cited reasons that people give every year for not voting in America, as well as a convenient excuse that the state of Oregon this week took away from its citizens. Under a law signed Monday by new Governor Kate Brown, any eligible Oregonian with a driver's license will be automatically registered to vote and will receive a ballot by mail weeks before Election Day.
The measure is the first of its kind in the nation, and state officials project it will add 300,000 people to a voter roll that now numbers about 2.2 million. Oregon has long been an early adopter of new voting methods, having shifted to an entirely vote-by-mail system in 1998. Passage of the law, which was supported by Democrats, marks a rare recent win for proponents of expanded access to the ballot box at a time when states are moving toward more restrictive measures.
The U.S. has an embarrassingly low rate of voter participation, setting it apart from other democracies in the developed world; just over one-third of eligible voters showed up in 2014, and even in the relatively high turnout election of 2008, the participation rate was only 64 percent. Yet the debate over the Oregon "motor voter" law was contentious, and it hinged on a key question: How far should the government go to encourage citizens to register and vote?
"It should be convenient and very easy, but it shouldn't be the law," argued Knute Buehler, a Republican state representative in Oregon. The automatic registration bill passed through both houses of the legislature on a party-line vote, and in a phone interview Thursday, Buehler said the law "replaces individual convenience with government coercion." Supporters, including Governor Brown, say it does nothing of the sort. Oregonians will have the opportunity to opt out of automatic registration, and even if they don't, nothing is forcing them to return the actual ballot they receive in the mail.
Unlike Australia, voting isn't compulsory anywhere in the U.S.—at least not yet. President Obama drew attention on Wednesday when, while answering a question on campaign finance reform, he brought up the idea of mandatory voting and said it would be "transformative" for the country. That isn't where Brown wants to go in Oregon, she told me.
Before Obama made his comments, I asked her whether she supported a voting requirement. She laughed. "No, I don't," she replied. "I don't think that would be a successful proposal in America, and it certainly wouldn't be successful in Oregon, let me tell you." Brown took over as Oregon governor a month ago after John Kitzhaber resigned in an ethics scandal involving his fianceé. She is so new on the job that when she got on the phone with me on Wednesday, she said she almost introduced herself with her former title, secretary of state. As Oregon's top election official, she had proposed the new law, which she said built on the Clinton-era federal National Voter Registration Act that required states to allow people to register to vote when they applied for driver's licenses.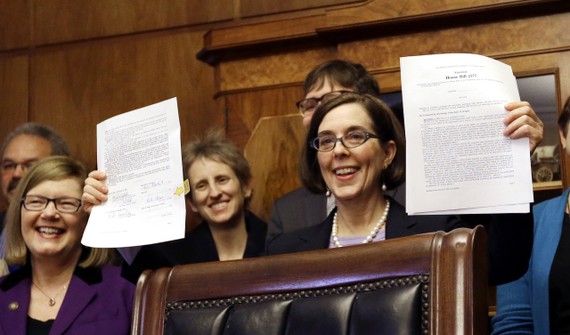 The change directs the state's department of transportation to transfer data for eligible voters to the secretary of state's office so that they can be registered. Myrna Pérez, who directs the voting rights and elections project for NYU's Brennan Center for Justice, said the Oregon law is "groundbreaking in that it puts more of the responsibility for registering to vote on the government rather than on voters." Yet its passage has also brought predictable warnings of voter fraud from conservatives. Kris Kobach, the Republican secretary of state in Kansas, said the Oregon law could lead to "a perfect storm of errors."
"I just think it's a virtual certainty that they will see hundreds or thousands of people mailed two or more ballots, and that can be a very tempting situation where some people may succumb to the temptation to fill out both ballots and vote twice," Kobach said, according to the Wichita Eagle. Brown scoffed at the concerns and suggested Kobach didn't know much about election law in Oregon. The state's new voting system is already more secure than traditional paper registration, she said, because as opposed to simply attesting to their eligibility with a signature, residents have to submit proof of citizenship to the DMV. Brown also pointed out that deep-red Louisiana—or as she described it, "that hotbed of radical activism"—had already piloted an automatic registration system for 16- and 17-year-olds to encourage teenagers to vote when they become eligible.
Voter fraud actually wasn't a major issue during the debate in Oregon, Republican legislators told me.  The mail-in ballot system is well-established and broadly popular, and the state's voter participation rate is already higher than the national average. A larger concern was that the state government would screw up the implementation of the law, Representative Julie Parrish said. Cover Oregon, the state's health insurance exchange under the Affordable Care Act, was such a debacle that Brown signed legislation dissolving it earlier this month. "My trust level with agencies right now is very low," Parrish said. She also criticized the Motor Voter measure for doing nothing about the nearly half a million eligible voters whose registrations have been deemed inactive by the state, because they either haven't voted in two consecutive elections or haven't addressed errors in the forms on file with the government. Those people won't be mailed ballots or re-registered under the new law, she said.
The new law may not be transformative in Oregon right away. By routing automatic registration only through the DMV, it will miss some potential voters in low-income communities or non-drivers in Portland, which has a good public transportation system. "What Oregon is doing is not going to get everyone on the rolls," Pérez noted. But perhaps the most significant development is the expanded use of technology (through the electronic transfer of data) to expand voting, she said. Election administration has long been stuck in the 20th century, and while no one seriously talks about online voting these days, the more that states move away from a reliance on paper and toward things like digital data transfer and online registration, the less costly elections will be and the more people will vote, Pérez said.
Still, as seen in the close, partisan votes in the Oregon legislature, the politics of automatic registration remain delicate. "We do like to say 'modernize our voter registration system,' as opposed to automatic," Brown said toward the end of our interview. Making it easier to vote is one thing, but forcing it on people is another. Not everyone who isn't registered just forgot to do so, and Parrish argued that many of her constituents don't want to interact with the government any more than they already have to do. "Part of living in a democracy," she said, "is choosing not to participate."