Senate Republicans Call for Removal of Embattled Safety Agency Head
Letter says Chemical Safety Board "˜can no longer continue to operate credibly.'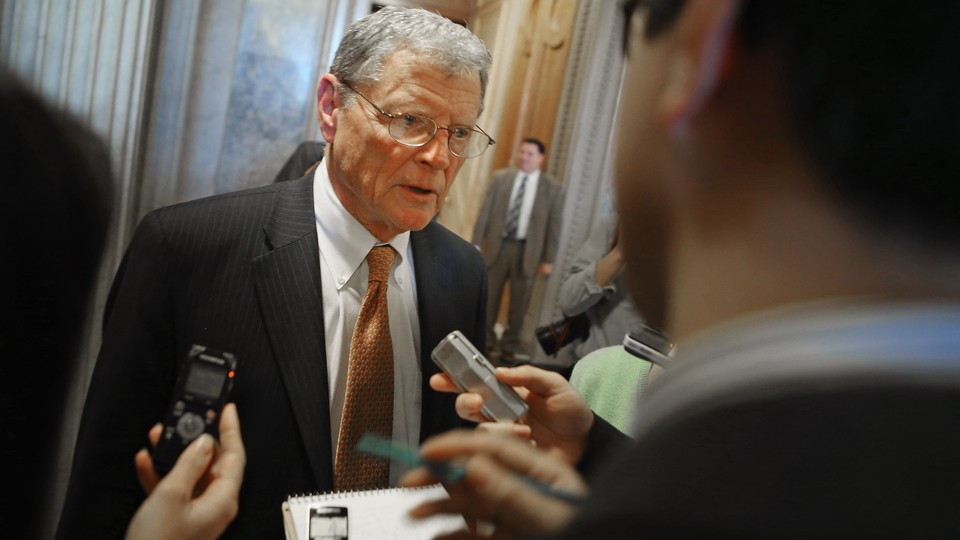 Senate Environment and Public Works Committee chairman Jim Inhofe is calling on President Obama to demand the resignation of the troubled head of a troubled safety agency over management issues and charges that he violated the Federal Records Act by using personal email.
In a letter to the White House obtained by National Journal, the Oklahoma Republican and Republican Sen. Michael Rounds of South Dakota say that Chemical Safety Board chairman Rafael Moure-Eraso should be removed before his term ends in a few months because of a "record of failed CSB leadership."
The letter comes a week after members on both sides of the aisle at a House Oversight Committee called for Moure-Eraso's resignation at a testy hearing. It marks the first time that the Senate has weighed in on CSB management.
Moure-Eraso's term ends in June, but the senators write that "it is our strong view that restoring the public's confidence in the CSB cannot wait that long, saying the agency "can no longer continue to operate credibly under this leadership."
"There is no doubt that the CSB serves a critical public safety role," the letter states. "However, based on the aforementioned findings, there is also no doubt that Chairman Moure-Eraso has lost the confidence of CSB staff, the EPA [Inspector General], and members of both parties in Congress."
The White House has not commented on Moure-Eraso's status, but did last week nominate a new chairman for the CSB for a term starting in June.
Oversight chairman Jason Chaffetz, R-Utah, ranking member Elijah Cummings, D-Md., and other committee members called on Moure-Eraso to step down last week at a hearing that focused on the use of personal email accounts for official business, a violation of the Federal Records Act
A report last month from the EPA Inspector General, which oversees CSB, found that Moure-Eraso and two top officials used personal accounts to evade other CSB employees. Documents revealed at the Oversight Committee hearing found that the practice had continued even after Moure-Eraso had assured Congress it had stopped.
Moure-Eraso's tenure also has been dogged by charges of mismanagement, intimidation, and dysfunction within the agency. Several senior investigators have left in recent years citing a toxic work environment and CSB consistently has among the lowest morale in surveys of federal agencies. Last week's hearing also touched on revelations that an employee may have been demoted after working with an outside firm on a management evaluation and speaking to congressional staff.