SCOTUS Raises the Stakes—Again—in Obamacare Politics
The Court hears oral arguments Wednesday in its third high-profile challenge to the health care law, and both parties have a lot to lose.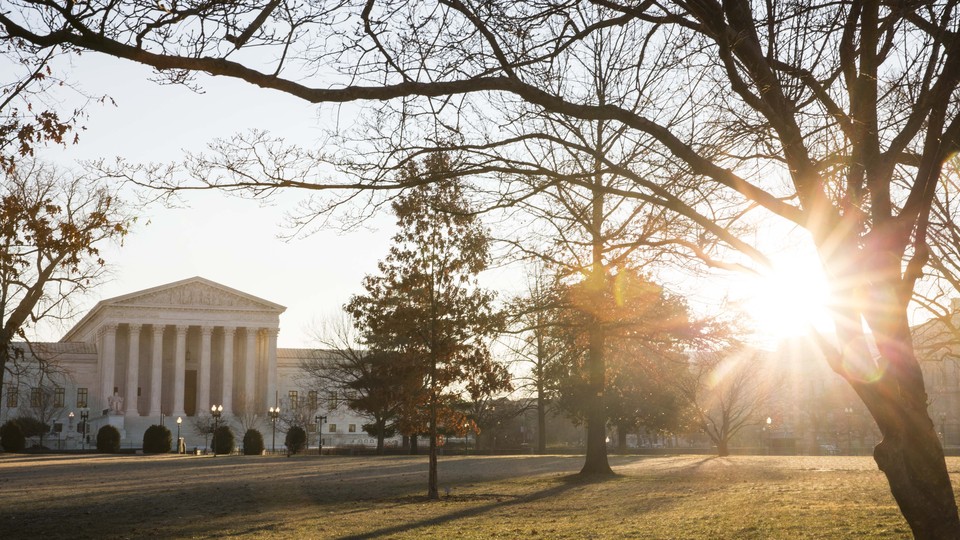 President Obama and congressional Republicans both have a lot on the line Wednesday morning as the Supreme Court hears another high-profile challenge to Obamacare—its third in three years.
The justices are hearing oral arguments in King v. Burwell, a challenge to Obamacare's insurance subsidies—a case that could severely damage the health care law, wiping away most of the insurance coverage it has provided and making the unpopular individual mandate harder to enforce.
A loss for the White House would also be a stinging rebuke for Obama's signature domestic achievement, even as it has gotten up and running and is, for the most part, working.
But no matter how the Court rules, it will not wipe out the law entirely. As eager as Republicans are for anti-Obamacare ruling, it would put them in a difficult political spot: The greatest disruption would come in red states and 2016 battlegrounds, giving the party an obvious incentive to find a fix.
(RELATED: 5 Things to Watch in SCOTUS' Obamacare Arguments)
A fix, though, would likely mean restoring Obamacare's most expensive provision, even temporarily, right in the middle of a presidential primary. And getting the whole party together on an Obamacare bill that Obama could swallow might not be possible at all.
Both sides are playing an expectations game for the Court's benefit. The White House insists that no administrative action could patch the law's reforms back together if the Court sides against it. Republicans, meanwhile, are trying to reassure the Court that they'll have a plan ready—but have released few details of what that plan might look like.
The challengers—a group of individuals pulled together by conservative legal activists—argue that the Affordable Care Act only made subsidies available in states that set up their own insurance exchanges, and they say the IRS is acting illegally by making those subsidies available in the 34 states that deferred to the federal government to run their exchanges.
(RELATED: Republicans See Leverage from Supreme Court for Obamacare Overhaul)
Roughly 7 million people would lose their financial assistance if the Court accepts that argument, and experts expect that most of them would drop their coverage altogether. That would not only erode the gains Obamacare has made in covering the uninsured, but also would weaken the law's individual and employer mandates. It could cause severe premium increases even for people who did not get their coverage through Obamacare.
All eyes Wednesday will be on Chief Justice John Roberts, who cast the deciding vote in Obamacare's favor in 2012; and Justice Anthony Kennedy, the Court's traditional swing vote.
The challengers' argument has two parts: First, they point to a section of the law that refers to subsidies flowing through "an Exchange established by the State." That text alone should clearly limit the subsidies to state-based exchanges, they say.
Furthermore, they argue that Congress intentionally limited subsidies to state-run exchanges to set up an especially dramatic incentive for states to do the job themselves, rather than falling back on a federally run marketplace.
(RELATED: Will John Roberts or Anthony Kennedy Save Obamacare?)
The Justice Department says that the text of the statute, read in its entirety, clearly treats state- and federally run exchanges the same. Congress intended for each state to have an exchange, with the same basic characteristics—including subsidies—irrespective of whether the state itself or the federal government set up that exchange.
If Congress had intended to create a "hammer," all but forcing states to build their own marketplaces, the government says, it wouldn't have authorized a federal fallback in the first place—and it wouldn't have buried its threat in a subsection of the law that spells out the formula for calculating subsidies, where the "established by the State" language appears.
Michael Carvin, the lawyer arguing for the challengers Wednesday, will be hoping to appeal to Roberts's knack for textualism, persuading him that "established by the State" means what it says and that the rest of the statute doesn't conflict with their interpretation.
Solicitor General Donald Verrilli, on the other hand, will try to convince Roberts that the text of the overall statute speaks to Congress's intent to treat state and federal exchanges equally. He will also argue that states did not have sufficient notice that they would be denying their residents financial assistance if they did not set up an exchange or were simply unable to finish the task on time.
That argument is designed to appeal to Roberts and Kennedy, both of whom have said in the past that the federal government can't hold states hostage with draconian policy choices and must tell states what they're signing up for.