Scott Walker Digs in on How His Experience With Unions Shows He Won't "˜Back Down' to ISIS
The Wisconsin governor expounded on his controversial comments at CPAC last month.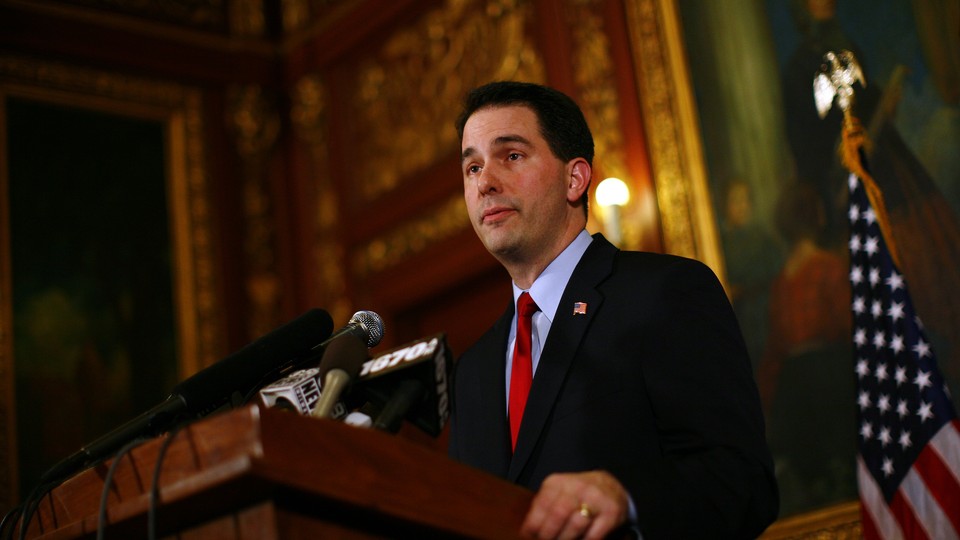 Scott Walker firmly believes that his experience dealing with union protesters in Wisconsin prepares him to handle foreign policy if he were to get to the White House.
On the Hugh Hewitt radio show Wednesday, the Wisconsin governor and probable presidential candidate expounded on his controversial comments last month comparing his experience with union protesters to how he'd face the terrorist group the Islamic State. "If I can take on 100,000 protesters, I can do the same across the world," he said at CPAC, referring to the ultimately unsuccessful union-led effort to recall him in 2012.
"It's about leadership," Walker told Hewitt Wednesday. "The closest thing that I can compare to the type of pressure the next president's going to be under is what I went through four years ago with not just the protest, but the death threats, with the intimidation, with all the interruptions, with the recall, and all the things that happened. And we didn't back down."
He continued: "We won without caving not just when it came to the ballot box. We won without caving when it came to policy. And I think that's what Americans want, whether it's taking on radical Islamic terrorism, or whether it's taking on the size and scope of the federal government, or whether it's pushing to put the power back in the hands of the hardworking taxpayers."
Critics pounced on Walker's original CPAC comment, charging that he'd unfairly compared union protesters to terrorists, disparaging the former and trivializing the latter. On Fox News Sunday a few days after the conference, Walker claimed that he was "not comparing" the two.
Despite Walker's attempts to use that part of his résumé to his advantage in a run for the White House, the parallel highlights his lack of foreign policy experience. For a governor who hasn't had much opportunity to burnish his foreign policy credentials, pointing to his at-times aggressive leadership in Wisconsin appears to be his go-to strategy to make the case that he won't shrivel on a larger stage.
Walker also used that tactic to contrast himself with President Obama during the interview. Hours after Army Sgt. Bowe Bergdahl was charged with desertion, Walker told Hewitt that Obama's decision to swap five Taliban prisoners for Bergdahl was a result of the president's lack of experience before entering the White House.
"The unfortunate reality is this is what happens when you put someone in office who's never led before," Walker said. "This president, unfortunately, having been a senator, a state senator, and community organizer, never led anything. And so he's never been in a position to make those sorts of judgments."