Samantha Power: U.S.-Israel Partnership 'Transcends Politics and It Always Will'
The U.S. ambassador to the United Nations unsurprisingly affirms U.S. commitment to Israel.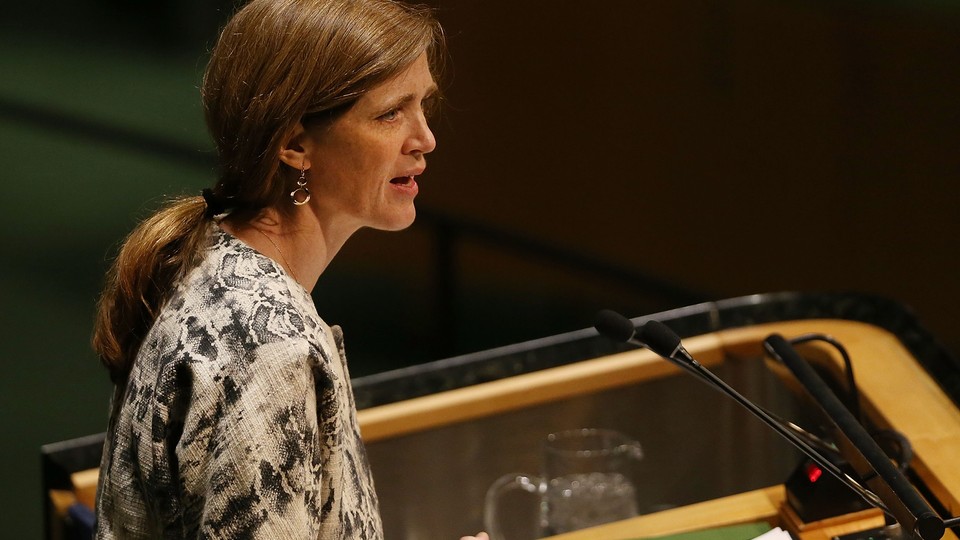 In a speech Monday at the annual conference of the American Israel Public Affairs Committee, Samantha Power aimed to alleviate tensions over the United States' commitment to Israel during its nuclear negotiations with Iran.
"Talks, no talks; agreement, no agreement—the United States will take whatever steps are necessary to protect our national security and that of our closest allies," said Power, the U.S. ambassador to the United Nations.
Ahead of his visit to the United States, Israeli Prime Minister Benjamin Netanyahu said U.S. officials and others negotiating with Iran are no longer pushing Iran to abandon its nuclear development.
Power's speech countered that idea. "The United States of America will not allow Iran to obtain a nuclear weapon. Period."
Power appeared at the annual conference in a last-minute decision by the Obama administration to send the U.N. ambassador and National Security Adviser Susan Rice to the convention.
Their appearances were announced after some speculation that the White House would not send any high-ranking officials to the conference. Rice is expected to pitch to the crowd the importance of the administration's ongoing negotiations with Iran over its nuclear program, which have focused on limiting Iran's nuclear material production while slowly easing sanctions on Tehran. U.S. officials and representatives from five other countries hope to make a deal with Iran by a March 31 deadline.
In recent weeks, as Netanyahu's arrival in the United States grew closer, Democrats and Republicans in Congress sparred over the unorthodox nature of his visit. In addition to speaking at AIPAC, Netanyahu was invited by House Speaker John Boehner to address a joint session of Congress, a move that bypassed what the White House considers "typical protocol" regarding visits from heads of state. Netanyahu is slated to speak on the floor of the House of Representatives on Tuesday morning.
Some Democrats plan to sit out his remarks to Congress. But Power tried to smooth things over with the fiercely pro-Israel crowd, saying the United States' relationship with Israel "isn't a partisan matter. It is a national commitment."
"We believe firmly that Israel's security and the U.S.-Israel partnership transcends politics and it always will."
Power, who has served in her position since August 2013, previously worked in the White House as special assistant to the president and as senior director for multilateral affairs and human rights on the National Security Council.