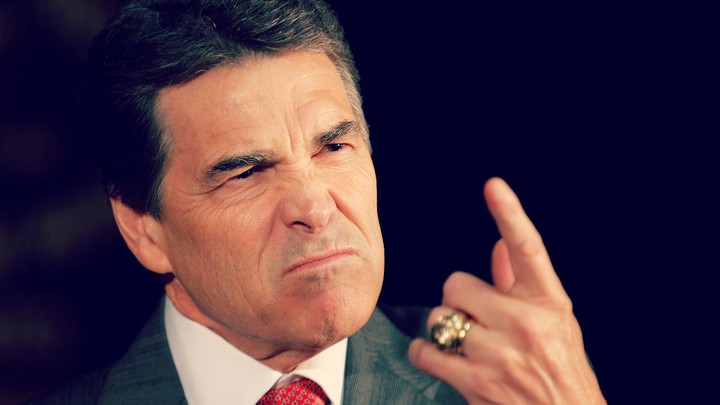 AUSTIN, TEXAS—Right now, at least, Rick Perry seems to be getting nowhere.
In fact, both of the ambitious Texan Republicans with designs on the White House—Perry, the former governor and Senator Ted Cruz, the conservative firebrand—are footnotes in the early jostling for the Republican nomination for president. But we are a full year from the early caucuses and primaries. In 2012, it did not matter that Rick Santorum won Iowa. In 2015, who even remembers?
It would be a mistake to write Perry's political epitaph just yet, despite his withdrawal from the 2012 race. He's been lampooned of late as the cowboy governor who gave up boots for designer glasses. But he didn't become the longest-serving governor in the history of the Lone Star State without a tremendous instinct for acquiring and wielding power.
Perry is worth studying for the simple reason that his super PAC is reintroducing him this spring. If he runs, he will be richly financed, calling on formidable resources in Texas as well as a vast network across the country: corporations and individuals who owe him favors. His tenure as governor provides a window into how he might govern, combining unremarkable policy achievements with remarkable increases both in his power and in his dispensing of rewards for those who help him.
Rick Perry represents a model of politician not yet quite known in American politics. He is less a cowboy governor than what would be termed in Mexican politics a caudillo, a strongman. It is no coincidence, then, that the criminal case against him in Austin represents a collision between his vast but informal power and the rules of the road in American governance. And there is more to this case than meets the eye.
* * *
Springtime in Texas is rodeo season. In the countryside, the fields turn bright green and the trees begin to bud. In the big cities, cowboys, pickups, trailers and livestock pour into giant arenas for bull riding, livestock shows and everything in between.
Even during rodeo season, it is easy to overlook how much of our present in Texas can be traced to our Mexican and Spanish past. The cowboy is a direct descendent of the vaquero, from his lariat down to his chaps and spurs; his string of horses following is just the old remuda. But the Mexican and Spanish influence is not confined to rodeos and ranches. Large swaths of property holdings are based upon Mexican and Spanish land grants. From bankruptcy to water rights, Texas laws are based at least in part on a patchwork of statutes tracing back to both countries.
And so it is, in a way, with our politics. In the years following independence, Mexico endured repeated struggles over power precisely because the central authority of the state was kept deliberately weak, the result of a backlash against the previous power of the Spanish crown. A president, for example, could not succeed himself, tempting men to seize and keep power illegally. The original Texan rebellion against Mexico in 1836 flew the Mexican tricolor flag with the year 1824 emblazoned in the center; before they wanted independence all the rebels wanted was for Mexico to adhere to its constitution of that year, which had allowed slavery in Texas.
Throughout the 19th century, up until its revolution, Mexico was largely governed in this way. A strong man, the caudillo, was chosen to lead the central government. Based to a degree on the Spanish tradition, the caudillo fashioned networks of power within the capital, but also micro-managed appointments of loyalists in the countryside. There were dictators, like Antonio Lopez de Santa Ana and Porfirio Diaz, who fit this mold. But even Benito Juarez, that most democratic figure, governed in this way.
Mexico also melded the Spanish model with the Indian model, as told in Enrique Krauze's masterful history, Mexico: Biography of Power. Out in the countryside, the caciques, regional and local bosses who dispensed favors and collected monies, were responsible upward. And then there were the patrones: landed men with vast wealth who allied themselves with the strong men to ensure their interests. All of it worked imperfectly, but it kept a weak executive in power. And it imposed a certain order.
By accident or design, Texas inherited some of this system. The first counties were based on the old municipio system of large swaths of land, sparsely settled. There were rich landowners. The new executive was weak. Though he led Texas to independence, as president Sam Houston could not convince the legislative branch to make lasting peace with Native Americans, faced army mutinies at Galveston and Velasco, heard talk of an assassination plot against him, had to put down a rebellion at Nacogdoches, and was forbidden by the new constitution from succeeding himself.
He could not even field a military response to one of the most infamous Comanche raids, the 1836 attack on Fort Parker, which led to the deaths of three people and the kidnapping of five. After statehood, Houston was driven from the governorship by the legislature for his unwillingness to pledge loyalty to the Confederacy.
Only the constitution imposed on Texas after the Civil War, in 1869, briefly created a strong executive. Backed by federal power, he could appoint judges, mayors, and aldermen. He could order a new state police force into action across county lines. When Reconstruction ended, a new constitution was drafted in 1876 and, in a backlash against Reconstruction, it purposefully hobbled the chief executive again, giving him few formal powers other than being named "chief executive." Governors could serve only brief, two-year terms. The legislature would be limited to 20-week sessions every other year. Power was diffused among other officials, most importantly the lieutenant governor who presided over the Senate. And so it was for well over a century.
Strong governors would sometimes arise, but it was through dint of personality, the creation of informal alliances, and the bending of the occasional law. James Edward "Pa" Ferguson was elected in 1914, re-elected, impeached, and then slipped back into power by supporting the successful candidacy of his wife Miriam "Ma" Ferguson in 1924 and again in 1932. A real cowboy of few words, Coke Stevenson was the only person ever to defeat Lyndon Johnson and was the longest running governor at the time, in the 1940s. The taciturn Stevenson financed and extended the state's highways, expanded the University of Texas, and paid teachers more—all while turning the state deficit into a surplus.
More politicians, some strong and many not, followed. Indeed, Ann Richards, the last Democrat to live in the white antebellum mansion across from the pink, granite capitol, clashed most notably not with Republican legislators, but with her own Democratic lieutenant governor, Bob Bullock.
* * *
This history has a practical and modern implication: It helps explain, at least in part, why Texans are among the least likely Americans to engage with their civic institutions, particularly their political ones, and why Texans are so unlikely to vote. Government is something Texans too often leave to their betters: the rich and the powerful, and the bosses who work for them.
George W. Bush fashioned himself a strong governor by impinging on the power of the legislature. Then, in 2000, with Bush on his way to Washington, Rick Perry suddenly found himself the accidental governor. A one-time Democrat who had previously fought an uphill battle to win a surprising victory as agriculture commissioner and then as lieutenant governor, Perry faced low expectations.
But he apparently learned a thing or two from Bush, quickly grabbing and consolidating power. The two men are different in many ways, but in this regard, they are like brothers. In his first legislative session, in 2001, Perry made a point of demonstrating who would be the boss of Congress Avenue. He vetoed 82 bills in all, most of them on Father's Day in June—the episode was known as the Father's Day Massacre—after the legislature had left town, effectively undoing its handiwork. The constitution may have created a weak governorship on paper but Perry, like Bush and a few others before, would govern strongly.
Over the ensuing years, he became the longest-serving governor in Texas history. By about 2007, he had tipped the balance of power with the legislature and decisively held the upper hand. By 2009, his longevity in office gave him a legion of loyalist appointees in government, totaling over 3,300 people. The list included powerful university trustees, members of the cabinet, the bureaucracy, state commissions, judges, and fully two-thirds of the Texas Supreme Court. Like any good caudillo, he appointed his caciques—or bosses—throughout the territory he governed.
And like any adept caudillo, he returned favors to his patrones. Wealthy contributors brought their private agendas to public institutions. One supporter, oil executive Jeff Sandefer, became an informal education advisor to Perry. Having a dim view of professional academia, he promptly embroiled himself in a dispute with the business school at the University of Texas at Austin. Another supporter, Wallace Hall, was appointed to the powerful board of regents at the University of Texas. Hall tried to engineer the hiring of Alabama's Nick Saban to replace football legend Mack Brown—all on his own. But Hall also engaged in a public feud with the university, attacking the president of the university over admissions to the law school. Hall was censured by a legislative committee and his allegations were ultimately dismissed by the new chancellor, retired Navy Admiral William McRaven.
Perry not only opened the doors of government to his patrones; he opened the state coffers to them, too. Unlike ideological conservatives, Perry exhibited no compunctions about government picking winners and losers in the economy. He tried to build the Trans-Texas corridor, a massive transportation project backed by giant corporations that would rely upon eminent domain to take land from owners; the legislature balked.
He launched the Texas Enterprise Fund and boasted that 1 million jobs had been created under his tenure. They were actually created during his tenure. A massive real estate downturn in the 1990s had forced a painful de-leveraging that made Texas a cheaper place to live and work than most of the rest of the country. And the diversification of the economy—away from its over-reliance on energy and real estate toward technology and services—created the jobs. When all was said and done, the fund spent $439 million and claimed to have brought 66,000 jobs to the state.
Yet the audits and reports found that even this modest figure was inflated by 18,000 jobs, and that the money was spent not just on attracting new firms, but also on keeping companies from leaving Texas. Companies like Vaught Aircraft never created all the jobs they promised, but they did pocket most of the money. The only thing Texas-sized about the program was its price tag. Perry's allies in the legislature and even his successor, Republican Greg Abbott, have alternately mused about fixing or scrapping the fund. But whatever its effects on Texas, the program benefited Perry: Over 100 companies now owe him a favor.
Perry's policy track record was ultimately undistinguished. He entered his final year in office with an approval rating of about 40 percent. And yet, despite this dimming view of the longest-serving governor in history, Texas Monthly graded his record on economic development as the strongest element of Perry's policy record, giving him an "A" in that category even as he earned a "C" overall.
Perhaps Perry's biggest move for his patrones and caciques alike was encumbering  taxpayers with $3 billion in debt, in the form of bonds, to fund the Cancer Prevention and Research Institute of Texas, an institution laced with favors for backers and underlings alike.
Though it was backed by taxpayer money, the institute created a parallel non-profit which, in turn, raised money to supplement the salaries of top institute executives. The institute itself doled out millions of taxpayer dollars to the private sector. The $75 billion biotechnology industry it supported was a favorite of some of Perry's richest donors and some of their companies received taxpayer grants without even applying. Even now, Texans are learning of hundreds of millions of dollars of other questionable state contracts for technology services given to companies during Perry's tenure. Even if he had no knowledge of these transactions, they call his record into question as a custodian of the public treasury.
If he was to win the presidency, then, and govern the United States as he did Texas, Rick Perry's record suggests certain patterns: He would try to bend the Congress to his will, unafraid to wield the power of the veto on a scale very different from recent presidents, Democrat or Republican. He would make large and unsubstantiated claims to suit his purposes, but spend less time and effort on substantive policy. Neither would it be out of keeping for him to turn the public treasury into a private resource. The words "private-public partnership" may scare conservative ideologues—but Perry isn't really one of them.
And that is where the trouble starts.
* * *
American politics, of course, has known municipal bosses from Tammany Hall to Chicago, local lords adept at dispensing favors and calling them in. But the power of these men was largely confined to the city limits.
Governors, whose reach extended to the state line, have generally enjoyed considerable formal power, but that power is by design subject to checks, from auditors to legislatures to inspectors general. Texas, where the governor's office is perhaps weaker than in any other state, would seem a particularly unlikely home for an old-time boss. But that very constitutional weakness of the office has led its governors to devise alternative mechanisms for extending their power. These mechanisms often operate outside the ordinary structures of oversight and accountability. The paradoxical result has been an office with little formal power, but tremendous informal influence.
Perry built on the innovations of his predecessors, but his extended tenure allowed him to go much farther, leveraging patronage appointments and quasi-governmental entities to achieve a degree of control far beyond what the state constitution envisioned. Then, in early 2013, two seemingly unrelated events collided. One was an investigation by the state's Public Integrity Unit into the goings on at Perry's cancer-biotechnology fund. These emerged in a series of news accounts, finding that companies owned by Perry backers were receiving millions of dollars of taxpayer money under highly questionable circumstances.
The other was the April arrest of Travis County District Attorney Rosemary Lehmberg, a Democrat, on a drunk-driving charge accompanied by an embarrassing jailhouse video. Perry seized on the moment and threatened to veto state funds to her office if she didn't resign. She didn't. So Perry vetoed funds to the Public Integrity Unit, a part of her office with the mission of investigating public officials. Conservative Republicans had chafed at the unit for years.
In August, the equivalent of a special prosecutor working with the unit indicted Perry for abusing his office and coercing a public official. Now it was Perry's turn for a mug shot. By then, Perry had enlisted a very high-priced team of defense attorneys and public relations professionals. As they unsuccessfully tried to get the case dismissed, their story seemed relatively simple: Perry wielded a veto, as was his prerogative under the state constitution, and was indicted by a vengeful Lehmberg.
But reality wasn't that simple. First, Lehmberg was elected by the people of Travis County, not appointed by the governor. Second, she did not indict him; the equivalent of a special prosecutor working with her investigators did. That prosecutor had been a Republican appointee in Washington under George W. Bush, and the case has gone forward under a Republican judge. And however reprehensible Lehmberg's conduct may have been, two other district attorneys were arrested on drunk-driving charges in recent years without drawing the wrath of the governor.
All these facts aside, however, Perry's argument contains a glaring omission. Perry had no problem providing money from Texas taxpayers to the Travis County district attorney's office, even after Lehmberg was charged. He still provided her office with $1 million per year. He only vetoed the $3 million per year to the special investigative unit of her office that was probing his allies and cronies. In other words, he singled out the investigative unit—and it alone, not Lehmberg—when cutting off state funds.
Despite Perry's veto of the investigative money, state money went to the district attorney's office for prosecuting environmental cases, for a victim liaison, to get prosecutors to stay in their jobs longer, to pay for worker's compensation insurance, and to provide assistance from the attorney general to Lehmberg's office. This amounted to about $2 million over two years in 2013 and 2014, according to a detailed budget of the district attorney's office. The only money Perry vetoed was about $7 million, over two years, for the investigators who were looking into the controversial cancer-biotechnology fund.
Perry's six-page veto statement to the legislature, issued on June 14, 2013, conveniently conflates the entire district attorney's office with its public integrity unit. Perry could not "in good conscience support continued state funding for an office with statewide jurisdiction at a time when the person charged with ultimate responsibility of that unit has lost the public confidence," he wrote. "This unit is in no other way held accountable to state taxpayers, except through the state budgetary process. I therefore object to and disapprove of this appropriation."
Of course, the unit was by design left free from pressure by state officials. Perry's statement that he had no other recourse was not true. If he wanted to remove Lehmberg from office, a Texas statute clearly provided for that. Someone, even Perry himself as a resident of Travis County, just needed to go before a district court, present the case for removing her to a jury, and then their decision would either approved or disapproved by a judge. The law was clear. And it was simply not true that Perry had no recourse other than a line-item veto. The constitution allowed him to send the budget back to the legislature with objections to all the money going to Lehmberg's office.
So why would Perry circumvent this law and mislead the legislature and the public about it? Perhaps he was afraid of the investigation. At the time, it was not clear whom it was targeting. Lehmberg had cleared the board back in February, but an affidavit about Perry not being the target of the original investigation would only be produced months later, after he was indicted for interfering. Perry may have wondered if he or the companies in which his donors had invested might be in the crosshairs.
Regardless, this much is virtually certain: The public revelations about the biotechnology fund had to be embarrassing to Perry, his political allies who served on the board, and his network of powerful and rich donors as their names dribbled out in newspapers and television accounts nearly daily. One donor, a major philanthropist, was so embarrassed he signed over his shares in one such biotechnology company to the University of Texas medical school in Dallas.
If Perry was really outraged that state money would go to the office of a drunk driver, then why did he only veto the money for the investigation unit and not for the other state-funded programs in the disgraced district attorney's office? Perry did not avail himself of the legal process for removing an elected official. His office even reportedly offered to find Lehmberg a job—if she would just quit first. Ultimately, the investigation led to the indictment of one mid-level executive, Jerald Cobbs, who has yet to go to trial.
To this day, Perry and his legal team have maintained that he vetoed the money out of principle. But he targeted only the nettlesome investigative unit, not state money going to Lehmberg's office. He only vetoed some of the money and only that which bore directly on his own power.
Here Perry's informal and nearly autonomous power ran smack into the more normal world of American rule-based governance. Even if the legislature would not check and balance him, then a prosecutor not bound up in his web of supporters and loyalists might be free to blow the whistle on him stepping over the bounds of the law.
Caudillos don't have to worry about the law. Rick Perry does.
We want to hear what you think about this article. Submit a letter to the editor or write to letters@theatlantic.com.