Republicans' Stealth Plan to Delete Gay Marriage from the Party's 2016 Platform
Republicans are quietly strategizing to delete gay marriage from the party's 2016 platform.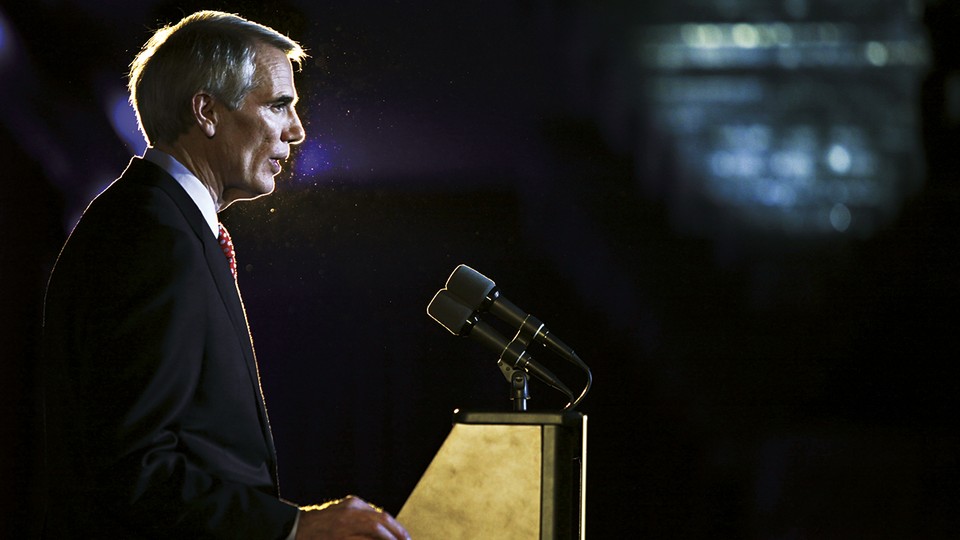 Late last summer, with midterms consuming the attention of the political class, a group of GOP activists spent two days in Des Moines trying to convince their fellow Republicans that change was coming to their party. With eyes on 2016, they attended the Iowa State Fair, talked with newspaper editorial boards, and even ventured onto conservative talk radio. To cap it off, on the last evening, supporters gathered at 801 Chophouse, the upscale watering hole of the city's political elite, as if to announce their movement had gone mainstream. That it couldn't be dismissed as fringe any longer.
Their issue, in a state where evangelical Christians remain the heart of the GOP base, was support for same-sex marriage.
The reception was smaller than expected—just about 50 people came—and included a lineup of supporters already deeply involved in the GOP's gay-marriage movement. Yet while it would have to be described as underwhelming, the event nonetheless signaled movement. "Here you have a conservative reception for activists to come in and talk marriage equality in a central hub of political activity," says Jeff Angelo, a former state senator who is now chairman of Iowa Republicans for Freedom, a pro-gay-marriage group. "That's not usual."
(RELATED: 2016 Presidential Travel Tracker)
Indeed, it's not. Less than 10 years ago, the last Republican who would go on to win the presidency traveled conservative America touting a series of "one man, one woman" state constitutional amendments. Now, as more than a dozen men and women plot paths to the GOP nomination, America's position on same-sex marriage has shifted—dramatically. Not only is it legal in most states for couples who are gay to marry, but most voters now support their right to do so—in one poll, by a 3-to-2 ratio.
But the task that day in Iowa wasn't to show Republicans how much has changed in a decade or to nudge them toward acceptance of those unions. It was to force them to concede that going neutral on gay marriage is critical to winning the White House. It was, very specifically, to persuade them to take a series of tactical steps that would ultimately see language opposing gay marriage wiped from the Republican Party platform in 2016.
This campaign, led by Jerri Ann Henry of the well-funded Washington-based Young Conservatives for the Freedom to Marry, is at work in Iowa, New Hampshire, South Carolina, and Nevada, where advocates and volunteers are lobbying local party leaders, arguing on conservative talk radio, and hosting receptions like the one in Des Moines for politically active voters.
The argument they are making to skeptical Republicans is blunt: If the GOP's 2016 presidential nominee opposes gay marriage, he or she will lose to Hillary Clinton.
It marks a significant turn of events for a party whose uniform opposition to gay marriage has been the norm. "We went from having this monolithic appearance about the Republican Party, 'Oh, the Republican Party is against marriage equality,' to, well, here are activists who are meeting about marriage equality," Angelo says. "That's something new in the state."
(RELATED: With Campaigns Looming, GOP Splits on Same-Sex Marriage Benefits)
Perhaps more important, Angelo and Henry have begun drafting a list of potential convention delegates, who, with the presidential nominee, will write the 2016 GOP platform, a process normally dominated by conservatives. States have different rules for selecting delegates, but Henry is pressing major presidential candidates to commit that 20 percent of their delegates will be under 40 years old, an age group in which polls show a majority of Americans—even Republicans—support same-sex marriage.
Part of this effort includes direct outreach to the presidential candidates themselves: Gregory T. Angelo, executive director of the Log Cabin Republicans, said his group has met with several campaigns to discuss gay marriage. (Tellingly, though, he wouldn't say which campaigns.)
Opponents of same-sex marriage know the assault is coming. Even foes such as the Family Research Council's Tony Perkins acknowledge that Young Conservatives for the Freedom to Marry and its allies this year are better organized in this fight than his side. But it wouldn't be the first time that pro-gay-marriage Republicans have tried to soften or remove the party's platform position, only to be met with even stronger language.
Henry says this time is different, with a better-funded and well-organized effort that has started earlier than ever before. "It only sounds unreasonable," she says, "if you don't understand the momentum behind this issue already."
The urgency Henry and others feel is rooted as much in politics as in values. The argument they are making to skeptical Republicans is blunt: If the GOP's 2016 presidential nominee opposes gay marriage, he or she will lose to Hillary Clinton.
That's certainly hyperbole: Voters are focused on big-picture concerns like the economy and foreign policy. But against the backdrop of rapidly shifting public opinion, it's increasingly difficult to make the case that opposition to gay marriage will at some point be anything but a political loser for the GOP. An NBC News"Š/"ŠWall Street Journal poll this month found a record high 59 percent of respondents support same-sex marriage, and it's just one of many recent surveys that show public support sitting comfortably over 50 percent.
To advocates, the issue is especially salient among younger voters who might otherwise lean Republican but vote Democratic because of the GOP's intransigence on social issues. "There will be Republican voters who trust the party on economics, who trust the party on national defense, but they might have a gay brother or a lesbian daughter, and even though they agree with the Republican Party on other issues, that is a deal-breaker," says Tyler Deaton, senior adviser to the pro-gay-marriage American Unity Fund, an influential organization backed by Republican hedge-fund billionaire Paul Singer. "And that's a deal-breaker for more American voters than ever before."
As important as the general-election argument might be, convincing Republican leaders that there is enough support within the party to protect them from the potential backlash from the social conservatives who typically dominate the primary season is a trickier task. Here again, advocates try to rely on data: Support for gay marriage has grown by 11 percentage points among Republicans since 2011, according to Alex Lundry, a pollster for Project Right Side, a group created by one of the most influential, openly gay men in the party, former Republican National Committee Chairman Ken Mehlman. "The Republican Party is fast approaching a majority on support of gay marriage," Lundry says. "I want to be clear: We're not at that yet. But we're getting there."
Among Republican advocates, there's widespread belief that most elected officials and political leaders are ready to move on, convinced that issues like the debt and national defense are more important than whether gay men and women can marry. But they believe those leaders will keep their views private, worried about antagonizing a pocket of social conservatives who strongly oppose gay marriage.
Part of Young Conservatives for the Freedom to Marry's effort aims to dismiss that concern by arguing that just a few GOP officials' public backing can pave the way for more to follow. "Party leaders who had always, behind the scenes, given a wink and nod are now willing to go on record," says Christian Berle, former deputy executive director of the Log Cabin Republicans, pointing to two Republican senators—Rob Portman and Mark Kirk—who now openly support gay marriage.
That's a bullish assessment, for sure. Dig deeper into the polling and what's clear to Republican operatives on the fence about supporting gay marriage is that sentiment among conservative voters in conservative states hasn't shifted. A New York Times survey last year found that 70 percent of conservative Republicans said it should not be legal for same-sex couples to marry.
And while the importance of social issues has dimmed within the GOP, evangelicals still constitute a huge bloc of its voters with enormous influence over the party's agenda. Tony Perkins and other religious leaders are already warning that if the Republican National Committee drops its opposition, it will alienate core supporters. "Do they want to take the risk of offending what was 25 percent of their vote in the last general election by engaging in this? I don't think they do," says Perkins. "I think it's too risky for the RNC and nominee to engage in this."
Perkins seems confident the gay-marriage effort will fail, and he has the ear of enough decision-makers to make his opposition well known. He was a delegate to the 2012 GOP convention, and while Perkins says he's not sure he will take on that task again in 2016, a devoted socially conservative ally is sure to play a central role in drafting platform language.
That's what makes Henry's job so difficult. Try as advocates might to stock the convention's delegates with like-minded supporters, those spots still usually go to conservatives much less willing than the average Republican to approve of, or at least stay silent on, gay marriage. "Even if the nominee wants to take it out, and I doubt he will, it would be a 50"Š/"Š50 proposition, at best," says Steven Duffield, who served as executive director of the GOP platform in 2008.
Duffield suggests the best shot for changing the platform would be to ensure that a well-known, persuasive spokesman like Mehlman becomes a delegate. (Mehlman wouldn't comment for this story.)
Advocates aren't counting on a high-profile leader to swoop in and change minds, though. They think the only route to removing opposition to gay marriage from the platform is to identify Republicans who are willing to concede that a shift on this issue is necessary to retake the White House. They know they won't convince everyone, but they also know they don't have to.
"I certainly don't think Steve King is going to wake up one night and say, 'Well I gotta love the gays because I read a poll,'"Š" Berle says. "But I think a lot of people understand what the primary issue is to Americans—concerns about the economy, foreign policy issues—and nobody is really getting kept up at night that the gay couple down street are wearing wedding bands."