Republicans Plot Next Steps for Keystone
The fight over the controversial pipeline is far from over on Capitol Hill.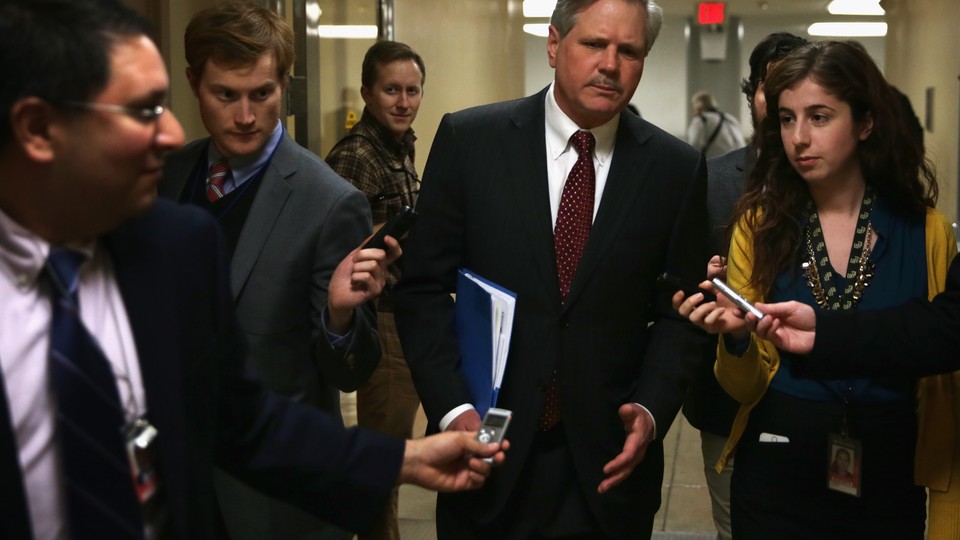 The ink has barely dried on President Obama's veto of a bill to build the Keystone XL pipeline, but Republicans are already eyeing their next move.
Even the most ardent supporters of the controversial project acknowledge that a Senate vote to override the White House veto slated for Thursday is likely to fail. So pipeline backers are looking past this week's doomed vote and have begun to mull attaching Keystone to an appropriations bill, the transportation reauthorization bill, or broader energy legislation.
"Those of us who think it should pass ... I think are going to look for other ways to deal with this, either on an appropriations process or some other way legislatively," Senate Majority Whip John Cornyn, R-Texas, told reporters.
Republicans have long called for Obama to approve the $8 billion pipeline, which would ship crude oil from Canada to the Gulf Coast. Obama has so far not made a final call on whether Keystone should be built but has vowed to veto attempts by Congress to force a decision before the administration's decision-making process plays out.
That threat has not deterred Keystone backers, however.
"We're not going to wait until Obama makes a final decision. If we did, we could be waiting for who knows how long," Sen. John Hoeven, R-N.D., the author of the recently vetoed bill, said in an interview. "No concrete decisions have been made yet, but whatever we do, we're going to be talking with Democrats to try to find a vehicle that has the best chance of passing."
Senate Energy and Natural Resources Committee Chairwoman Lisa Murkowski, R-Alaska, who has pledged to push broad energy legislation, said that she would prefer not to see Keystone attached to a comprehensive energy package that will be difficult enough to pass as it is.
"I'd rather see us approve Keystone before we get to that," Murkowski said. "There are going to be other issues that will be worthy of debate in the context of broader energy legislation, and I'd rather that we focus on that."
A GOP aide said that no decisions have been made yet on Keystone's Capitol Hill fate but suggested that tying the pipeline to a bill reauthorizing transportation programs, which expire at the end of May, could be the most viable option.
"We think that will come up in fairly short order, and Keystone is an infrastructure project, and that's a bill that should win broad bipartisan support so it would be much harder for the president to veto," the aide said.
Sen. Joe Manchin, D-W.Va., said an infrastructure bill would be the "perfect place" for Keystone to come up next, adding that he prefers the pipeline to oil-by-rail transport for safety reasons.
Eight Democrats have so far committed to voting in favor of a veto override later this week: Sens. Manchin, Heidi Heitkamp, Claire McCaskill, Bob Casey, Michael Bennet, Mark Warner, Joe Donnelly, and Jon Tester. But Republican leaders are still expected to come up short of the 67 votes needed to overcome the White House rebuke.
"Regardless of the vote, the fight's not over," Sen. Steve Daines of Montana said on the Senate floor Tuesday, adding: "We must keep the pressure on this administration."
---
Ben Geman and Jason Plautz contributed to this article