Political Machine Dissolves as Aaron Schock Leaves Congress
Groups with ties to Schock are closing their doors and Illinois Republicans are looking for new sources of cash after Schock's scandal.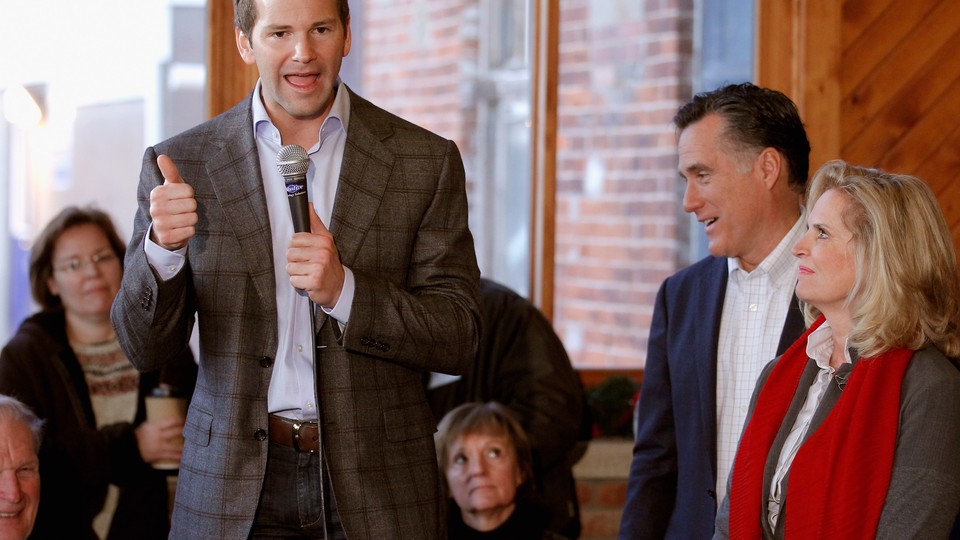 Rep. Aaron Schock's financial mismanagement led to his resignation from Congress and triggered a federal investigation. Now, as Schock departs public office, Illinois Republicans are quietly closing up a political machine that distributed hundreds of thousands of dollars around the state.
Schock has pumped money into dozens of races in Illinois, ranging from the governor's mansion to mayoral contests to city council elections, during his rise up the political ladder. Now, the political network Schock formed is unraveling, leaving some in Illinois—especially downstate Republicans—wondering who else might get caught up in a wide-ranging investigation and how much they'll miss Schock's help.
One of Schock's financial vehicles, the 18th District Republican Central Committee, distributed almost $280,000 to Illinois Republicans over the past four years.
"There's no future for it at this point," said Mike Bigger, who heads the 18th District Republican Central Committee. "Obviously Congressman Schock resigning is going to make it difficult to raise funds in the name of that particular account."
(RELATED: It Took 44 Days of Damaging News Reports for Aaron Schock to Resign)
At the same time, Illinois Republicans strategists say the Schock aftermath won't just have financial consequences in the state. FBI agents have started issuing subpoenas to people close to Schock and examining his expenses and campaign fund. Witnesses will be called before a federal grand jury next month in Springfield, Ill.
"Statewide, it's going to have repercussions all over," said a longtime Illinois GOP operative, who asked for anonymity to speak about Schock to avoid association with the current scandal. "When somebody is under investigation, it just looks awful."
Illinois Republicans insist that their party—buoyed by newly elected, independently wealthy Republican Gov. Bruce Rauner—won't take a massive financial hit from Schock's absence. But those Republicans, most of whom declined to speak on the record to avoid association with Schock, acknowledge that Schock's money was a strong and steady asset in the state.
"He was very helpful," said Tom Cross, a former state legislator who led the state House GOP caucus for years, including during Schock's time in Springfield. "He was very good in legislative races over the years."
(RELATED: Illinois GOP Finds an Anti-Schock to Replace Aaron Schock)
Cross got $50,000 from Schock last year to help his bid for state treasurer, which he narrowly lost. Illinois Republicans said Schock's fundraising has been particularly helpful in downstate Illinois, where he's helped notch victories in local House and Senate races where Republicans needed money.
In one way, though, Schock's demise comes at an opportune time for Republicans, with Rauner—who had a rocky relationship with Schock—in power and able to pick up any slack.
"We have a really unique situation with a Republican governor who is very capable of raising money, who cares very much about the party," Cross said.
One senior Illinois GOP operative who declined to speak on the record said Schock's absence might cost "a race here or there that Republicans might not win in 2016." But, the operative added, "Our state representative and state senate races are going to be mostly be a referendum on the governor, and he already has a giant war chest for that marked."
(RELATED: Aaron Schock Compares His Ethics Scandal to Abraham Lincoln's "Defeats")
Schock, who had $3.3 million in his own federal campaign account at the end of last year, also contributed money to several Illinois House Republican candidates in 2014, including Reps. Bob Dold, Mike Bost, Adam Kinzinger and Rodney Davis. Schock's office did not respond to a request for comment.
In a sign of how Illinois political circles are reacting to Schock's fall, his longtime fundraiser Lisa Wagner, sent an email to donors saying she feels "sad, angry, cheated," Politico reported. Schock, Wagner wrote, "deceived us all." Wagner declined an interview for this story.
The Democratic Congressional Campaign Committee has already called on Republicans who accepted money from Schock to return their contributions, specifically highlighting Dold and other vulnerable House Republicans. Dold spokeswoman Danielle Hagen said that "not one penny of these contributions remain in Congressman Dold's account."
Other Illinois operatives suggested that Schock's fundraising strength might impact the National Republican Congressional Committee most. Schock has been one of the organization's most prolific fundraisers, accounting for $2 million in donations to the NRCC last year.
At the group's 2014 March dinner, he raised $15.2 million. As far as that particular event goes, the NRCC (which declined to comment) seems to be doing fine so far. It took in $17.5 million at its 2015 dinner, according to a committee aide.