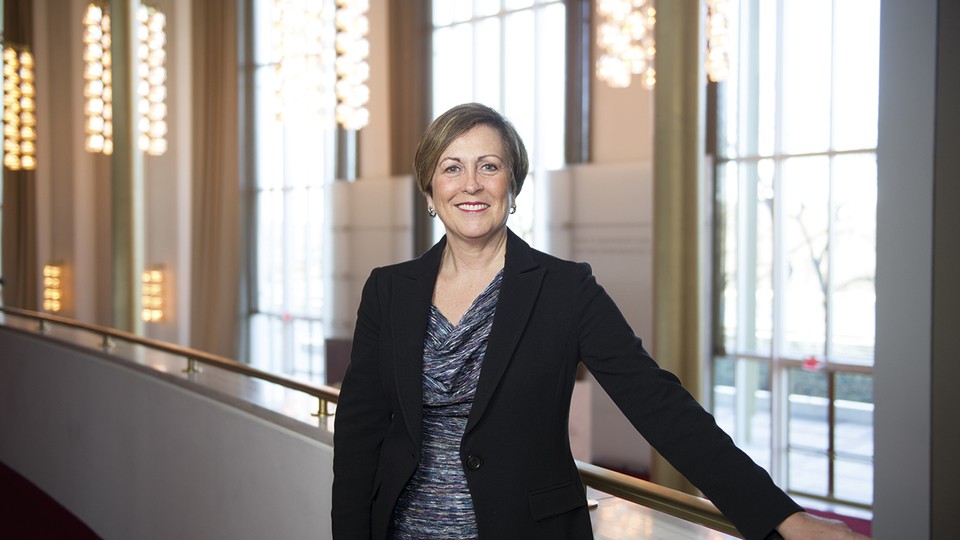 Deborah Rutter
Deborah Rutter is the president of the Kennedy Center for the Performing Arts. (Chet Susslin)The Kennedy Center's new president believes the performing arts offer answers as well as entertainment.
It's a bitter cold day when we meet, but it feels like spring come early compared with the winters she's used to, Deborah Rutter tells me. Rutter moved to Washington last summer to become president of the John F. Kennedy Center for the Performing Arts — the first woman to hold that title. She came from Chicago, where she spent nearly 11 years as president of the Chicago Symphony Orchestra, but she didn't come to D.C. for the balmy February weather. She did it, she says, because she wants the performing arts to be part of the solution to the problems facing the country, and she believes the Kennedy Center is the perfect institution to lead that conversation.
"I believe that through art — and, in my world, the performing arts — we have the ability to speak to people more authentically, and in a way that is through their heart as well as their head," she says. She tells me that bullying and violence brought on by misunderstanding are just two examples of areas where she believes the performing arts can change lives.
"The reason I came here is because I want our education programs and I want our community programs to be supporting the "¦ traditional programs in making a statement to our leaders — the world's most powerful leaders — that they must and should include us," she says. "There is a way to involve the arts as a tool." At the end of her impassioned monologue, she laughs: "Sorry, do you think I care about that?"
Integrating her own passions and ambitions with all that she has inherited will be one of Rutter's major tasks as the artistic and administrative director of the nation's busiest performing arts center, which hosts some 3,000 events annually, from opera to modern dance, as well as numerous education programs. And Rutter's predecessor Michael Kaiser left her a little something else to do as well — oversee a $100 million expansion project that will add new rehearsal, performance, and classroom spaces to the facility. The project, which is set to be completed on May 29, 2017 — the 100th anniversary of President Kennedy's birth — will create indoor and outdoor spaces overlooking the Potomac River to complement the current marble edifice, and Rutter says she believes the additions will help her make the performing arts, and the artistic process in particular, more accessible to a wider audience.
"I want to think about ways to use the expansion project to bring audiences closer together with artists, so that while it may not be direct participation, there's a sense of intimacy, understanding, and communication between the artist — the creator — and the participant or the audience member," she says. Rutter has already taken steps toward that goal by appointing Mason Bates, a highly accomplished composer and DJ, to be the center's first ever composer-in-residence. He is also one of the artists who will contribute to a new series next season — unveiled by Rutter earlier this week — that aims to transcend traditional genres; it even includes a festival dedicated to skateboarding.
Rutter, 58, grew up in California, and she comes across during our conversation as both energetic and down-to-earth. She tells me she discovered music in the public schools of Los Angeles, when one of her teachers asked, "What instrument will you play?" The word "will" made it inevitable and filled Rutter with confidence, she recalls. She still has the violin she chose.
The self-described cultural omnivore studied music and German at Stanford University and earned an MBA from the University of Southern California. She began her professional career at the Los Angeles Philharmonic before going on to head the Los Angeles Chamber Orchestra, the Seattle Symphony, and finally the Chicago Symphony Orchestra, where she earned a reputation for being as financially savvy as she was artistically inclined, and was credited with breathing new life into the organization.
She says she has been struck during her first six months on the job by how much Washington's reputation for conservative taste seems to be undeserved. "What's really extraordinary here is the curiosity, the intellect, and the ... the openness, to what we are presenting," she says. "That means we have a great opportunity for pushing boundaries." The part of the job she's enjoying most? Attending performances, of course. She goes to shows three or four nights a week on average, she says — both for art's sake and to mingle with donors and audience members — but with all that goes on at the Kennedy Center, she could easily go "14 nights a week," she jokes. "It's a little bit like a being a kid in the candy shop, but only better, because there is no low after the high of the candy. It just builds on it and stays with you."
— Laura Ryan
Jim Moran
Former Rep. Jim Moran is the senior legislative adviser for McDermott Will & Emery. (Chet Susslin)The former member of Congress on why he likes lobbyists, even though he's in no hurry to register as one.
No!" exclaims Jim Moran, when I ask him whether he misses Congress. "I don't miss it at all." But perhaps that's a bit of an overstatement. The former Virginia lawmaker, who retired at the end of last year, finds the voting notifications he's still receiving on his phone in February "kind of a nice reminiscence." And, as we sit in a conference room at McDermott Will & Emery, the law firm where he just became a senior legislative adviser, Moran tells me it's just fine with him that he's barred from registering as a lobbyist for a year. The onetime marathon runner says he's still using the congressional gym — a perk he'd have to give up if he made his marriage with K Street official.
Not that there'd be anything wrong with that. "Members should be rewarded for the knowledge and the experience that they've gained," he tells me. "And even being a lobbyist doesn't mean that you are doing anything wrong. Oftentimes, it means that you are fighting for the things you care about." In Congress, the Democrat represented Virginia's 8th District, which includes Arlington County, and he tells me that lobbyists "work hard" and "know their issues" (presumably whether they're officially registered or not). In Moran's new job, his issues will include sustainable energy, which he championed as chairman of the House Interior and Environment Appropriations Subcommittee, and defense, among others.
The son of a professional football player, Moran, 69, was raised outside of Boston, the eldest of seven children. During his 24 years in Congress, he developed a reputation for being outspoken and quick-tempered, but also able to work across the aisle. Although he was reelected in 2012 with nearly 65 percent of the vote, he decided not to run again in 2014. He says he became fed up with the partisanship and the predictability of the legislature. "To walk on the floor like a herd of sheep, you see what the leader of your party wants you to do and you vote along with 200 other members," Moran says. "What kind of a life is that?" Indeed, Moran was at times a wayward sheep: He was among those Democrats who opposed the 1996 Defense of Marriage Act and the 2010 extension of the Bush tax cuts. He tells me his greatest accomplishments in Congress include not only bills he helped to pass, but also votes he cast against others.
Why did he choose McDermott? "I really wanted an environment where I could learn more things, and this firm just gets into so many things that are of interest to me," he says. There is something else he admits he misses about Congress, though: his friends. Up on the Hill, he says, "There were so many people I was fond of." Fortunately, his new office is across the street from the Capitol.
— Laura Ryan
Nancy Lindborg
Nancy Lindborg is the president of the U.S. Institute of Peace. (Chet Susslin)Seeking more peaceful ways to manage conflict.
When school groups come to Washington, says Nancy Lindborg, "they see all these memorials to various wars on the Mall. And then," she adds, "they come here." Lindborg is the new president of the United States Institute of Peace — which describes itself as "an independent, nonpartisan institution established and funded by Congress to increase the nation's capacity to manage international conflict without violence," and which has its headquarters directly across from the National Mall. When I interview her in her corner office, which overlooks the Lincoln Memorial and sits kitty-corner to the memorial to the Vietnam War, Lindborg has been on the job only one week, and the task before her is undoubtedly monumental.
Established under Ronald Reagan by an act of Congress in 1984, the institute comprises the main office in Washington plus a handful of permanent field offices in countries including Afghanistan, Pakistan, and Iraq. In addition, staffers travel on field missions to nations across the globe, from Colombia to South Sudan. The institute's projects range from a recent targeted effort to promote peaceful elections through support of community radio and street art in Afghanistan, to a global push to train military and civil leaders to be better mediators and negotiators. Lindborg, 57, will lead a staff of nearly 350 and will work closely with the bipartisan board of directors to determine the broader direction of the institute.
Lindborg came to USIP from the U.S. Agency for International Development's Bureau for Democracy, Conflict, and Humanitarian Assistance, where she led crisis-prevention efforts in response to situations as disparate as unrest in Syria and the outbreak of Ebola in Guinea and Sierra Leone. Before that, she spent 14 years at global-aid agency Mercy Corps, including six as its president. It was at Mercy Corps, she says, that she learned how long it can take for a region to get out of conflict — and how complex an equation it can be for peace to really take hold. "In both Mercy Corps and at DCHA, I spent a lot of time on response to violent conflict," she says. Now at USIP, she hopes she'll be able to help populations get out ahead of their problems, an approach she calls "focusing on the upstream."
While the challenges are daunting, the hope of helping to resolve those conflicts — or better yet, get ahead of them — is enough to keep Lindborg going. And it's why she has stayed in Washington. The Minnesota native tells me that when first moved to D.C. for a job in politics several decades ago, she thought she'd be gone within the year. Instead, she found herself hooked: Here was a city "filled with people who care deeply about making good things happen in the world. And what's more wonderful than that?"
Rep. Barbara Lee of California, the lone member of Congress to vote against the Authorization for the Use of Military Force passed after 9/11, has called USIP "an important public institution" with "effective strategies to promote our national security," and she even introduced legislation in the last Congress to take the institution "one step forward," by establishing a full-scale federal Department of Peacebuilding. Not every peacenik is a fan of the institute, however; asked for an opinion on USIP, Medea Benjamin, founder of antiwar group CodePink, replied, "If the U.S. Institute for Peace did a great job, we wouldn't be involved in so many wars." Which raises the question: How does one define success when one's job is essentially to change the world, and possibly even human nature? Lindborg smiles. "I'd like you to come back to me in six months, when I have a better sense of that," she says.
— Lucia Graves
Trade Associations
Katie Marisic
Katie Marisic is the manager of government affairs for the Brewers Association. (Chet Susslin)Brewers Association
Over a beer — at a local brewery, of course — Katie Marisic tells me how lucky she feels to be the Brewers Association's first employee in Washington. As the new federal affairs manager for the Colorado-based trade group, which represents the rapidly growing craft-brew industry, Marisic, 33, will lobby Congress on legislation such as the Small BREW Act, which would provide tax breaks to craft breweries. Before she joined the group last month, Marisic was a vice president for political affairs at the National Association of Federal Credit Unions, and she tells me credit unions and craft brewers aren't as different as one might think: They share "the consumer demand for something on the local level," she says. The Pennsylvania native says she owes her appreciation of craft beer to her father, who would drag his family to the local brewery on every vacation — a tradition she keeps alive when she travels today.
— Laura Ryan
Corporate Life
Greg Aronin
Greg Aronin with Marathon Pharmaceuticals. (Chet Susslin)Marathon Pharmaceuticals
Greg Aronin and I meet during Rare Disease Week on Capitol Hill, an annual event run by advocates to draw legislators' attention to such illnesses and conditions. It is a coincidence, but a fitting one: Last month, after more than a decade of leading various government affairs operations for Johnson & Johnson, the Chicago native joined Marathon Pharmaceuticals, which specializes in making drugs for hard-to-treat ailments most people have never heard of. As vice president of government affairs, Aronin, 43, will establish a Washington presence for the firm, which is owned by his older brother and employs about 100 people. Aronin will lobby on Food and Drug Administration reforms that promote research into rare diseases and streamline the approval process for drugs that treat them. And he says he has already had an opportunity to interact with patients and their families — the people he and his new employer hope to help.
— Laura Ryan
Correction: An earlier version of this story mischaracterized Greg Aronin's lobbying on FDA reforms.
Lobby Shops
Towner French
Towner French is new at Capitol Counsel. (Chet Susslin)Capitol Counsel
As deputy staff director for the House Rules Committee under Chairman Pete Sessions, Towner French, 36, helped to make countless determinations about how various bills should proceed on the House floor. Last month, French, who spent 15 years on the Hill, took his deep understanding of the legislative process — and his insights into the House Republican leadership — to Capitol Counsel, a fast-rising K Street lobby shop with clients including Walmart, ExxonMobil, and JPMorgan Chase. Born in Washington and raised in nearby Germantown, Maryland, French tells me that growing up in the metro area had an impact on him. "I got indoctrinated in more political talk out of the gate than most others would," he says. As a principal at Capitol Counsel, French will begin with a focus on health care, but he adds that he intends to play the field. "It's always been pretty fun for me to do a vast variety of work."
— Lucia Graves
Lobby Shops
Reid Stuntz
Reid Stuntz of Stuntz Strategies. (Chet Susslin)Stuntz Strategies
After seven years at law firm Hogan Lovells, Reid Stuntz, 62, used a simple test to determine what he should do next: "Would I still do it if I won the lottery?" The idea he settled on — opening his own lobbying shop — passed with flying colors. Before his stint at Hogan Lovells, the Washington native was staff director to former Rep. John Dingell, both at the Oversight and Investigations Subcommittee and at the full House Energy and Commerce Committee; at Stuntz Strategies, he'll use that experience to help businesses navigate congressional investigations and lobby on issues before the powerful committee. The endeavor is still taking shape, but Stuntz says he likes working for himself and having the flexibility to focus on fewer clients. He's also happy to be back in and around the Rayburn Building. "Oh, I love the Hill so much," he says. "The intersection of people, politics, and policy is endlessly fascinating."
— Laura Ryan