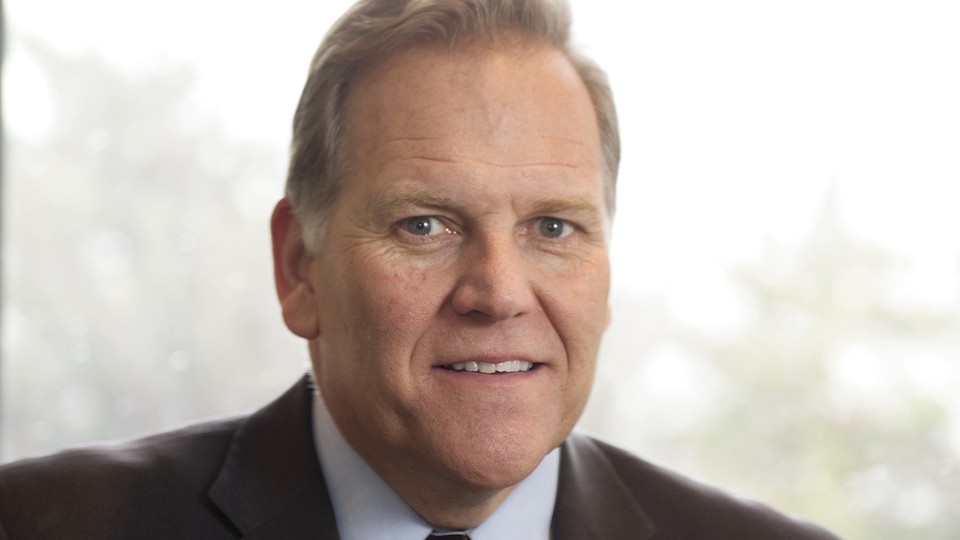 Former Rep. Mike Rogers is a senior fellow at the Hudson Institute. (Chet Susslin)IN THE TANKS
Mike Rogers
Hudson Institute 
After more than a decade in Congress, Mike Rogers retired at the end of last session — and he seems to be making up for lost time. "I need to find a way to raise the profile of national security issues in a way that real Americans can identify with," he tells me, explaining that he hopes his new post as a distinguished fellow with the Hudson Institute, a conservative think tank, will allow him not only to contribute his ideas but also to have "policy impact." The Republican former chairman of the powerful House Intelligence Committee also recently announced the formation of a new nonprofit group — Americans for Peace, Prosperity, and Security — which launched in Iowa in February with the aim of promoting a "pro-national-security" dialogue among Republicans ahead of the 2016 elections. "I really believe in the institution of Congress," says the 51-year-old native of Livingston County, Michigan, "but, man, is it frustrating."
— Lucia Graves
Ed Gerwin is a senior fellow for trade and global opportunity at the Progressive Policy Institute. (Chet Susslin)IN THE TANKS
Ed Gerwin
Progressive Policy Institute 
Ed Gerwin's first task at his new job was to write a report on why progressives should be encouraged rather than outraged by the Obama administration's approach to trade. "We have this very stale debate," says Gerwin, 60, who joined the Progressive Policy Institute last month as a senior fellow for trade and global opportunity, "and, for many progressives, their predetermined role seems to be always to oppose trade agreements." Gerwin hopes to help convince the Left to think differently, at least on this issue: "Sure, we should be pushing hard on labor and the environment," he says, "but just opposing everything that comes down the pike isn't a good way to advance your ideals." A native of Williamsport, Pennsylvania, Gerwin spent much of his career as a partner at Winston & Strawn, where he advised clients on international trade and federal relations. Before moving to the Progressive Policy Institute, he was a senior fellow for trade and global economic policy at Third Way, another left-of-center think tank.
— Lucia Graves
Erie Meyer is a founding member of the U.S. Digital Service. (Chet Susslin)AT THE WHITE HOUSE
Erie Meyer
U.S. Digital Service 
After the catastrophic launch of HealthCare.gov, the Obama administration wasted no time in trying to learn from its mistakes. In August 2014, the White House launched the U.S. Digital Service — a kind of A-Team of techies who work with agency leaders and technology staffers to help make it easier to access government services online. Erie Meyer, 30, a founding member of the service, has been charged with expanding the pilot program at the Veterans Affairs Department. (There are two other pilot programs, one at the General Services Administration and one at the Office of Management and Budget, with plans to expand the service to 25 agencies over the coming year.) The Columbus, Ohio, native says she initially feared it would be hard to persuade top technologists, designers, and product managers to go from California "sunshine and tacos" to "working in D.C. on crazy problems," but she has been pleasantly surprised to find otherwise. "They're really excited," she says.
— Lucia Graves
Amanda Engstrom Eversole is a senior vice president and chief of staff of the U.S. Chamber of Commerce. (Chet Susslin)INTEREST GROUPS
Amanda Engstrom Eversole
U.S. Chamber of Commerce 
Amanda Engstrom Eversole was already chief of staff at the U.S. Chamber of Commerce and senior vice president of its Center for Capital Markets Competitiveness when she got one more title in February: acting president of the chamber's Center for Advanced Technology and Innovation. The bicoastal tech-policy center was created in 2014 to "be the bridge between this innovative technology sector and public policy, not just in Washington but around the world," says Eversole, 38. Chamber President Tom Donohue personally asked her to take over the initiative in January, and the Atlanta native says she was happy to oblige — even though she was seven months pregnant. She credits her rise to the top ranks of the chamber to her ability to "solve hard problems" — such as figuring out how to communicate effectively with both geeks and wonks. About the differences between Silicon Valley and Washington, she says: "You almost speak different languages, and you have different cadences by which you go about doing your business."
— Laura Ryan
T.A. Hawks is a principal at the Monument Policy Group. (Chet Susslin)LOBBY SHOPS
T.A. Hawks
Monument Policy Group 
When T.A. Hawks joined the Monument Policy Group as a principal in February, the freedom was a tad unnerving. "One of my first days, I went to a House hearing, and I emailed one of my colleagues, and I was like, 'Hey, I am going to be in Rayburn. Who else do I need to let know?' and she was like, 'You don't!' " It was a major change from what he'd grown used to on the Hill, where Hawks, 38, worked for Republican Sen. Thad Cochran of Mississippi for 14 years, rising from legislative aide to chief of staff, and then becoming staff director for the Agriculture Committee. When you work for a member of Congress, he explains, "somebody needs to know where you are at all times because you might need to be grabbed by your boss." The Mississippi native has managed to adjust and now says he's enjoying his liberty at the government-affairs shop, where he works with clients across a spectrum of policy issues before Congress and the administration.
— Laura Ryan