Pence's 2012 Opponent: Rematch Interest 'Heightened' by Indiana Religious Freedom Controversy
Democrat John Gregg said the new law has pushed him further toward opposing Gov. Mike Pence a second time.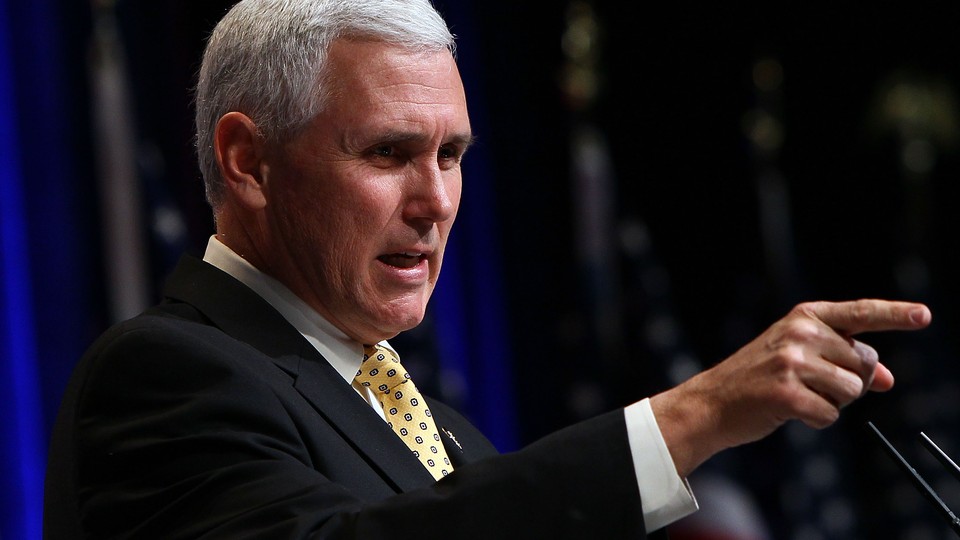 Indiana Gov. Mike Pence's Democratic opponent from 2012 said Tuesday that Pence's decision to sign a controversial religious freedom bill has "heightened" his interest in challenging Pence again in 2016.
"I was considering it, and this has only heightened my consideration of it," Democrat John Gregg, the mustachioed former state House speaker, told National Journal.
Gregg lost to Pence by just over three percentage points in 2012.
Pence has been at the center of growing controversy since last week, when he signed off on the state's Religious Freedom Restoration Act, which opponents fear could legalize discrimination against gays and lesbians. During a press conference Tuesday, Pence called on the state legislature to pass a fix by the end of this week that clearly establishes that the bill does not allow for discrimination, but the damage may already have been done. The measure attracted national attention and prompted potential 2016 presidential candidates to weigh in.
Gregg said he'd been busy fielding calls over the past few days from people encouraging him to challenge Pence, including members of Indiana's business community who have vocally opposed the religious freedom bill from its inception.
"I'm looking at it, and I have had a number of calls from non-traditional supporters wanting me to take a look at it," Gregg said in an interview. "And by that I basically mean a lot of business people, a lot of moderate Republicans, have called, emailed, and texted. I can't even begin to tell you."
Gregg wouldn't offer a hard answer on whether he intends to challenge Pence, but his website, greggforgovernor.com, is splashed with the text: "Big news is right around the corner." Gregg advocated for a full repeal of the religious freedom bill in a post on his Facebook page this week.
Candidates for statewide office in Indiana are barred from fundraising during the legislative session, which ends April 29. That leaves prospective candidates with little incentive to announce their plans before then.
Jessica Martin, a spokesperson for the Indiana Democratic Party, said Pence's decision to sign the bill and subsequent handling of the fallout has "really energized and motivated people like nothing we've seen in a while." But keeping interest up in a state that Republicans have dominated recently is another issue.
"The question is how do we mobilize people, how do we keep them engaged heading into 2015 with our municipal elections and 2016, with the gubernatorial," Martin said.
Next year's gubernatorial race will be the first in Indiana since same-sex marriage was legalized there in October. Both Pence and Gregg opposed gay marriage in the 2012 race, while Democratic Sen. Joe Donnelly opposed it during his 2012 run but came out in support in spring 2013.
The Indiana Democratic Party adopted support for same-sex marriage in their party platform for the first time in 2014, but Gregg has not yet indicated if his stance has changed since he last ran. "Here in Indiana, now that we have gay marriage and now that supporting gay marriage is part of the Democratic Party platform, candidates are going to have to state whether they're for or against gay marriage now," Martin said. "That's just the reality. It's not just here, it's across the country."