Obama On Inhofe Snowball Stunt: "˜That's Disturbing'
In VICE interview, president says GOP will 'have to change its approach' on climate change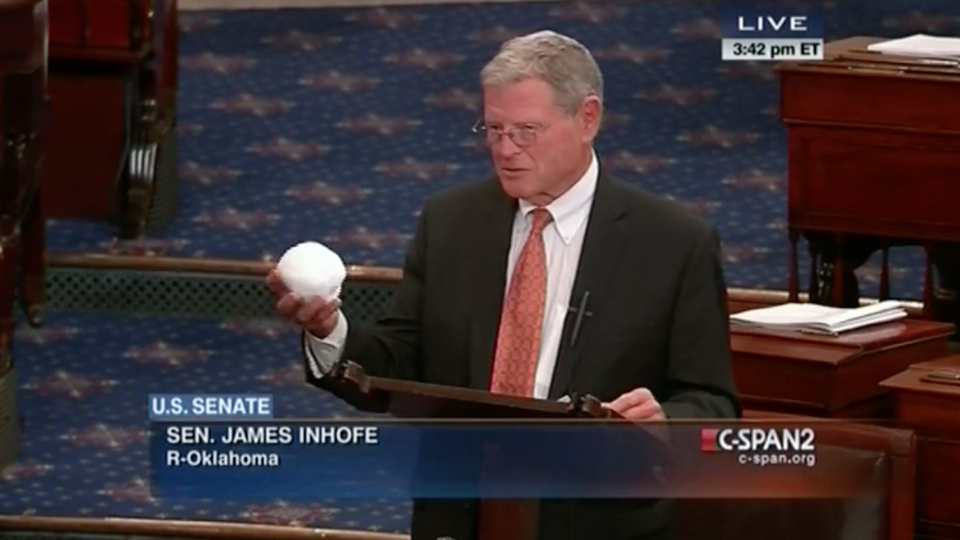 President Obama said it was "disturbing" that the chair of the Senate's Environment and Public Works Committee had tossed a snowball on the Senate floor last month in a bid to disprove the reality of climate change.
In an interview with VICE News founder Shane Smith released Monday, Obama discussed how politics have made climate change one of "the hardest problems to solve."
Smith pointed to the stunt from the Oklahoma Republican, which was meant to show how unseasonably cold it was in February despite coming after the warmest year on record.
"Throwing a snowball would be funny if it weren't the fact that he's chairman of the Senate Committee on the Environment," Smith said.
"That's disturbing," Obama fired back.
Inhofe fired back Monday, saying "People take things too seriously around here. Sometimes you have to be human."
Obama also suggested lawmakers are slow to act because of campaign donations.
"In some cases, you have elected officials who are shills for the oil companies or the fossil fuel industry and there's a lot of money involved." Committees that oversee energy policy, he added, are typically "populated by folks from areas that pump a lot of oil and a lot of gas."
The president said much of the resistance to climate action was rooted in economics, with American families being more concerned about gas prices than on addressing climate change.
"The hardest thing to do in politics and government is to make sacrifices now for a long-term payoff," Obama said in the interview, released Monday.
Inhofe brought the snowball onto the Senate floor to discuss "the hysteria on global warming," pointing out that it was "very unseasonable" and cold even following the warmest year on record.
Still, Obama said that he was optimistic about changing public opinion on climate change, noting that some of the resistance to change was "generational." He said that his daughters, who are 16 and 13, were "way ahead of the game" on climate change compared to his own generation.
"I guarantee you that the Republican Party will have to change its approach to climate change because voters will insist upon it," Obama said. "The challenge on something like climate change is there comes a point of no return. You do have to make sure that we get at this thing quick enough and with enough force to be able to make a difference."
---
Clare Foran contributed to this article