Obama Offers Commutations to 22 of 209,155 Federal Prisoners
On Tuesday, the President cut short the sentences for two dozen inmates imprisoned for drug offenses, who would have served less time under current guidelines. Thousands more remain in prison.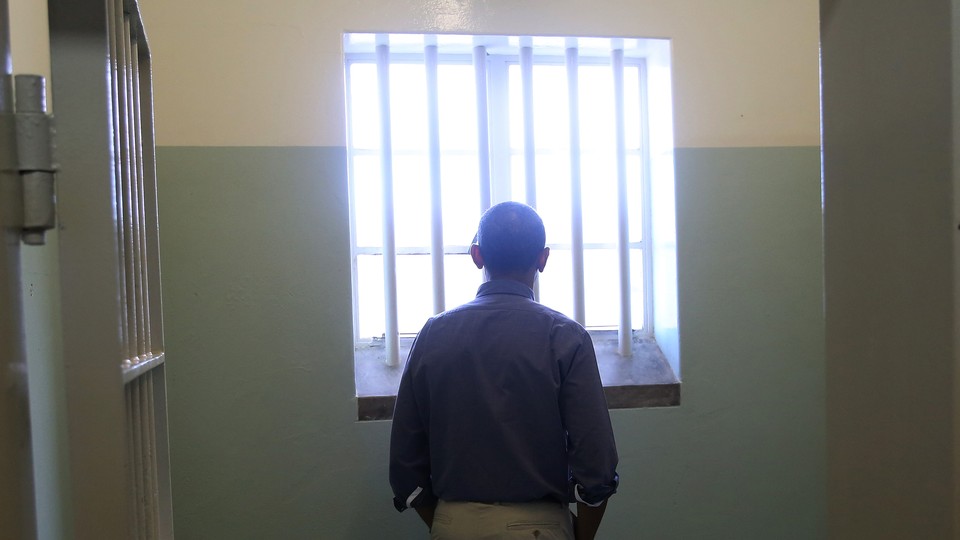 For opponents of the War on Drugs—a group that seems to be growing—and those who think the U.S. incarcerates too many people, Tuesday brought some good news and bad news.
The Good News: President Obama has announced that he's issuing commutations to 22 individuals. They all share convictions for drug offenses; eight would have died in prison if not for clemency.
The Bad News: As The Huffington Post notes, that more than doubles the number of commutations and pardons Obama has issued through the first three-quarters of his presidency. As my colleague Matt Ford noted in December, Obama has been stingy with his mercy, even by the standard of recent presidents, who have used their power more infrequently (though George W. Bush issued only 11 commutations over two terms). Ron Fournier also wrote an excellent analysis of Obama's pardons in 2013.
More Good News: What these 22 men and woman share is that they're all locked on offenses that include drug crimes. The administration has made it a policy to try to rationalize sentences for a range of offenses—for example, bringing sentences for crack cocaine in line with those for powder cocaine. White House counsel Neil Eggleston noted that many of the recipients of Tuesday's commutations would have been free already if they were sentenced under today's guidelines.
More Bad News: The 22 commutations represent a tiny fraction of the federal prison population. In 2014, the U.S. Sentencing Commission proposed new guidelines for drug-related sentences and also voted to make those changes retroactive. Those rules went into effect in November. "Retroactivity" doesn't mean that people get out—it just means they can apply to be re-sentenced under the new guidelines, with the process varying across the country. In May 2014, the USSC studied how making the rules retroactive would affect prisoners. It found that full retroactivity would make 4,571 people eligible for release on November 1 of that year, with a total of almost 13,000 becoming eligible within a year. (For comparison purposes, there are about 209,000 federal prisoners overall.)
The White House says it will be more aggressive about using the president's power to pardon and commute over the next two years, so perhaps there will be more opportunity for good news. For now, it's decidedly mixed.