Obama's America
At the 50th anniversary commemoration of Bloody Sunday in Selma, the president made the case for American exceptionalism.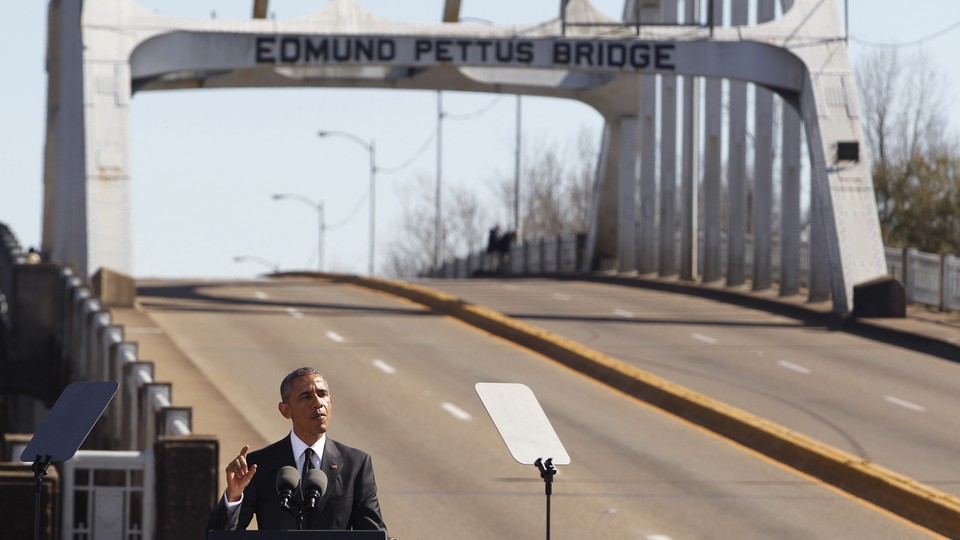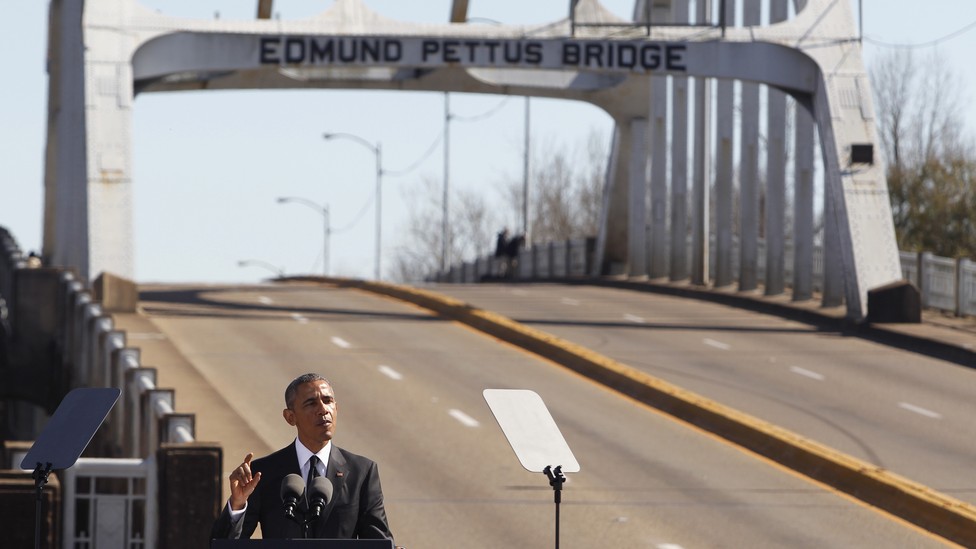 America is, like all nations, an idea. Unlike many other nations, this idea requires a little articulation. A nation built by waves of immigrants can't rely on Old-World, blood-and-soil ethnic nationalism to define itself. The American idea is instead built upon a civic nationalism rooted in democratic principles and self-evident truths, even though Americans often fail to meet those ideals.
And so, quoting James Baldwin and the prophet Isaiah, President Barack Obama spoke in Selma on Saturday. His address commemorated the 50th anniversary of "Bloody Sunday" during the marches to Montgomery in 1965, but his rhetorical scope encompassed all of American history.
Obama has not always spoken so clearly about American exceptionalism. At a March 2009 news conference, he told a reporter that he believed in it "just as I suspect that the Brits believe in British exceptionalism and the Greeks believe in Greek exceptionalism." His political opponents incorporated this into a narrative that cast the president as anti-American, mistaking his ability to understand the pride of others abroad for a lack of pride on his own nation.
Obama corrected the record at Selma, making the case that we are not exceptional in the perfection of our virtue, but rather, exceptional in our relentless struggle to live up to our ideals:
For we were born of change. We broke the old aristocracies, declaring ourselves entitled not by bloodline, but endowed by our Creator with certain unalienable rights. We secure our rights and responsibilities through a system of self-government, of and by and for the people. That's why we argue and fight with so much passion and conviction, because we know our efforts matter. We know America is what we make of it.
Many will interpret this speech as a thinly veiled rebuttal to conservative critics like former New York City Mayor Rudy Giuliani, who claimed last month that Obama "doesn't love America." Others will focus on Obama's sharp attack on Congress for not renewing the Voting Rights Act of 1965 after the Supreme Court gutted it in a 2013 decision. But the speech's broader themes are far more important than its soundbites.
For Obama, the marchers at Selma helped set a new course for American democracy. "Because of what they did, the doors of opportunity swung open not just for African-Americans, but for every American," he told the crowd. "Women marched through those doors. Latinos marched through those doors. Asian-Americans, gay Americans, and Americans with disabilities came through those doors." Had one of his predecessors not already taken the phrase, perhaps he would have called this a new birth of freedom.
Few would disagree with this assessment, but the president's speech went beyond simple praise. Obama has a rhetorical tendency to construct grand, sweeping visions of American history. His inauguration speeches and State of the Union addresses often demonstrate this, but the first, best example might be his concession speech during the 2008 New Hampshire primaries, where he linked his own presidential bid to the historical arc of American freedom.
In Selma, Obama avoided the simplistic narratives of America the perfect (or America the oppressive, as some conservatives allege) in favor of America, the struggle. Instead of relying upon "patriotism à la carte," as my colleague Ta-Nehisi Coates once phrased it, the president carefully wove the darker chapters of American history into its civic mythos:
We're the immigrants who stowed away on ships to reach these shores, the huddled masses yearning to breathe free—Holocaust survivors, Soviet defectors, the Lost Boys of Sudan. We are the hopeful strivers who cross the Rio Grande because they want their kids to know a better life.  That's how we came to be.

We're the slaves who built the White House and the economy of the South. We're the ranch hands and cowboys who opened the West, and countless laborers who laid rail, and raised skyscrapers, and organized for workers' rights.

We're the fresh-faced GIs who fought to liberate a continent, and we're the Tuskeegee Airmen, Navajo code-talkers, and Japanese-Americans who fought for this country even as their own liberty had been denied. We're the firefighters who rushed into those buildings on 9/11, and the volunteers who signed up to fight in Afghanistan and Iraq.
As he did with slavery and Japanese-American internment, Obama sought to incorporate Ferguson into the turbulence of American history. The Department of Justice's damning Ferguson report, which it released last week after a lengthy investigation, depicted a present-day municipal government dedicated to the plunder and predation of its black citizens. Obama readily observed that Ferguson wasn't an isolated case, but also noted that these racist acts are no longer "endemic" in America. He also refused to accept that Ferguson meant that the struggles of Bloody Sunday were for naught. "If you think nothing's changed in the past fifty years, ask somebody who lived through the Selma or Chicago or L.A. of the 1950s," he said to applause.
At times, it felt like Obama was addressing not the civil-rights movement veterans who had assembled in Selma, but today's new generation of activists and marchers. "We do a disservice to the cause of justice by intimating that bias and discrimination are immutable, or that racial division is inherent to America," Obama told the crowd and the country. "To deny this progress—our progress—would be to rob us of our own agency; our responsibility to do what we can to make America better."
This struggle, according to Obama, is not a curse, but a birthright that's integral to American citizenship. One cannot truly love America without working to improve it. His speech included a call-to-arms that many, most notably the #BlackLivesMatter movement, have already heeded.
And that's what the young people here today and listening all across the country must take away from this day. You are America. Unconstrained by habits and convention. Unencumbered by what is, and ready to seize what ought to be. For everywhere in this country, there are first steps to be taken, and new ground to cover, and bridges to be crossed. And it is you, the young and fearless at heart, the most diverse and educated generation in our history, who the nation is waiting to follow.
It's common among some politicians and pundits to refer to America as the greatest country on Earth, or in history. Obama does not lean on these hollow platitudes. The dark chapters in American history don't negate its accomplishments, nor do those accomplishments erase legacies of brutality and hate. Only the desire to improve is the constant. "That's what it means to love America," Obama told the crowd. "That's what it means to believe in America. That's what it means when we say America is exceptional."