Obama Administration Launches Sales Pitch on Climate Pledge
White House sees leadership role in bringing countries to table in Paris talks.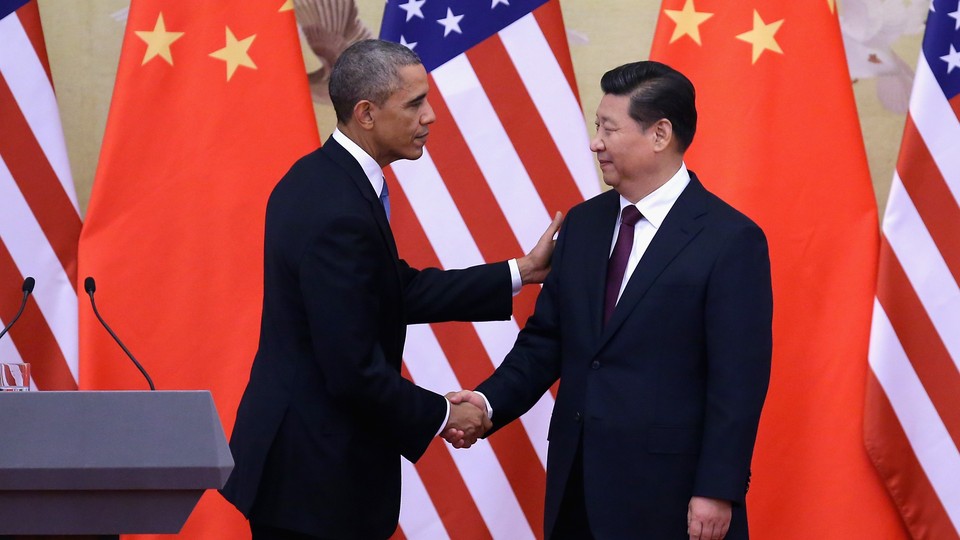 Now that the U.S. has officially affirmed its international pledge to combat climate change by slashing greenhouse gas emissions by up to 28 percent by 2025, the White House is looking to the next step— getting everyone else on board.
While the pledge itself is about domestic emissions, U.S. officials know that a global deal is toothless without other governments on board, and so the rhetoric has turned abroad.
And Obama has made climate change one of the centerpieces of both domestic and foreign policy in his second term—helping to bring about a final agreement at the United Nations talks in Paris this year would be a monumental capper. Getting international participation is also crucial to selling the the climate plan at home.
The White House hasn't been shy about heaping attention on governments who sign on—or its role in getting them on board.
When Mexico on Friday announced its pledge to peak carbon emissions by 2026, the White House came out with a statement commending the country for setting an "example for the rest of the world," along with a separate joint statement reaffirming a commitment to "jointly addressing climate in their integrated economy."
Most major countries—including major emitters like China and India—hadn't filed official climate plans. Negotiators aren't sweating the rollout, since countries accounting for more than 50 percent of global emissions have made public commitments, but the White House says it's going to keep working with countries until the ink is dry on a deal.
"I wouldn't say that we're twisting arms, but we are reaching out to a variety of countries to talk about the importance of submitting timely and ambitious" climate pledges, said Todd Stern, the State Department special envoy for climate change. "We want to encourage as ambitious a set of targets as we can possibly get "¦ but part and parcel of that is we want broad participation."
Stern said the administration has been offering technical support to countries working on Intended Nationally Determined Contributions, the formal term for the climate commitments. That builds on bilateral talks with countries such as China, where both countries committed to long-term emission cuts, and India, where Obama said he reached a "personal commitment" with Indian prime minister Narendra Modi on the U.N. talks.
Congressional Republicans have long belittled environmental rules as costing too much at home and doing too little when other countries aren't acting. Even the U.S.-China agreement in November didn't blunt the criticism, with Senate Majority Leader Mitch McConnell calling it "unrealistic" and saying it "requires the Chinese to do nothing at all for 16 years" while the U.S. imposed costly climate regulations.
Having a formal agreement and policy assessment from China and other polluters will likely do little to blunt the criticism—McConnell has blasted Tuesday's pledge as unworkable—but it would take another arrow from the quiver of the administration's foes.
In a letter supporting the pledge, more than 100 Democrats from both chambers emphasized the country's "responsibility to lead."
"One of the three pillars of the Climate Action Plan is to lead international efforts to address global climate change," the Democrats wrote. "As we have seen time and time again, other countries will join us, if America leads the way."
Supporters say that while bilateral talks have been, and will continue to be, important, the biggest signal the U.S. can give is its own INDC pledge. The document, submitted Tuesday, affirmed a commitment to cut emissions by 26 to 28 percent of 2005 levels by 2025 through existing regulations such as fuel efficiency standards and planned carbon rules on power plants.
The document, said former President Clinton energy aide Paul Bledsoe, lends more legitimacy to what U.S. negotiators have said.
"Countries need to believe we'll meet our targets to feel emboldened to take more cuts on their own," said Bledsoe, now a senior fellow with the German Marshall Fund. "This is aimed at the submission of other countries and enhancing our negotiating position over the next eight months."
Tuesday was not a hard and fast submission deadline, but the start of a rolling process. Thus far, only Russia, Latvia, Switzerland, Norway, Mexico, and the European Union have formally pledged.
Others large emitters, including Brazil, Canada, Australia, and India, have indicated that they will hold off until later this spring and summer.
Natural Resources Defense Council international program director Jake Schmidt said by offering technical assistance and its own example of regulations and energy policies, the U.S. provides a model to similar economies. But more important, he said, was that the government hasn't always been in this position. The U.S. never ratified the U.N.'s Kyoto Protocol and, as the world's second-largest emitter, has contributed plenty to global warming.
"It's one thing to hear from a country that's always been a leader, that's like getting a lecture from your priest, so to speak," Schmidt said. "But then the sinner starts to both change its tune and show that it's prepared to lead. That resonates differently."