Mitch McConnell's Math Problem
Senate budget offers no relief for defense hawks, and that could spell trouble for passage.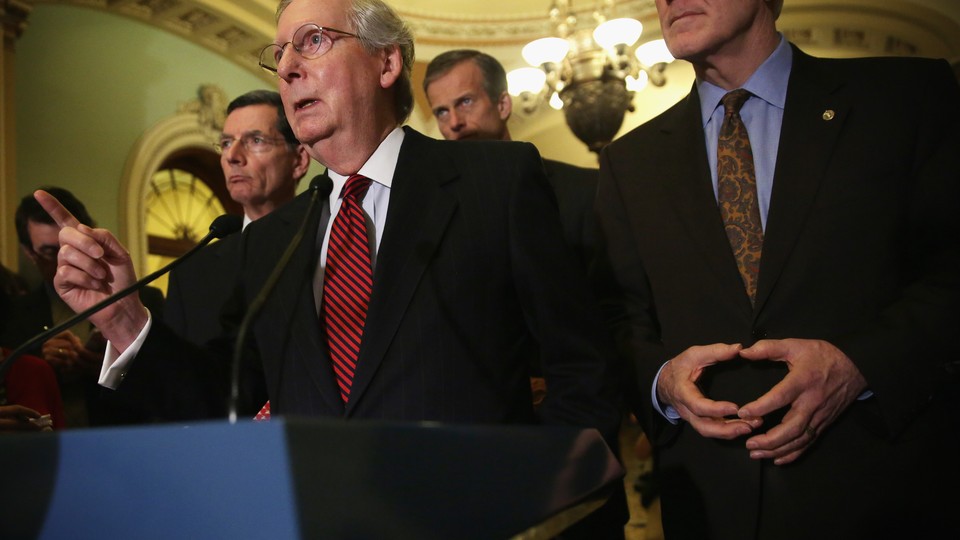 Mitch McConnell has a math problem.
The Senate GOP budget blueprint unveiled Wednesday presents the Majority Leader with a stiff vote-counting challenge. Just a day after the House released its budget plan, echoing Rep. Paul Ryan's long calls for entitlement reform and finding creative ways to fund the nation's defenses, the Senate took its turn and did neither.
The intraparty splits are deep enough that it's not clear whether House or Senate Republicans can pass budgets in their own chambers, much less agree on a single plan. But McConnell's puzzle is especially complicated, as he can only afford to lose three GOP votes and could face trouble from conservatives, defense hawks and senators up for reelection.
So far, the GOP's defense hawks are squawking the loudest, and it's easy to see why.
New Senate Budget Committee Chairman Mike Enzi released his draft Tuesday afternoon without additional defense spending. The measure sends a strong message to the Pentagon: Find your money elsewhere.
With another round of automatic military spending cuts set to hit in September, defense hawks have been pushing budget writers to break the spending caps and increase funding, particularly as the nation continues its fight against ISIS.
But fiscal hawks are skeptical of undoing the sequester set up in the Budget Control Act for fear of increasing the deficit. On Tuesday, Enzi sided with the fiscal hawks, offering not an additional cent for defense funding.
With Republican leaders hoping to pass each budget on the party line, their margins for error are incredibly small, particularly in the Senate. Already, Sens. Tom Cotton, Lindsey Graham, and John McCain have said they will not support a budget that doesn't increase defense spending. If they vote no, then one more defection would mean the budget fails.
The Senate budget also does not include any of the House's overhauls to entitlement programs. Although both budgets call for a reconciliation process to overturn the Affordable Care Act, the Senate draft is much more vague on policy than the House's, calling for certain savings without really outlining how to get there.
Ultimately, the Senate budget would reduce the deficit by $4.4 trillion over 10 years, compared to $5.6 trillion in the House budget.
McConnell still has to worry about the 24 members who face reelection next year, eight of them in blue and purple states—not to mention the three potential presidential candidates in his conference who will be working to stake out their territory on the fiscal right.
So far, the most vulnerable members in 2016 seem to have been satisfied. Sens. Kelly Ayotte of New Hampshire and Rob Portman of Ohio both indicated support for the reserve fund plan Tuesday afternoon, but still needed to consult the budget that had been released to the public just minutes before.
And Sen. Ron Johnson of Wisconsin said Monday that he was concerned about defense funding, but that passing a budget remained priority No. 1 for now. After all, any additional funding for the Pentagon will have to be dealt with in a separate bill and in the appropriations process; a budget has to come first.
"I'm for whatever we can do in terms of gaining consensus within our conference so that we have a House budget, a Senate budget, we reconcile those two so we can start an appropriation process. And I think we're going to have to kind of figure out the details later," he said. "I'm going to be supportive of a budget so that we can start that process."
Sen. Mark Kirk, a Republican who faces reelection in blue Illinois next year, said that his support for the budget would be dependent on defense funding because of his position as an appropriator who chairs the Military Construction and Veterans Affairs subcommittee.
"I'm pretty defensive about military construction to make sure that troops are not living in bamboo huts with thatched roofs," Kirk said.
But Kirk added that he was still looking at the details of the reserve fund before making a decision on the overall bill.
The fear of losing defense hawks, who make up a vast contingent of the party's establishment base, is pervasive in both chambers—so much so that House Budget Committee Chairman Tom Price, a former chairman of the conservative Republican Study Committee and a strong ally of Ryan's, found the money.
The House budget floods money into Overseas Contingency Operations accounts—emergency funds that don't count against the deficit—far over the president's requests for 2016 to help alleviate the defense cuts. Beginning in 2017, the House plan would maintain the overall sequestration caps, but raise them for defense while cutting funds from non-defense programs.
Enzi took a very different route. The Senate budget funds OCO at the exact levels Obama requested for 2016 and maintains the Budget Control Act caps through the 10-year budget period.
The Senate budget does offer a concession to defense hawks, however. Like the House budget, the Senate document leaves open the possibility of creating a reserve fund that could be used for additional defense funding. Unlike the House version, the Senate's budget does not specify that the money be used for defense. The fund was designed to allow for the possibility of another Ryan-Murray-type deal over sequestration for defense and non-defense funding, according to the Senate Budget Committee.
Any change to sequestration, including using those reserve funds, would require Congress to pass a separate law—which would be subject to a 60-vote threshold in the Senate. In other words, the Senate budget kicks the can down the road on defense funding. Whether the promise of a later attempt to fund defense will be enough for Cotton, Graham, McCain, and other hawks in both chambers remains to be seen.
Graham plans to introduce an amendment in the Senate Budget Committee that would raise the OCO account to the same level as the House. The Senate Republican budget needs to "spend more on defense than Barack Obama," the South Carolina Republican told reporters Wednesday.
Overall, the Senate Republican budget is a much less detailed draft than that in the House, relying on savings from departments and committees without laying out how those panels—much less a stalled Congress that has barely been able to keep the federal government's doors open—should achieve them.
The panel seems to be following the advice one of its members, Sen. Chuck Grassley, gave earlier this week to The Hill: "From the standpoint of a budget, the less words of the English language you use, the better off you are."
That's especially true with entitlements, where Senate budget writers say they've extended the Medicare Trust Fund five years through savings that never are really outlined; encouraged committees to transform Medicaid into "a new program based on [the Children's Health Insurance Program] to serve low-income, working-age, able-bodied adults, and children who are currently eligible for Medicaid"; and fully offsets the costs of Social Security—all while reducing mandatory spending by $4.2 trillion over the next ten years.
Those kinds of promised savings without specific policy changes attached to them have frustrated fiscal conservatives for years and likely will draw skepticism in both chambers.
One issue on which the House, Senate, and members across the party spectrum seem to agree is repealing the Affordable Care Act, although that would have to be done through either a separate law or reconciliation. Either would be sure to earn a presidential veto.