Mike Pence and Indiana's Deep Freeze
Ambitious Indiana Republicans thought they saw openings at the top of their party's ticket—but now it appears those may have been a mirage.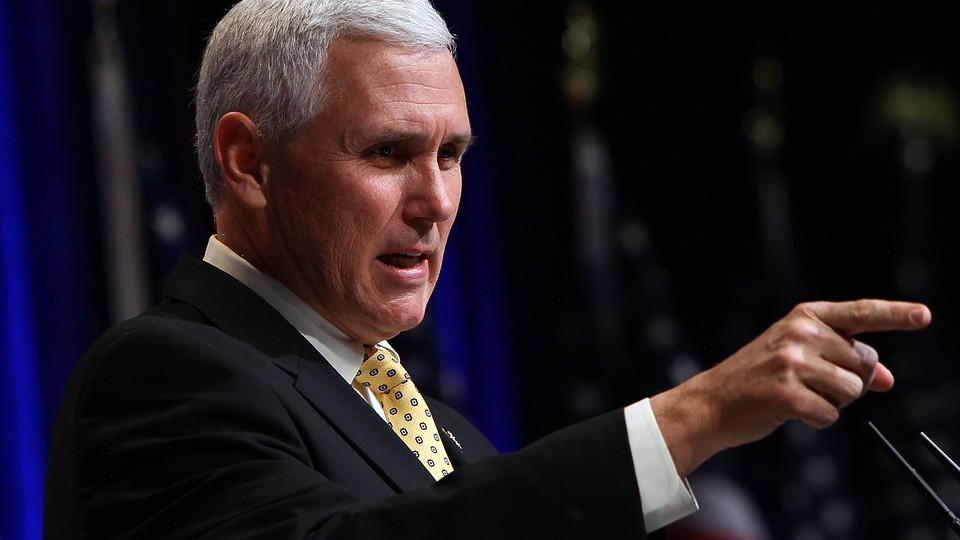 For a stretch this winter, it was an exciting time to be an ambitious Indiana Republican. Governor Mike Pence appeared poised for a presidential run, and reports surfaced that Sen. Dan Coats was considering retirement. For politicians looking to move up, the possibility of two of the state's three most-powerful seats opening up at once was an enticing prospect.
But weeks have turned to months, and Pence has neither announced he'll launch a campaign nor put together the funding to do so, and Coats his kept his cards close. Now, a host of Republicans aspiring to higher office have grown anxious, eagerly awaiting news of whether Pence or Coats is going to leave them an opening—and worrying that the answer may be neither.
Roughly half a dozen Indiana Republicans are said to be quietly weighing their options should Pence pursue a White House bid or Coats chooses to retire next year, though none are thought to be likely to challenge their party elders in a primary if they seek reelection. Wannabe candidates include members of Indiana's congressional delegation, state legislative leaders and statewide officeholders.
"Out of deference to [Pence] and his stated timeline to make a decision, few individuals have exposed their ambitions publicly, but I'd say there are undoubtedly conversations taking place behind the scenes about 'what if he decides to make a bid' or 'what if he gets the vice presidential' nomination,'" said Pete Seat, a former communications director for the Indiana Republican Party. "People kind of have all those scenarios in the back of their head."
They may not have to wait much longer: Pence is giving himself until late spring to continue weighing a presidential bid. In Indiana, candidates for statewide office aren't allowed to fundraise during the legislative session, so even if Pence is planning to run for governor, he has little incentive to go into reelection mode before the legislature adjourns in late April. And even if he isn't running for president, there are advantages to keeping quiet and keeping his name in the conversation.
Coats said in late February that he'll decide by April 5—opening day for the Chicago Cubs—whether he'll seek reelection. If Coats chooses to retire from the Senate, it wouldn't be the first time. He announced his retirement from the chamber in 1996 by not seeking reelection in 1998, before making a comeback bid in 2010.
.
Aspiring Governors
State Sen. Jim Merritt is the only GOP official so far to have made a public declaration of interest in Pence's seat should he seek the White House, but other top Republicans believed to be interested in running for Pence's seat should he step aside include Indiana House Speaker Brian Bosma and Lt. Gov. Sue Ellspermann.
"The conventional wisdom is that [Bosma] is just sitting there waiting for Pence to pursue the presidency. His team is preparing for that," according to one Indiana Republican.
When asked about his interest in higher office, Bosma indicated he'd consider either seat if it became available. After praising both Pence and Coats, Bosma said "I've really enjoyed serving as speaker of the House over the majority of the last decade. I feel like we've been able to make a big difference for Hoosiers here in Indiana, and if either one of those opportunities came up I would certainly have to think about where I could best serve Hoosiers for the future."
In the scenario that Pence runs for reelection as governor but is chosen as the GOP vice presidential nominee next summer, the Indiana Republican State Committee would gather to choose a replacement candidate for the governor's race. Both Bosma and Ellsperman would be considered potential replacements.
Ellsperman spokesman Dennis Rosebrough indicated that the lieutenant governor would make no public statement on Pence's situation until or unless something concrete happened that changed the dynamic of the race. "I think we have to let a sequence of events happen before she would make any public pronouncement of her interest or lack thereof," Rosebrough said.
Aspiring Senators
The three names most frequently talked up by Indiana politicos as potential Republican replacements for Coats come from the state's congressional delegation—Reps. Marlin Stutzman, Todd Young, and Todd Rokita. However, when asked who would be on a list of those likely to try and succeed Coats, Dan Parker, a former adviser to Indiana Sen. Evan Bayh, warned "If Coats decides not to run, that [list] could be a mile long."
Stutzman and Young's ambitions for higher office are relatively transparent. Stutzman ran for Senate in 2010 but lost to Coats in the Republican primary before opting to run for his current House seat. Young won a small amount of attention when he changed the domain name of his campaign website two years ago from ToddYoungforCongress.com to simply ToddYoung.org, implying he had bigger plans ahead.
Rokita also spent eight years as Indiana secretary of state before he was elected to Congress in 2010, and is thought to be eager to return to a statewide role, regardless of whether it be as a member of the Senate or as governor.
Across the Aisle
On the Democratic side, 2012 gubernatorial nominee John Gregg and former Rep. Baron Hill have expressed interest in running for governor in 2016, and for Gregg that means even if it involves running against Hill in a primary.
Gregg has been working since December to consolidate support among organized labor and party leaders, including a visit with the Democratic Governors Association in D.C. in February. Republicans tend to view Gregg as the bigger threat between the two due to his name ID gained from his narrow loss to Pence in 2012—he lost by fewer than four percentage points—and his stature as a former Indiana House speaker. Hill ran for an open U.S. Senate seat in 1990 and lost to Coats by seven percentage points, and was unseated from his House seat by Young in 2010.
Gregg said he has no interest in running for Senate even if Coats retires and isn't lacking for confidence when it comes to how he thinks he would fare in a gubernatorial primary: "I would blow out anybody in a primary but two people—[Sen.] Joe Donnelly and the patron saint of Indiana Democrats Evan Bayh."
"Former Congressman Hill is a friend, but I will make my decision to run regardless of whether he is or not," Gregg said. "He doesn't bother me at all, he doesn't have any following. Great guy, but you know, he needs to focus on the U.S. Senate race."
Gregg said he has no idea if other Indiana Democrats might pressure Hill to change his focus. Indiana Democratic Party chair John Zody, Hill's former chief of staff, declined to talk about the race when contacted.
Democrats also are keeping an eye on how the length of Pence's flirtation with a presidential bid impacts voters' perceptions of him at home. Gregg thinks the time is ripe to capitalize off Pence's regular trips out of state.
"By him going out and being away from Indiana all the time, there's been some slip-ups in government," Gregg said, pointing to Pence's attempt at launching a state-run news site and minor scandals in two state agencies. "There have been some things showing, you know, they're not paying attention to details and part of my message, as it was before, is that Indiana needs a full-time governor who's going to bring people together."
DGA spokesman Jared Leopold agrees. "I do think that what we're seeing in a lot of other states could spread to Indiana, where you're seeing guys like [Louisiana Gov. Bobby] Jindal or [New Jersey Gov. Chris] Christie or [Wisconsin Gov. Scott] Walker are starting to get dinged back home for how much they want to play footsie with the D.C. media and with primary state voters," Leopold said.
Correction: Coats first announced his retirement in 1996. A previous version of this story contained incorrect information.