Did Laurence Tribe Sell His Soul to Big Coal?
Is the liberal Harvard professor serious about backing Peabody Energy's challenge to EPA emissions regulations? Does it matter?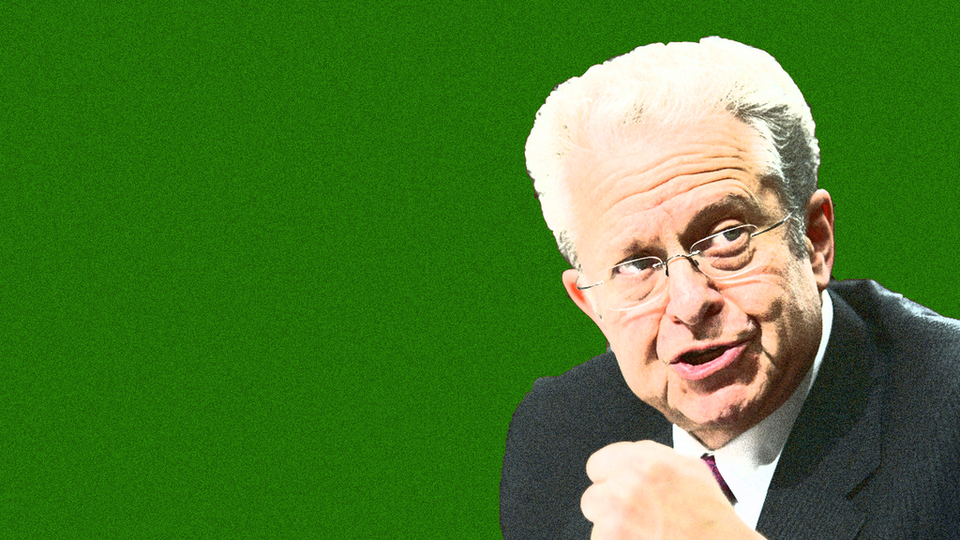 Climate-change activists and advocates seldom have trouble finding villains. But recently, they've found a new one in a strange place: famed legal scholar and Obama mentor Laurence Tribe, in his office at Harvard Law School.
Tribe has been the highest-profile legal scholar to criticize the Obama administration's rules for carbon-dioxide emissions from coal plants, which were formally proposed in June 2014. (He's one of the few law professors who is frequently and plausibly referred to as an "icon.") In a formal comment submitted to the EPA, a Wall Street Journal column, a House energy committee hearing last week, and other venues, Tribe has argued against the rule, suggesting both that it runs contrary to the relevant statute and that it violates the Fifth and Tenth Amendments to the Constitution.
The legal argument here is complicated—more on that later—but Tribe's entrance has delighted conservatives like Senate Majority Leader Mitch McConnell, who has repeatedly cited him, and infuriated liberals who expect Tribe to be on their team. After all, this is Larry Tribe, lion of liberal constitutional law, and Al Gore's lawyer in Bush v. Gore! Larry Tribe, who famously taught Barack Obama in law school and employed him as a research assistant! Larry Tribe, who worked for Obama's Justice Department during his first term, offers Obama unvarnished advice on Supreme Court picks, and just last fall said he thought Obama himself would make an excellent justice! Larry Tribe, who is fond of pointing out that he taught the nation's first environmental-law class!
How could he do this? Tribe told me via email that it was a simple matter of principle:
I have vigorously defended the legality of President Obama's executive actions with respect to immigration, health care, and gay rights, all of course without being paid by anyone. Believing that this time he and his administration unfortunately went outside the bounds of the law, I decided to speak up. It wasn't something I did eagerly because I share the administration's attitude toward climate change and the urgency of meaningful action on that front, but I'm not willing to keep silent when I see the rule of law threatened just because the threat comes from quarters with which I am in sympathy.
Some people don't buy this explanation, and allege that Tribe has allowed himself to be bought by Peabody Energy, the biggest private-sector coal company in the world. Tribe received an undisclosed fee from Peabody in exchange for writing his comment to the EPA. Dave Roberts of Grist writes that Tribe of "sell[ing] his soul" and making "transparently terrible" arguments. "I don't know how much Peabody Coal is paying Harvard Law professor Laurence Tribe to serve as its mouthpiece, but it can't possibly be enough," Roberts writes. Jonathan Chait similarly concludes that Tribe is acting as a mercenary. (EPA's assistant administrator for external affairs, apparently concurring, circulated Chait's column to reporters Wednesday.)
Tribe told me he'd read the proposed rule and made up his mind about its legality before Peabody or anyone else approached him:
Had I turned down the fee Peabody Energy Company offered to have me elaborate my views, I'm sure people would be saying "shame on you for helping that big coal company pro bono." A decision on my part to add to the wealth of a big coal company—a company that hardly needs charity from me—would've been just as easy for folks to criticize as it was for them to attack what I did instead, which was to take on this cause on a paying basis, with the express understanding that the views expressed would be entirely my own.
There is a complicated legal debate involved in the matter, wholly apart from Tribe's motivations. Tribe argues that the rule violates the Fifth Amendment because it constitutes a regulatory "taking" by the federal government, limiting a corporation's use of its coal plants without due compensation, and that it violates the Tenth Amendment by coercing states into creating their own CO2 reduction plans or else risking the federal government imposing its own plan. As he notes, that echoes the Supreme Court's arguments in the Obamacare case of King v. Burwell, in which justices wondered whether coercing a state government to follow a federal policy would be unconstitutional.*
Tribe also homes in on a discrepancy between two separate versions of the statutory language, a 1990 amendment to the Clear Air Act, that governs EPA's ability to issue the rule. It's very easy to get bogged down in the details of this disagreement, and in fact the House committee hearing features an impressively detailed argument about the matter, but suffice it to say that there are two separate and contradictory versions of one part of the law, both of which were in the law as it was passed by Congress and signed by President George H.W. Bush. Tribe says one is invalid and the other represents the real law, with the discrepancy being just a clerical error. His opponents counter that the other version is the relevant and statutory one.
And Tribe's opponents also bring significant legal firepower to the discussion. One opponent is Richard Revesz, dean emeritus of New York University Law School, who testified in favor of the rule in last week's House hearing and wrote a New York Times op-ed Thursday disagreeing with Tribe. Two others are Richard Lazarus and Jody Freeman, colleagues of Tribe's at Harvard Law. Freeman directs the school's environmental-law program and served in the Obama White House as counselor for energy and climate change. (Disclosure: My wife served as a research assistant to Lazarus while in law school.)
Freeman and Lazarus took issue with Tribe's testimony in a rebuttal on Harvard Law's website. The pair's response argues that there are "credible" legal questions about the EPA rule (though they think the rule is valid), but no real constitutional issue. "Like most proposed rules, the Administration's climate rule is far from perfect, but sweeping assertions of unconstitutionality are baseless," they wrote, adding a backhanded compliment: "Were Professor Tribe's name not attached to them, no one would take them seriously."
Tribe replied at length on the same site, then over the weekend Freeman and Lazarus went another round, and finally Tribe replied to that. It's a striking exchange of views between colleagues. The discussion is erudite, detailed, and civil, though the two sides' disagreements on the matter obviously run deep. Despite the length of the exchange, though, neither side seems to have persuaded the other of very much. (Tribe at one point says his takings claim "may be less of a slam dunk than are my structural objections," and Freeman and Lazarus declare it an "unmistakable retreat." That's about it.)
The one thing that conspicuously separates these debates between Tribe and his colleagues from his original comment to the EPA is that these exchanges are tightly focused on the legal issues. The EPA comment, by contrast, opens with a paean to coal:
The Proposed Rule represents a reversal of decades of a bipartisan federal policy emphasizing increased use of domestic coal to achieve U.S. energy independence, reduce imported foreign oil, and provide the Nation with reliable and affordable electricity," Tribe and Peabody's comment begins. "As Hillary Clinton observed in 2007, 'I think you have got to admit that coal—of which we have a great and abundant supply in America—is not going away.'
It then goes on to note, "Both Democratic and Republican Administrations championed coal throughout the 20th century." This is partly the basis for a legal argument, that instituting stricter regulations on coal is unfair because it represents a shift. To critics it mostly sounds suspiciously like the talking points the coal industry has used for years; Dave Roberts likens it to "an angry blogger's rant." But Tribe told me that while the comment was submitted under both his name and Peabody's, the company had no role in drafting it. The language was his alone.
Tribe has represented big corporate clients before. In fact, he's done so repeatedly in environmental cases. Roberts notes that Tribe represented General Electric in an ozone case. In 2011, Tribe had to remove his name from a brief on behalf of Peabody, the Consumer Energy Alliance, the American Trucking Associations, and the Petroleum Marketing Association of America after the Department of Justice noted that he was barred from intervening in the case by ethics rules for former staffers. And Tribe is representing the Alliance to Protect Nantucket Sound against Cape Wind, a proposed wind farm off the Massachusetts coast.
Of course, representing clients in exchange for money is what lawyers do all the time. There's no obligation that a criminal-defense lawyer believe his client innocent of charges. But in taking up Peabody's cause—and in averring that doing so is an act of sincere belief, rather than workaday legal professionalism—Tribe has crossed partisan lines. Both sides think of him as a member of Team Green. To many environmentalists, his comment was not just an work of legal analysis but an act of apostasy and betrayal that calls his motives into question. And for conservatives like McConnell, who have looked less fondly on Tribe's previous work, Tribe's stand is useful precisely because it runs contrary to expectations. The intricate debate between Tribe and Revesz and Lazarus and Freeman, though important to administrative law and the fate of the regulation, isn't the sort of thing that would likely garner wide attention on its own. Inside the political arena, however, the technical merits of each side attract less notice than whether advocates are lining up with their usual teams.
A court can decide which of the two parallel legislative passages is right and if the EPA's rule is constitutional. Whether Tribe is a man of principle or a mere mercenary is not so easily adjudicated.
---
* This article originally referred to King v. Burwell as a case that had already been decided. We regret the error.