Meet the Non-Clinton Clinton Defense Team
The State Department email flap offered a preview into the Democrat's vast, unofficial response team.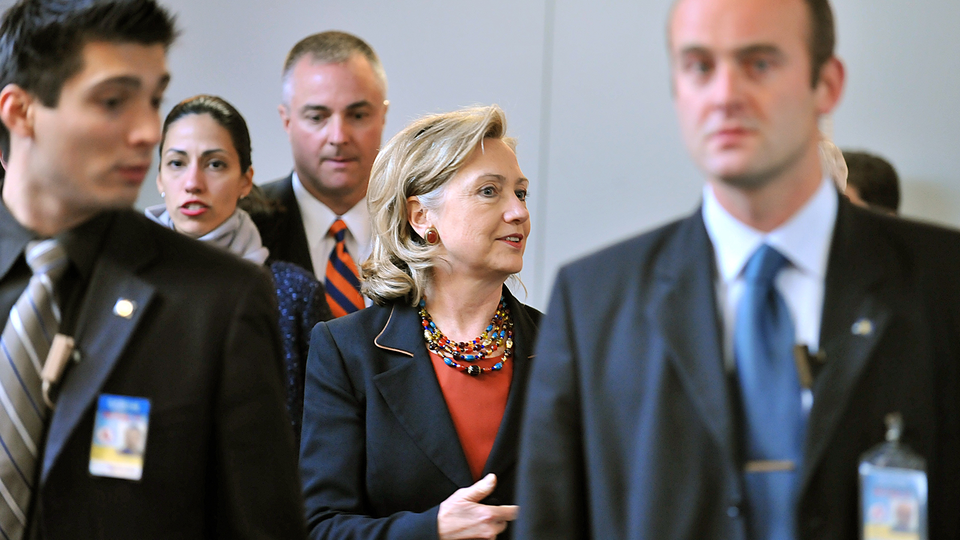 This is what a proto-campaign looks like.
Following revelations that Hillary Clinton used solely a personal email address during her four years at the State Department, a broad network of supporters of the soon-to-be 2016 candidate sprang to her defense. The messaging varied: Some Clintonites insisted The New York Times got the story wrong, others said it was a nonstory and that prominent Republicans had done the same, and most projected confidence that the flap would blow over quickly. In total, the non-Clinton Clinton machine—a pan-Democratic roster populated by Clinton contacts acquired over decades at the nation's political spires—provided the full counter-case against the controversy, all without Clinton having to speak a word on the subject when she made a high-profile appearance just 24 hours later.
The episode offered a preview of the outside network that will ride with Clinton's campaign as far as it goes. And it served as a testament to the party's effort to put forward a unified front in defense of their candidate of choice. Because, while there were those in the party privately expressing concerns that the story would be a bigger problem than Clinton's aides were willing to admit and that it will play into the larger narrative that the Clintons are secretive or willing to cut corners to get ahead, those sharing their doubts seem to be doing so only on background or off the record.
Here's a rundown of how some of Clinton's allies took to her defense:
—Correct the Record, the rapid-response arm of David Brock's opposition research group American Bridge, quickly sent a memo on Clinton's behalf Tuesday morning. The memo included expanded comments from Clinton spokesman Nick Merrill on the issue, and noted that former Secretary of State Colin Powell also used a personal email address while at State. The group pointed out that Clinton has already turned over 55,000 pages of emails. In a later memo, Correct the Record hit Republicans for their own email scandals and "transparency issues," pointing out that Jeb Bush too used a personal email address and "hand-selected which emails to turn over to the state archive." The group also called out Scott Walker, Mitt Romney, Chris Christie, John Kasich, and Mike Huckabee for their own use of personal email accounts or hidden emails.
—Media Matters for America, another Brock-run group, called Tuesday night for The Times to issue a "prominent correction" to its piece on Clinton's email account. In a statement, Brock called the piece "wholly inadequate" and said it "failed to meet the highest journalistic standards that readers expect of The New York Times." Other Media Matters missives Tuesday, circulated to reporters, dismissed the story's claim that Clinton may have violated federal records laws as "deceptive."
—Other supporters said the story is par for the course for the Clintons, and that decades of manufactured "scandals" have not rattled voters in the past—so neither will this one. "[Clinton] is both famous and well-known; people have had a long time to get to know her," Democratic strategist Chris Lehane wrote in an email Tuesday. "In short, at this point, she is already considered by voters as a candidate in full and, as a result, a story like this one is viewed through such a prism of familiarity by voters."
—Some Clinton backers said the GOP is eager to jump on the piece because they're intimidated by the idea of running against her in 2016. Republicans are seizing on the story "because they're very afraid of her as a candidate," said Kathy Sullivan, a DNC committeewoman from New Hampshire and former state party chair. Bob Shrum, a longtime Democratic strategist, said the GOP narrative against the Clintons "has never gotten them anywhere, but they keep doing it and doing it and doing it."
—Norm Sterzenbach, an Iowa-based Democratic operative, made the argument that, in the grand scheme, voters will see the story as solely D.C. chatter, and not something to base their vote on. He acknowledged that the story "feeds into" existing narratives about the Clintons, but said voters couldn't care less. "This is really a Washington narrative, and not anything that's going to have an impact out in the rest of the country," he said.