Measles May Rise in Ebola's Wake
The epidemic disrupted already weak health care systems. One potential consequence: 127,000 cases of measles.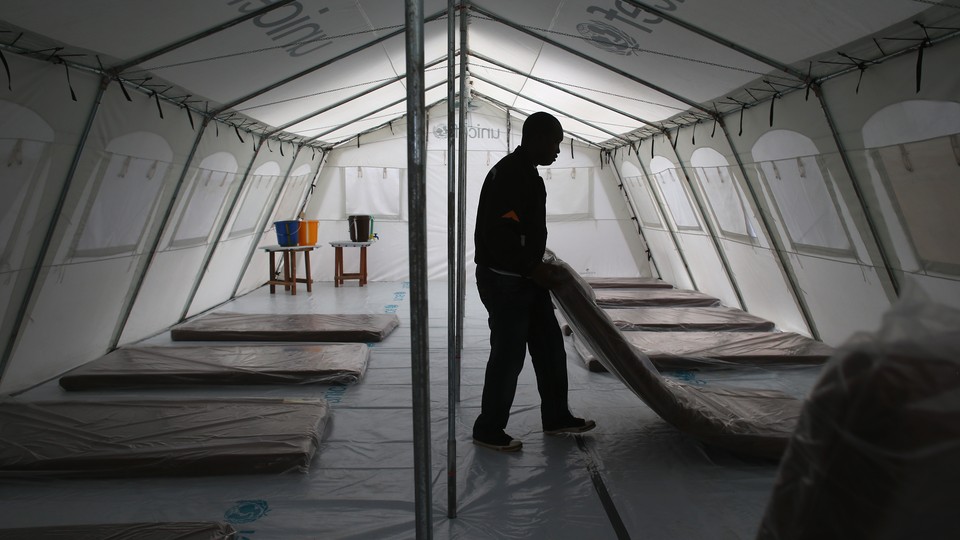 Ebola infections continue to decrease in Liberia, Sierra Leone, and Guinea, spurring hope that the horrible epidemic that claimed close to 10,000 lives is close to an end. But when the last case of Ebola is cleared from the region, this story will not be over. Next comes the reckoning: What happens when already fragile African health care systems are completely shattered by one disease?
"The effects of the disruptions of the health care system from Ebola can potentially be as bad as the direct effects of Ebola itself," Justin Lessler, an epidemiologist at Johns Hopkins University, tells National Journal. He's a coauthor on a new report in the journal Science which finds that in the midst of the Ebola chaos, between 25 to 75 percent of routine measles vaccinations may have been neglected.
That statistic is an illustration of Ebola's long shadow. In the peak of the Ebola outbreak last summer, many health care facilities in the affected countries closed down, while others diverted resources to fight Ebola. The World Health Organization reports that hospital admissions decreased dramatically in the three affected countries during the outbreak (see the chart below). A total of 490 health care workers died in the outbreak, and because universities have largely been closed, new workers haven't been trained. Remember, these are countries that had health care-worker shortages from the start.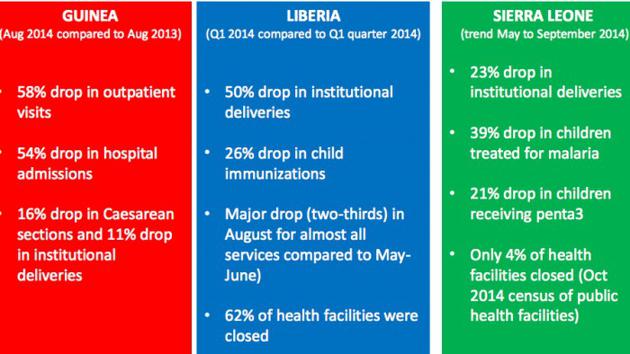 "Measles is one of the most infectious person-to-person transmittable diseases that we know about," Lessler says. "When vaccination rates decline, it's usually one of the first diseases you see begin to circulate."
Estrella Lasry, a physician with Doctors Without Borders, has been working in Ebola-affected countries on and off for three months. On a Skype call from Freetown, Sierra Leone, she says she's seen firsthand the concerns raised in Lessler's study. "It reflects what the teams are seeing in the field," she says of the Science report. "We are seeing an increase in cases of measles — both in Monrovia and Freetown, a little bit less in Guinea. Of course, it is already alarming." Those cases, she worries, might yield higher mortality rates because of the poorer access to health care.
For perspective, consider the recent measles outbreak that occurred in California. That outbreak stemmed from a relatively small amount of unvaccinated children (around 95 percent of school-aged kids in the U.S. get the measles shot). The California outbreak is tiny compared to what may happen in West Africa.
The report in Science projects grim figures: 127,00 to 227,000 more cases of the measles in an 18-month time frame, resulting in between 2,000 and 16,000 deaths. Lessler admits that the estimates are rough. But that's also a part of the problem: There's not a lot of very reliable data coming out of these countries. "Reports coming out of the area have this 'fog of war' property to them," he says. "You're forced to make your best possible assumption."
Years of international progress on health care outcomes in West Africa have been overturned by Ebola. "It is the case that Ebola has turned the clock," says Ariel Pablos-Méndez, assistant administrator of global health at USAID. "Pretty much, every important intervention was cut by half or more, including immunizations."
It isn't just measles that has gone neglected: Malaria treatment and polio eradication have seen setbacks as well. The United Nations Population Fund estimates a horrible toll on maternal health: "More than 120,000 could die of complications of pregnancy and childbirth," the U.N. wrote in an October press release.
But with international enthusiasm, and money allocated by Congress, Pablos-Méndez is confident that not only will the Ebola epidemic end, but that afterwards, these countries' health care systems will be rebuilt. "In a way, we are in a better position now, given the appetite to approve and the resources that have been made available because of Ebola," he says. Currently USAID is funding 10,000 aid workers deployed throughout West Africa, and Pablos-Méndez says vaccination efforts are underway.
The harder effort may be in rebuilding the trust of residents in the three affected countries. "The health care-seeking behavior has shifted from health care facilities to more street pharmacies or traditional healers," says Lasry of Doctor Without Borders. "This has an impact that will last." She's particularly worried about the treatment of malaria. "A lot of the health centers have been closed. They are slowly reopening. But people are worried about Ebola."
Come the rainy season, she says, "if the lack of access to health care exists, we are sure to see a lot of children dying in the villages."