Ebola infections continue to decrease in Liberia, Sierra Leone, and Guinea, spurring hope that the horrible epidemic that claimed close to 10,000 lives is close to an end. But when the last case of Ebola is cleared from the region, this story will not be over. Next comes the reckoning: What happens when already fragile African health care systems are completely shattered by one disease?
"The effects of the disruptions of the health care system from Ebola can potentially be as bad as the direct effects of Ebola itself," Justin Lessler, an epidemiologist at Johns Hopkins University, tells National Journal. He's a coauthor on a new report in the journal Science which finds that in the midst of the Ebola chaos, between 25 to 75 percent of routine measles vaccinations may have been neglected.
That statistic is an illustration of Ebola's long shadow. In the peak of the Ebola outbreak last summer, many health care facilities in the affected countries closed down, while others diverted resources to fight Ebola. The World Health Organization reports that hospital admissions decreased dramatically in the three affected countries during the outbreak (see the chart below). A total of 490 health care workers died in the outbreak, and because universities have largely been closed, new workers haven't been trained. Remember, these are countries that had health care-worker shortages from the start.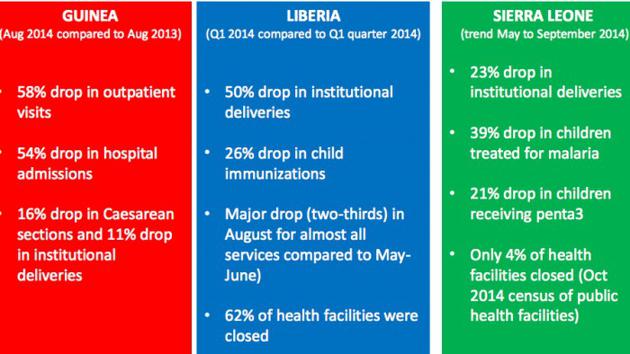 "Measles is one of the most infectious person-to-person transmittable diseases that we know about," Lessler says. "When vaccination rates decline, it's usually one of the first diseases you see begin to circulate."