Loretta Lynch's Long Wait
By stalling the nomination of Obama's nominee for attorney general, Senate Republicans have given Eric Holder another six months on the job.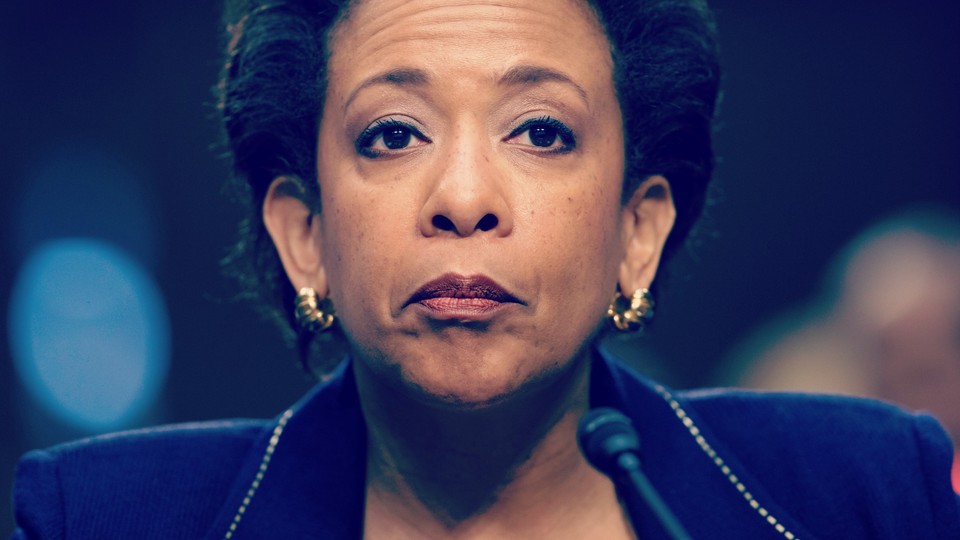 Last September 25th, a teary-eyed Eric Holder announced his intention to resign as attorney general, pending Senate confirmation of his successor. That caveat looms large, because nearly six months later, Holder is still toiling away atop the Justice Department while Republican leaders dawdle on scheduling a vote to approve Loretta Lynch, President Obama's nominee to replace him.
The delay is peculiar chiefly because there doesn't seem to be a clear reason for it. Republicans haven't dug up anything scandalous from her past, no single senator is trying to block her nomination, and she likely has the votes to be confirmed, although the margin will be closer than initially expected. The strangest aspect of Lynch's long wait is that the GOP overwhelmingly prefers her to Holder. The House has voted to hold the current attorney general in contempt, and dozens of Republicans have previously called on him to resign. Now that he actually has, they refuse to let him leave.
Most of the Republican opposition to Lynch is not about her qualifications or her record as the U.S. attorney in Brooklyn, but about her support for Obama's executive actions on immigration. Which means that as usual, the opposition is all about the president. No one would expect Obama to nominate someone as attorney general who believed he was breaking the law, and while political independence is important at the Justice Department, no one would expect Lynch to announce an investigation of the White House while sitting at her confirmation hearing.
Democrats are stepping up pressure on Republicans to confirm her, but they haven't been blameless, either. Minority Leader Harry Reid's strategy to use procedural maneuvers to box in Republicans on the homeland security funding fight yielded a victory in that battle, but it also kept the Republican majority from moving on other issues, like the Lynch nomination. (The Senate can do more than one thing at once, but like Reid before him, Majority Leader Mitch McConnell doesn't need much excuse for inaction.) Now, Democrats are holding up bipartisan anti-human-trafficking legislation over abortion language that they claim Republicans snuck into the bill. GOP lawmakers counter, with some legitimacy, that Democrats simply didn't read the bill closely enough when it came out in January, since they raised no objections when they approved it unanimously in committee.
What does an abortion fight have to do with Loretta Lynch? Well, McConnell had said she would finally get her confirmation vote this week, but in an effort to get Democrats to relent on the trafficking bill, he said Sunday on CNN's State of the Union that Lynch would be "put off again" unless that legislation was done. "By continuing to stall Lynch's nomination Republicans are failing yet another basic test of their ability to govern," Reid spokesman Adam Jentleson said in response. Lynch's nomination can be brought to the floor at any time, he noted. "There is nothing stopping the Senate from confirming Lynch and continuing to debate the trafficking bill this week, except Senator McConnell's unwillingness to bring her nomination up for a vote." Josh Earnest, the White House press secretary, on Monday called the delay "unconscionable" and "unexplained."
As Jentleson pointed out, the 128 days that have passed since Obama selected Lynch in November are the longest that any attorney general has had to wait since the Senate took more than a year to confirm Edwin Meese in 1985. Will Republicans pay a larger political price for the delay? Democrats briefly tried to use the 50th anniversary of the Selma march earlier this month as a tool to pressure Republicans, implying that the GOP would look racially insensitive by stalling the nomination of the first black woman to be attorney general. "You don't think we notice that?" Reverend Al Sharpton said of the delay during a rally in Selma.
Raised in North Carolina, Lynch had to share the honor of class valedictorian with two white students because high school administrators feared that having a lone black honoree would cause controversy. Yet it's hard to find any racial undercurrent in the GOP opposition to Lynch (unlike, for example, the 2009 criticism of Sonia Sotomayor's "wise Latina" comments that consumed the debate over her nomination to the Supreme Court). Even Republicans who have come out in opposition to her nomination praised her effusively during her confirmation hearing, a further indication that the delay is more about Obama than her.
Lynch's long wait is probably costing her Republican votes she would have secured if McConnell had moved more quickly to a vote. Just four GOP senators have announced their support, enough to secure her confirmation if all 46 Democrats vote in her favor, as expected. Yet if no other Republicans vote yes, Vice President Joe Biden would have to cast the tie-breaking vote, which would be a first for a Cabinet nominee and an awkward moment that McConnell may want to avoid. (Lynch would be in far greater jeopardy had Republicans not decided to keep the contentious change to Senate filibuster rules that Democrats engineered for nominations when they had the majority in 2013.)
Holder, meanwhile, hasn't spent the last few months just packing his bags. He's used the extra time in office to complete unfinished business, like closing the civil rights investigations into the shooting deaths of Trayvon Martin and Michael Brown, and releasing a scathing report on racism in the Ferguson police department. He's also sought to burnish his legacy by announcing major changes to the assets that state and local police can seize in law enforcement activities, and by heralding a drop in drug prosecutions, incarcerations, and lengthy prison sentences. Earnest said Holder will stay on the job "as long as it is necessary." That's probably not the message Republicans want to hear, but his retirement is in their hands: With a couple of votes in the Senate, they can get rid of Holder anytime they want.