Jeb Bush Has Taken Twice as Many Trips to New York as to Iowa and New Hampshire Combined
Tracking the presidential candidates' travel across the country.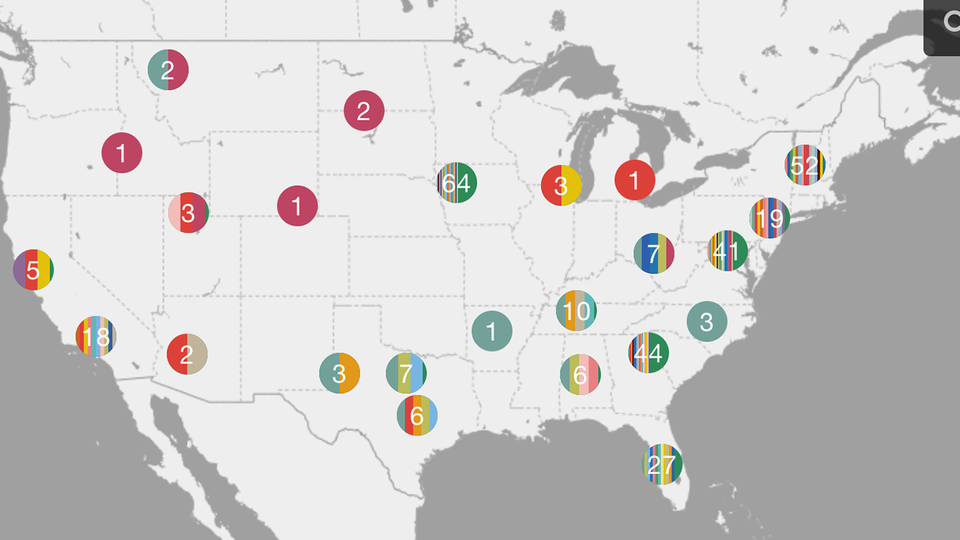 So far in Jeb Bush's "exploration" of a 2016 presidential run, he has taken more trips to shake the money tree than to shake hands with early-state voters.
Bush has taken as many trips to New York City (four) as he has to Iowa (one), New Hampshire (one), and South Carolina (two) combined since he kicked off his exploratory process in November, according to data from National Journal's new 2016 Presidential Candidate Travel Tracker—a tool that records every reported out-of-state trip the potential candidates have taken since the last election.
The tracker also omits trips members of Congress take to Washington, but anywhere else the candidates go is fair game, and that turns up some interesting trends. For example, the most frequent visitor to New Hampshire so far isn't Bush or any other one of the leading candidates. It's George Pataki, the former New York governor who is (again) making noises about running for president and has trekked to the state on four occasions already. New Jersey Gov. Chris Christie has already taken four separate trips to Iowa in 2015, too.
And while the early primary states are the biggest magnets for candidate travel, some other hubs are popping up. Three different potential candidates (Ben Carson, Mike Huckabee, and Scott Walker) have gone to Nashville, Tenn., in the last five weeks, and a fourth (Bobby Jindal) made a stop in Memphis. Wyoming may be the least populous state in the country, but Ohio Gov. John Kasich made a stop there on his tour promoting a balanced-budget amendment to the Constitution. And while much of the country was covered in snow, five different candidates flocked to Phoenix or its suburbs for money and meetings in the midst of a cold winter.
The numbers in all those places will keep going up throughout the year, and the Travel Tracker will be logging all of them.