It Took 44 Days of Damaging News Reports for Aaron Schock to Resign
The Illinois congressman announced Tuesday he will step down at the end of the month, after serving for six years.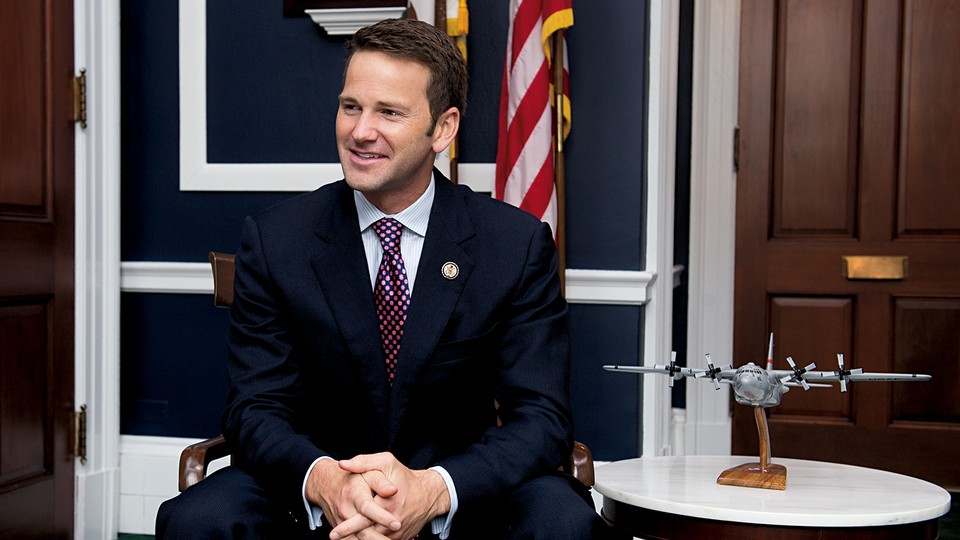 It all started with pheasant feathers.
Aaron Schock didn't want to talk about them, or about the rest of the decorations in his Downton Abbey-inspired Rayburn office. But The Washington Post's Ben Terris reported on it anyway on Feb. 2—despite a Schock press secretary's efforts to stop him—sparking curiosity about the Illinois congressman's "lavish" lifestyle.
Curiosity soon turned to inquiry, and over the next six weeks reporters in D.C. and Illinois began digging into the Republican congressman's spending habits, uncovering one potential ethics scandal after another.
The media maelstrom culminated in Schock's announcement Tuesday that he would resign his office at the end of this month.
(RELATED: Aaron Schock Will Resign From Congress)
"I do this with a heavy heart. Serving the people of the 18th District is the highest and greatest honor I have had in my life," Schock said in a statement Tuesday. "But the constant questions over the last six weeks have proven a great distraction that has made it too difficult for me to serve the people of the 18th District with the high standards that they deserve and which I have set for myself."
Here's what happened over those last six weeks since a reporter walked into Schock's office.
Feb. 4: In response to the Post story, Schock quotes pop singer Taylor Swift's Grammy-nominated song "Shake It Off" in an interview with ABC News, claiming "haters gonna hate."
Feb. 5: Schock's senior adviser for policy and communications, Benjamin Cole, resigns hours after ThinkProgress reports on a series of racist social-media posts. "I am extremely disappointed by the inexcusable and offensive online comments made by a member of my staff," Schock says in a statement. "I would expect better from any member of my team."
Feb. 9: Politico reports on just how lavish Schock's lifestyle is: stays at a five-star resort in Aspen, trips to a swanky Las Vegas hotel, vacations in Miami Beach. The publication says that Schock had spent more than $90,000 in campaign funds on private air travel, "an unusually high sum for a rank-and-file member of the House."
(RELATED: Just How Much Trouble Could Aaron Schock Be In?)
Feb. 13: The Associated Press uses Schock's date- and time-stamped Instagram photos—he's known for posting playful snaps—to figure out how he spent taxpayer money on private flights with donors. According to AP, he also spent funds on concert tickets, taking his interns to a sold-out Katy Perry show.
Feb. 24: After questions are raised regarding Schock's financial disclosures for a 2011 trip to London, the congressman hires two lawyers from the firm Jones Day, plus a public-relations team, to deal with the allegations about his finances.
March 1: A Chicago Sun-Times review of Schock's financial records indicates that the congressman used taxpayer funds to pay for a private plane to transport him from Peoria, Ill.—part of his home district—to a Chicago Bears game.
March 2: Schock repays the government $1,237, the cost of his private plane ride. He'd previously reimbursed the Treasury about $40,000, mostly to pay back the money he spent redecorating his office.
March 8: The Sun-Times reports that Schock spent more than $10,000 to send himself and 10 staffers to New York, in a visit timed with that of Indian Prime Minister Narendra Modi and the Global Citizen Festival concert, where Schock spoke. According to the newspaper, the staff members "did almost no government work during their taxpayer-funded weekend in New York."
March 9: An attorney and Normal, Ill., resident named Mark Zalcman announces he'll challenge Schock in a 2016 primary, taking a jab at Schock's age: "I grew up before I ran for office."
March 10: Conservative media outlets like RedState and National Review tell Schock to resign. "His lack of responsibility with the funds of others shows him to lack the necessary integrity to handle the power of the purse in the House of Representatives, which remains the chief power of the House," writes RedState editor Erick Erickson.
March 11: The Washington Post points out that Schock's Instagram account has become noticeably more humdrum.
Later on March 11: At a Lions Club meeting in his district, Schock responds to the RedState and National Review articles, saying he's not leaving office: "They're people who fundamentally have never supported me and probably won't ever support me—and, unfortunately for them, I'm not going anywhere."
(RELATED: How Aaron Schock's Big Spending Has Given Him Political Protection)
March 12: National Journal's Daniel Newhauser reports that Schock improperly accepted money from an outside group to pay for his personal photographer to join him on a trip to India in August. The congressman's failure to disclose this could be a violation of House rules, which allow a member to accept private money to cover travel expenses only if the companion is a staffer, spouse, or child.
March 13: Schock cancels an appearance with Rep. Tulsi Gabbard, D-Hawaii, at the SXSW festival in Austin, where they were expected to discuss millennial-centric issues.
March 16: By this date, the Office of Congressional Ethics—composed of eight investigators who make recommendations regarding member misconduct to the House Ethics Committee—has already started a preliminary review of Schock's financial history in office.
March 17: AP reports on a 2014 real-estate deal in which political donors "built, sold and financed" a house Schock owned. Schock was also reported to operate several shell real-estate companies.
Later on March 17: Politico reports that Schock was reimbursed by his campaign and the federal government for 170,000 miles he logged on his personal Chevy Tahoe between January 2010 and July 2014. But a review of public records found that Schock's car had only 80,000 miles on its odometer.
Even later on March 17: Schock resigns.
This post has been updated to include additional news stories in the timeline.