Is This the End of Lethal Injection in America?
Firing squads and nitrogen asphyxiation: The ever shrinking supply of lethal injection drugs is forcing states to adopt old (and new) execution methods.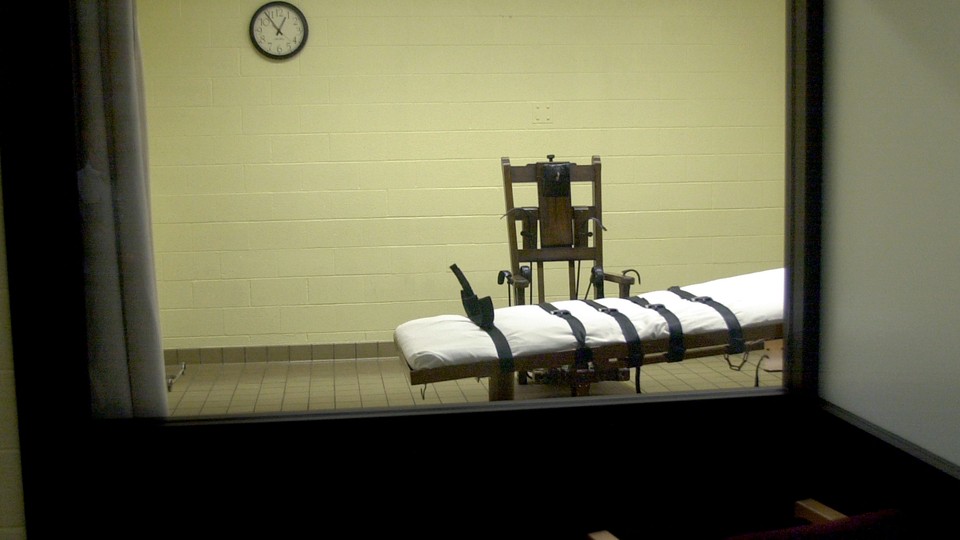 It's really, really difficult for states to obtain death-penalty drugs these days. For starters, there are the international sanctions: In 2011, the European Union banned the sale of lethal-injection drugs to the United States. And no U.S. drug manufacturer makes them. (Apparently, it's bad for public relations.)
Facing shortages, some death-penalty states have turned to compounding pharmacies, which can manufacture small batches of the hard-to-obtain drugs to order. These pharmacies are often kept secret to shield them from public backlash, but the confidentiality also shields them from public oversight. Recent botched lethal injections have raised questions as to whether the drugs emerging from these pharmacies are effective.
But soon, these (much-criticized) sources of death-penalty drugs may disappear as well. The International Academy of Compounding Pharmacists, an industry trade group, is advising its member organizations to get out of the business all together.
"IACP discourages its members from participating in the preparation, dispensing, or distribution of compounded medications for use in legally authorized executions," the IACP said in a statement released Tuesday. If pharmacies listen to this directive, it's possible the already tiny stockpile of execution drugs in the United States will disappear. Texas, the state with the highest number of executions, is already teetering on lethal-injection exhaustion. According to The Wall Street Journal, the state has just one remaining dose of pentobarbital (which was commonly used in executions before the market dried up), and no clear plan of what to do once it's gone.
Without a supply of effective death-penalty drugs, states are backed into a corner: Save for the gruesome executions of yore—hangings, guillotines—how might a state execute a citizen convicted of a capital offense? The question has yielded eyebrow-raising answers.
On Monday, Utah approved a backup plan in case there are further shortages: the use of firing squads.
"If substances are not available to carry out the death penalty by lethal injection on the date specified by warrant, the death penalty shall be carried out by firing squad," reads the text of a bill that Utah Gov. Gary Herbert signed into law Monday.
In a firing squad execution, several officers shoot at the inmate, though one of the rifles fires a blank shot, which gives the officers room for doubt over whether they fired a lethal round. The Utah legislature repealed the use of firing squads in 2004, though the state's last execution using that method was in 2010. That year, convicted murderer Ronnie Lee Gardner died within two minutes after being shot—a time frame that's quick compared with some recent bungled lethal-injection executions, as Terrence McCoy at The Washington Post points out. (Gardner had been convicted before the repeal and was allowed to choose the firing squad as his preferred method of execution.)
In Utah, the firing squad now is seen as the second-best option to lethal drugs. "We prefer to use our primary method of lethal injection when such a sentence is issued," a Herbert spokesperson told CNN. "However, when a jury makes the decision and a judge signs a death warrant, enforcing that lawful decision is the obligation of the executive branch." In other words, as long as the death penalty is legal, the governor is obligated to find a way to follow through on the sentences.
In Oklahoma, the state Senate judiciary committee has also recently approved a substitute for lethal injection: death by nitrogen asphyxiation. Nitrogen gas has never been used in executions in the United States, but in theory it should cause a peaceful death. Lawmakers in Louisiana are considering a similar measure.
"Nitrogen is not a 'poison' in the traditional sense," writes the U.S. Chemical Safety and Hazard Investigation Board, on its notice of the dangers of nitrogen gas. "Breathing an oxygen deficient atmosphere can have serious and immediate effects, including unconsciousness after only one or two breaths."
When oxygen is replaced with nitrogen in the brain, it quickly shuts down. Some speculate that nitrogen deaths may even be preceded by a mild euphoria, though, you can't exactly ask a dead person how their death went. (Morbid fact: For similar reasons, this is why scientists think being buried alive might be a relatively quiet way of passing. The buildup of carbon dioxide in a coffin would make a person feel sleepy before their final sleep.)
These states approving lethal-injection contingencies may be fighting a changing tide. A shrinking number of Americans approve of the death penalty, and fewer executions occur every year. That, combined with a lack of drugs to use in executions, seems to suggest the death penalty could be on its way out. But as always, in America, where there is a will, there is a way.