In Clinton Woes, Republicans See Opportunity—and Peril
The GOP wants to make Hillary Clinton pay for her missteps, but party strategists warn against overplaying their hand.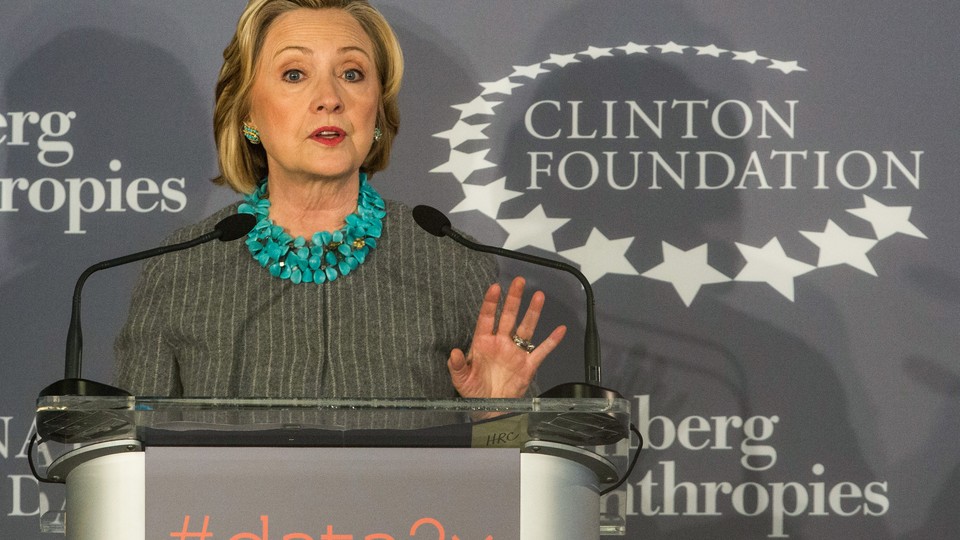 Republican strategists have a simple message for their party: Don't mess this up.
For the first time in the young 2016 election cycle, Hillary Clinton is facing serious questions about her strength as a presidential candidate thanks to scandal-tinged revelations about her tenure as secretary of State. Reports about Clinton's improper e-mail account and foreign-government donations to her family's charitable organization have complicated perceptions about her tenure at the Department of State, as well as Democrats to wonder if the party wouldn't be better off with a competitive primary.
The effect has been similarly transformative within the GOP, according to Republican strategists, who say a party once convinced Clinton was an electoral juggernaut now wonders if her bark might be worse than her bite.
But those Republican operatives also urge caution in attacking a candidate who, like her former president husband, knows how to escape political trouble better than most. And while they believe the past few weeks have exposed Clinton's vulnerabilities as a candidate—they also worry that an explicit GOP effort to exacerbate her problems could easily backfire.
"I think the press will do a good job getting to the bottom of this, and Republican candidates need to be careful not to pile on," said John Brabender, longtime political guru of former presidential candidate Rick Santorum. "Clinton has a lot of explaining to do. We cannot allow her to pivot and look like a victim because she's not."
GOP strategists are hopeful that they won't need to pile on. The original New York Times story about Clinton's "home-brewed" e-mail account begat more stories about the security of those servers, if the White House knew about them, and whether some of her top aides also avoided government accounts. Clinton's first response to the criticism, a Wednesday night tweet that she planned to release all her e-mails to the public, seems unlikely to dampen much of the criticism.
Thus far, the Republican Party's response—at least from its official organs—has been rhetorically tepid. The Republican National Committee has asked the State Department inspector general to investigate Clinton's e-mails, while the special House committee into the 2012 Benghazi attacks has subpoenaed all of her e-mails. They're small moves, and ones Republicans hope will help stoke a story that otherwise will self-perpetuate while the party looks on in glee.
"Republicans are in a position where they can just sit back in watch," said Scott Reed, who was campaign manager for Bob Dole's presidential campaign in 1996.
Over-the-top criticism is a concern for a party whose candidates have not always shown message discipline, particularly against a candidate who is seeking to become the first woman to win the White House. Even now, the GOP's presidential candidates frequently shy away from taking on Clinton directly, choosing instead to criticize President Obama instead or let the field's lone female contender, Carly Fiorina, do the dirty work for them.
It's a problem some Republicans, like Katie Packer Gage, have already spent months researching and testing to overcome. But Mitt Romney's deputy campaign manager in 2012 said she thinks that the controversy that now engulfs Clinton could help take care of the problem by itself, at least partially. Clinton benefits from her candidacy's historical aim because voters, wary of regular politicians, see her differently, but nothing makes a politician look more of the same than the whiff of scandal.
"When she does things like this and behaves the way you would expect a typical D.C. politician to behave, it totally chips away at the one asset she has over all these other candidates," Gage said.
Clinton allies have countered that the discussion about Clinton e-mails, like many Washington-obsessed stories, will fail to sway regular voters. It's not an argument without merit: Transparency issues might matter to journalists but don't mean much to voters focused on pocketbook or security issues. Other analysts, like the political scientist Brendan Nyhan writing for the The New York Times, have suggested the electorate will react with a "combination of apathy and partisanship."
But Republicans contend that the problems for Clinton are rooted in more than just a handful of stories raising questions about her time at the State Department. They connect to a belief among some voters, dating back to Bill Clinton's presidency, that the Clintons don't play by the rules everyone else must follow.
"The big issue here is that the email controversy reinforces two strong beliefs about Hillary, first that the rules do not apply and second that she has something to hide," said Terry Nelson, political director for George W. Bush's 2004 re-election campaign.